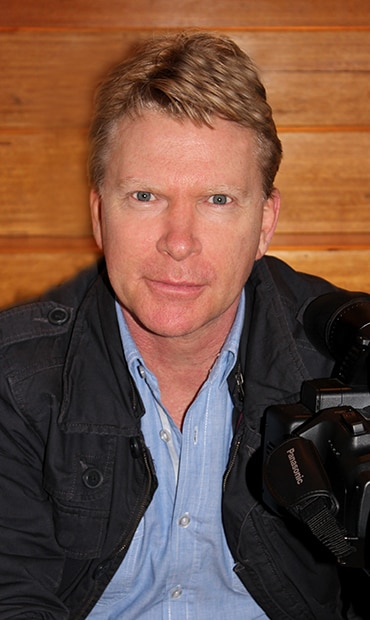 When you think about it, it's one of the best stories in Australian history
Peter Dickson
A COMBINATION of innovative thinking, sharp execution and extraordinary access has allowed filmmaker Peter Dickson to produce some compelling – and award-winning – football-themed films.
Yet he readily admits his latest project, Sir Doug – The Story of Legend – was "the hardest creative thing I've done in a long time".
The 15-minute film, shot in Eltham in Melbourne's outer north-east and at Cummeragunja along the Murray River near the NSW-Victoria border, as well as using archival footage and animations – traces the life and times of Sir Doug Nicholls, an extraordinary man who, as Dickson says, "changed the course of Australia".
LISTEN: Peter Dickson on AFL Exchange
Sir Doug, born in Cummeragunja in 1906, was a sportsman (a skilled footballer, boxer and sprinter), pastor and a pioneer for reconciliation. He was Governor of South Australia and the first Aboriginal person to be knighted. Earlier this year, the AFL announced its annual Indigenous Round would be renamed in Sir Doug's honour.
Dickson had been aware of Sir Doug's story – his father Rick played cricket at Northcote, where Sir Doug had worked as a curator after moving to Melbourne – but his extensive research and interviews with family members opened his eyes.
"I knew a little bit about him, but nothing near what I would eventually find out," Dickson said.
"The family kept telling me to go to Cummeragunja. Going there certainly gave me more of an understanding of his early life and a feel for where he grew up.
"Country is very important to indigenous people and the family were keen for me to show that in the film. It gave me a sense of the story."
Dickson said he wanted to articulate the challenges Sir Doug faced and the courageous manner in which he overcame barriers.
"Culturally, producing this film had a real impact on me, and gave me a real understanding of the struggles of his life and times. It also gave me an idea of the power of will," he said.
"He was born on a mission and was grade-three educated. He found his way to Melbourne and, on his own, worked his way through the race issues. He then became a pastor and, eventually, the Governor of South Australia. It's simply an extraordinary tale. When you think about it, it's one of the best stories in Australian history."
Dickson said he was especially touched by what he learned of Sir Doug's personable approach and the way he treated others.
"I would have loved to meet him – he seemed so warm and engaging, and his handshake was very important," Dickson said.
"His manner and the way he treated racism were so impressive. I would have been bitter and angry and would have wanted to fight back. He took it the other way and managed to work through it. It just opened my eyes."
Dickson said he would love one day to work on a much longer documentary on Sir Doug, but hopes the shorter film will give people an understanding of the story and its historical importance.
"It should be an hour. Hopefully, I've created a piece that genuinely captures the impact Sir Doug had.
"I hope people become more aware of his story when they watch it. This man changed the course of Australia. His story is astonishing."
Dickson has been acknowledged for his football documentaries, including The Chosen Few and The Chosen Few 2, as well as his grand final films, projects inspired by and done in part as a tribute to his late brother, the pioneering filmmaker and former footballer Rob Dickson.
However, working on Sir Doug gave him a different sense of satisfaction.
"Making football films has been fantastic. I don't mean any disrespect, but that's football.
"This is a life story. This is a powerful story of an indigenous man who made change in Australia. It really tested my filmmaking skills. I loved every minute of this one."
Sir Doug – The Story of Legend will be shown on AFL.com.au in five parts, starting next Monday, May 23, with the full film to be published on the site from next Saturday, May 28.