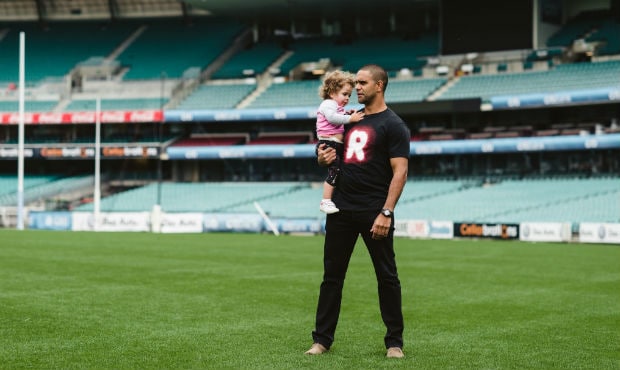 I AM Michael O'Loughlin. I hail from Adelaide, from the Kaurna and Ngarrindjeri Nations. I also have Czech Republic, Jewish, Irish and English descent down the line.
I am an incredibly lucky person to have grown up with a strong sense of culture and identity and been given the chance to make a career out of my life's passion – playing footy.
For many indigenous people, sport and footy, in particular, is what helps bring a community together. For some of us, AFL is the lifeblood and the glue of many communities. That's why I love the AFL Indigenous Round. It's a time to celebrate the culture of our Aboriginal and Torres Strait Islander players.
It also gives us an opportunity to acknowledge the historical and ongoing contribution Aboriginal and Torres Strait Islander players, coaches, officials, umpires and trainers have made to the game.
This year, the AFL is honouring one of the legends of the sport and true leaders of the Aboriginal community in naming the round after Sir Doug Nicholls – who has been honoured by both the nation and the AFL for his achievements.
Sir Doug's story reminds us of what can be achieved when you back yourself and believe in yourself and have pride. It's not easy, but it can be done.
In 1992, I was 17 and I'd started playing for Central District in Adelaide. My coach at the time said to me, "Michael, I'm sorry to say but I don't think you will make it into the AFL." And I believed him.
Little did I know there were scouts recognising my talent at games and interested in drafting me into the AFL.
The rest is history – I went on to play more than 300 games with the Sydney Swans, including our AFL premiership win in 2005.
I am very grateful to those scouts and the Swans for recognising me and giving me the chance to play professional footy. I am grateful for many things in life – family, friends and culture. I am passionate about giving back to communities, particularly my Aboriginal and Torres Strait Islander communities.
Along with our work with communities, many indigenous players in the AFL are supporting the national campaign to recognise Aboriginal and Torres Strait Islander peoples in Australia's
Constitution – our nation's rulebook – and, importantly, to end the racial discrimination that still sits in the Constitution.
That's why I support the RECOGNISE movement – the campaign to raise awareness of the need to recognise the 50,000-plus years' history of the first Australians and to make sure there's no place for racial discrimination in our country's founding document. You may have seen the 'R' logo on the footy field and on the screen and heard other
AFL players from many different clubs speak about their support.
Both on the field and off the field, Australians understand the need for recognition, respect and freedom from racial discrimination.
We can celebrate this as we come together as a country to fix our Constitution to get recognition in and racism out.
Congratulations to the AFL for backing this – we can work together to set up a brighter future.