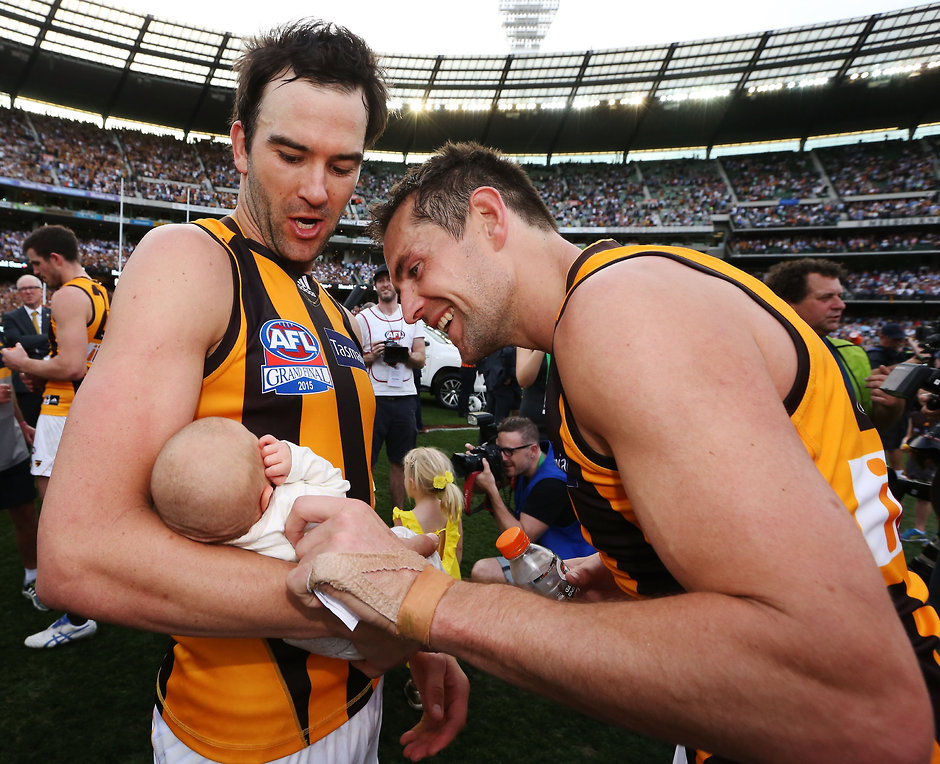 SAM MITCHELL says it used to be a standing joke at Hawthorn that Jarryd Roughead and Lance Franklin were gifted a few of their early games.
"They probably got some games they didn't deserve," said Mitchell of a period in 2005-06 when the teenagers, the second and fourth selections overall in the 2004 draft, were selected on potential and the need to fast-track their development, rather than on form.
That certainly wasn't the case for Jordan Lewis, picked seventh in that now-famous draft and whose career has been intricately linked with the two superstar forwards. Lewis made his debut in round three of 2005, showing from the very start he belonged.
Lewis's debut match provided a rugged baptism. It was the first Hawthorn-Essendon clash since the so-called 'Line in the Sand' game the year before and the Hawthorn coaching staff had spent the week talking up the idea the Bombers weren't all that tough and the Hawks could take them.
Essendon would win the game by two points (the difference being a disputed goal to Dean Solomon), but Lewis looked comfortable from the start, finishing with 21 possessions and a spot among Hawthorn's best.
Lewis, who started in No. 40 and would the following year be given the honour of carrying the No. 3 made famous by Leigh Matthews, played 19 games that season. He has logged at least that many every season since and has been both durable and very good.
"He made his mark very early on," Mitchell said. "It's not like he has played 100 really good games among the 250; he's probably played 200 good ones, which is a great strike rate."
Lewis was physically mature when he joined the club, which helped him make such a bright start. "He had that puppy fat a lot of guys have," noted former teammate Brad Sewell. "But he always had footy smarts and he used the ball so well."
He trimmed down within a couple of years, which enabled him to provide the on-field flexibility and all-field capacity that would become mandatory at Hawthorn.
"The first thing about him is his physicality," Mitchell noted. "When he's playing his best footy he's a physical player, but the other thing he brings us is a good mix of inside and outside play.
"His contested ball work is up there with the very best but he also covers the ground very well. Even though he's a big, strong midfielder he does take a lot of uncontested marks and helps us with our transition."
The Hawthorn tradition is to make a highlights reel for a player celebrating a major milestone and on the occasion of Lewis's 250th Mitchell is looking forward to a show reel replete with bumps, tackles and hits, but also, "those really nice inside 50 kicks where he puts it in sweetly and almost tells the forwards where to run so there's space for them to have a shot on goal".
Lewis played in the 2008 and 2013 premiership teams, but 2014 was the year he went from good to great, winning his first All Australian nod and capturing the best and fairest in another premiership year. His average possessions per game increased from 21.9 to 27.8 and his clearance and contested possessions numbers were also way up.
Assistant coach Cameron Bruce worked with Lewis that pre-season and is credited with helping him take his game to the next level.
As an opponent when at Melbourne and then as a teammate at the Hawks, Bruce was long a card-carrying member of the Lewis fan club, with fresh memories of how Lewis had bounced back from the brutal mid-air collision with Jarrod Harbrow, against Western Bulldogs at Etihad Stadium in 2010, a hit that knocked him out cold.
Jordan Lewis celebrates a goal with teammate Isaac Smith. Picture: AFL Media
"To even consider putting his body on the line the way he does, when you consider that well-publicised incident, shows he still very much tries to commit physically," Bruce said.
"But there were some subtle patterns we identified for him to improve, mostly with his preparation and work-rate. That was the major thing and that gave him a better chance to be involved for longer."
Lewis's improvement coincided with his elevation to vice-captain and a weekly spot on Fox Footy's AFL 360 program, where he has become renowned for his mature outlook on the game and his candor.
The eyes of the football world were on him last year after his two-match suspension for striking North Melbourne's Todd Goldstein in a fiery Etihad Stadium clash. Ditto last week, when he emotionally discussed his close friend Roughead's cancer battle. On both occasions he fronted up and answered every question, his reputation enhanced.
"He has strong opinions and a good footy brain he's not afraid to share, and knows what's going on in the industry," Mitchell said.
"He's married and has a child. That helps you mature and in his case it has helped his footy. Most of us are pretty selfish before we have a family, but this has helped him understand other people and helped him grow."
Lewis, who turned 30 last month, is lauded at Hawthorn for being one of the great unifiers. All footy clubs have their cliques, but as Bruce noted, he moves between the different groups seamlessly and relates to them all.
"What you see on TV is exactly what you get at the club," he said. "And we gained an understanding of what sort of person he is the other night when he spoke the way he did about his great mate."
This is an edited version of a feature appearing in this round's edition of the AFL Record, available at all venues.