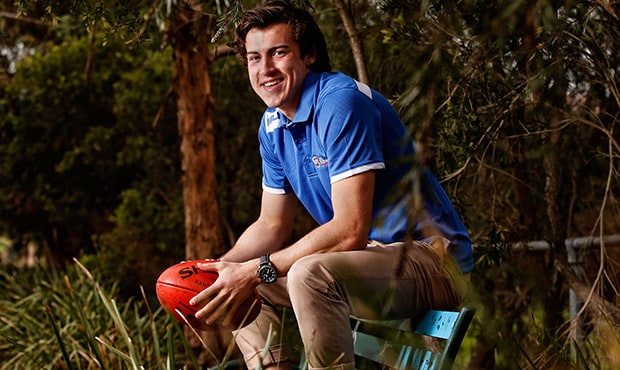 Over the carnival I've backed myself in one-on-one and that's something I want to do more
Andrew McGrath
- Visit our draft hub
- Every result from this year's Under-18 Championships
- Callum Twomey picks his 20 to watch ahead of the draft
ANDREW McGrath loved the battle of his promising athletics career. He was a high, triple and long jumper before he turned his attention to the hurdles, and each event presented a challenge.
"It's you against eight other blokes on the start line and it's all in your hands. You can't blame anyone else for your result," McGrath said. "The high intensity nature of it is really appealing and the adrenaline rush you get when you're in a race going over a hurdle or clearing a high jump bar is pretty exhilarating. You've got to be on all the time."
It's no surprise that similar qualities describe McGrath the footballer as the athlete: he's competitive, tough and gutsy; he runs and goes and hates being beaten; he doesn't stop until the race has been run (or won).
And, of late, his leaping hasn't been restricted to the track, with the Sandringham Dragons jumping up this year's draft order with every game he plays as an attacking and rebounding half-back.
McGrath's athletics background reads like an 18-year-old who would struggle to display all of his medals. He was the Australian under-14 champion in high jump (his best effort is 2m), and in 2012 was the Australian junior champion in the 200-metre hurdles.
He won heptathlon events in the under-15 age group at state level, and in 2014 won the Australian junior championships for the under-17 hurdles event. The Olympics were a way off, but not out of sight. He grew up training three times a week for his athletics career, and was eyeing the world youth championships in 2015 before pulling out of the sport.
"I was a bottom-ager last year for the Dragons and I had to choose between playing footy or doing an athletics pre-season during winter," McGrath said. "I knew I couldn't commit to that, so I went with footy. Athletics was important for me, and it taught me a lot about sport that I've taken into my footy.
"In footy you can be a bit of a passenger sometimes if you want to be, but that intense work rate is what I learned from athletics, and putting 100 per cent into every session to get better and better. I made the right choice."
The first two weeks of the NAB AFL Under-18 Championships would suggest so.
McGrath was named Vic Metro's co-captain for the carnival and stepped up in his team's first game two weeks ago, when he put in a starring final term to help his team to a two-point win over Vic Country.
With five minutes to go in the third term, the 180cm defender was shifted onto Country forward Ben Ainsworth, who had booted four goals in a brilliant quarter.
McGrath was up to the task against one of the draft pool's most exciting players. He shut Ainsworth out of the contest in the last term whilst also providing rebound and dare from the backline.
One run saw him take the kick-out, play on, take a bounce, arch his back, evade a tackle, keep running, get the ball back on the wing, shoot another handball to half-forward and then watch as the ball sailed into Metro's goalsquare for a contested grab and goal.
"A lot of people think I've watched that piece of vision every night since," he says. "I had to improvise, but we got out."
Andrew McGrath's impressive game against Vic Country saw the football world sit up and take notice

McGrath followed his brilliant round one game with another 27 disposals in Metro's come-from-behind win over South Australia last week, and with it has become a genuine first-round prospect.
His footy smarts and courage, combined with his athleticism, pace and spark, make him an appealing prospect. He also feels that each week of the carnival is bringing out his confidence.
"Being a smaller bloke you're taught to crumb it, but over the carnival I've backed myself in one-on-one and that's something I want to do more," he said.
The carnival has meant other things for McGrath, who was born in Canada and lived there until he was five. He was surprised when he made Vic Metro's leadership group, and even more so when he was named its co-captain alongside Jordan Gallucci.
McGrath already has leadership experience – he's school captain of Brighton Grammar – but being named skipper, and playing well, has given him belief he can take his game further than this level.
"I wasn't really sure about where I sat before the championships. I thought I was a step behind some of the guys, but you play as well as you can and see what happens," he said. "Hopefully I can hold my form."
There are parts of his athletics career that McGrath misses, and some of his friends, including Saint Jack Billings' younger sister Sarah, are headed overseas this week for the world youth championships.
But in many ways football gives him the same thrill as head-to-head racing used to: he lines up against an opponent each week and does everything in his power to beat him. He's hoping it's enough to see him end the season on an AFL list.
"The year's flown by. You go to training every week and then you're at the weekend," he said. "I don't think about much in the past, only about what's the next hurdle to get over and what's coming next. It's exciting."