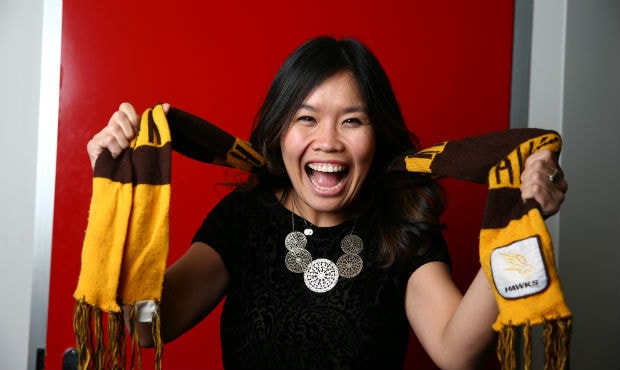 NOBODY should be surprised that a part-time comedian and actor broadcasting footy in a community language would take "a light-hearted" approach to the exercise.
Diana Nguyen admits she'll be looking for the funny side of footy when she broadcasts this weekend's Western Bulldogs-Richmond match in Vietnamese, but she takes her role as a champion of the game very seriously.
Nguyen works in community development in Melbourne's southeastern region, helping newly arrived Afghani, Sudanese and Burmese refugees.
Last year, she put up her hand when the AFL was looking for multicultural community ambassadors, as she was keen to build on her work introducing refugee kids to the game.
A Hawthorn "fanatic" since she was about six, when her grade one teacher encouraged her to take an interest in the game after the Hawks won the 1991 premiership, Nguyen found following footy helped her immensely.
"I grew up with a strong Vietnamese background, so watching football helped make me more Australian," she says.
"Football hasn't been embraced by the Vietnamese community. So I see it as one of my roles to help build understanding of the game in our community.
"One of the best ways to integrate kids is through footy. It needs to be pushed in new communities. Kids really want to learn about the game."
This is the second straight year all matches in the AFL's multicultural round are being broadcast in community languages.
Fourteen commentators will cover the nine matches, starting with Mandarin coverage of the Port Adelaide-Hawthorn round opener on Thursday night.
Nguyen, who wrote and performed Naked ("a show about being vulnerable") at this year's Melbourne Comedy Festival, was involved in last year's language broadcasting program.
"I had a lot of fun, but I didn't realise talking non-stop for a game was so tiring."
THIS ROUND'S LANGAUGE THEMES AND BROADCASTERS
Mandarin: Port Adelaide v Hawthorn
Commentators: Jinsong Li
Mandarin: West Coast v North Melbourne
Commentators: Euphie Rong and Jinsong Li
Greek: Geelong v Sydney Swans
Commentators: Timothy Dionyssopoulos and Nick Thodos
Hindi: GWS v Collingwood and Essendon v St Kilda
Commentators: Manpreet Singh and Harbir Kang
Arabic: Gold Coast v Brisbane Lions
Commentators: Rick Kerbatieh and Wassim Rafihi
Vietnamese: Western Bulldogs v Richmond
Commentators: Hung Huynh and Diana Nguyen
Spanish: Melbourne v Fremantle
Commentators: Juan Moya and Peter Pino
Italian: Carton v Adelaide
Commentators: Diego Ghiradi and Dario Castaldo
The community language broadcasts are available via AFL.com.au and the AFL app.