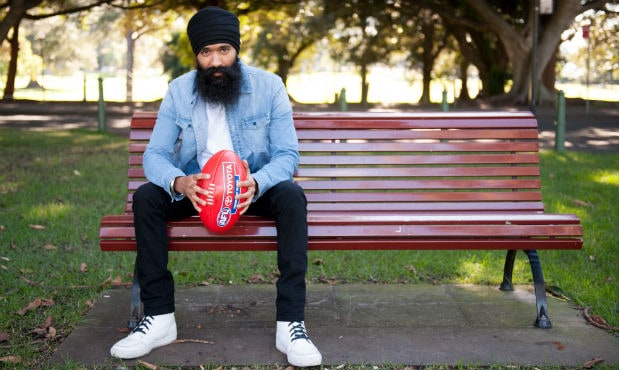 FROM behind sweat-covered microphones, Australian-born Sikh hip-hop artist L-FRESH The LION looks out to crowds surprisingly similar to those he sits among at AFL matches.
The fans are from all walks of life, various backgrounds and age groups. They are there to have fun, show their passion, let off steam and maybe learn something new. They feel safe, welcome and engaged.
"Music, just like sport, is a beautiful platform for bringing people together," the musician and footy lover from western Sydney says.
"I see it at my shows. When I get on stage there's such a diverse audience, it's a beautiful thing to experience.
"Music has the capacity to cross all social and political barriers and bring us all together to enjoy the moment, just like AFL does."
It might explain why L-FRESH – born Sukhdeep Singh in the south-western Sydney suburb of Liverpool – has become a passionate GWS Giants fan and recently took up a role as an AFL cultural ambassador.
The Giants are building a base in Sydney's ethnic melting pot and Singh, who will perform at the AFL's multicultural festival at Sydney Olympic Park on Saturday, hopes they will begin to resonate with people from backgrounds not normally associated with the game.
"AFL is not one of the more popular sports among the Indian community, for instance," Singh says.
"But there are kids in our community who are keen to engage with sports other than cricket and are passionate about the AFL. Let's connect with them and find ways for them to become more involved.
"Growing up in western Sydney I had a keen interest in AFL. I was a Swans fan and I wanted opportunities to play. But I don't remember even having the choice to play it at school or for a club.
"With the Giants here, how exciting is it for kids to not only have a team to support, but opportunities to play and connect with the team in a meaningful way. It really excites me. That's what I want to explore in my engagement with the AFL."
However, Singh suggests, engagement is about much more than simply growing the club's membership numbers. It's about social cohesion and understanding, topics he feels strongly about and has become renowned for expressing through his energetic and positive music.
His new record Become traces Singh's personal challenges finding his way as a minority in his own country. He says it "explores the challenges, conflicts and harmonies that come with being an individual whose experience is made up of being part of so many different cultures".
"I've got a Punjabi background – Indian and Punjabi cultures are quite different. I'm from the Sikh faith and culture and I obviously look different to most people," he says.
"I was born and raised in Australia, live in western Sydney, and I've been influenced by hip hop. All these different cultures intertwine within me as an everyday experience.
"I've found adversity in just trying to fit in, which entails being discriminated against, being abused and picked on. I've dealt with it by coming to peace with not trying to fit in, but rather standing out and celebrating that, celebrating diversity."
It's the kind of celebration Singh hopes to see more of in the AFL, particularly through the Giants, with whom, he says, he is "officially on the bandwagon".
"I love that there is a western Sydney team and my role with them and the AFL will be about connecting with communities at events and letting them know we can all enjoy AFL together.
"I'm sure there are plenty of kids from many different backgrounds playing AFL and I think it's amazing that the AFL is being proactive in creating better pathways for these kids to be a real part of the game.
"Hopefully soon we'll see someone from the Indian community kicking goals and flying high and grabbing marks."
This is an edited version of a story originally published on aflnswact.com.au