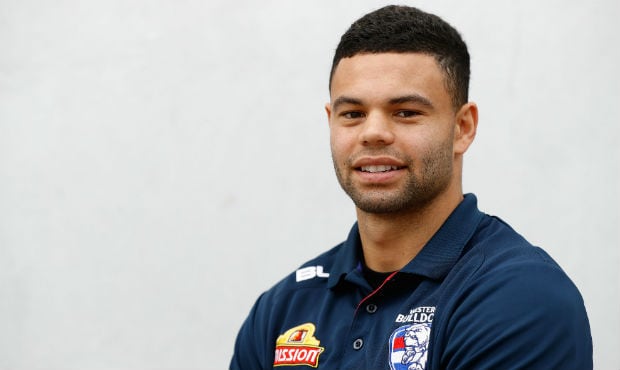 AS STRANGE as it sounds, Western Bulldogs defender Jason Johannisen wants Matthew Pavlich in Fremantle's forward set-up in the last home-and-away round in Perth.
Why would a young Dogs defender want to confront the Dockers' captain and longest-serving warrior? Easy answer. So he can get the chance to meet one of his childhood heroes after the final siren.
A respectful shyness prevented Johannisen from paying his personal tribute to Pavlich after the Bulldogs beat the Dockers in the season's opening round at Etihad Stadium in late March. So, he's eager to atone for the missed opportunity in what shapes as Pavlich's farewell AFL appearance.
"I actually shook his hand, but I got a bit star-struck and went quiet. I might have enough confidence to go and have a proper chat with him next time," the speedy backman said.
Pavlich is one of the role models Johannisen aspired to emulate when the South African-born defender excelled after being invited to train with East Fremantle's under-18 team.
"I had a signed Freo jumper and used to go to all their open training sessions and get signatures. My favourite player back then was Roger Hayden, so I tried to model my game on his," Johannisen said.
"I remember getting one (autograph) from Matthew. So it was certainly a bit strange to see him out there in round one when we played them.
"Playing against people you've grown up watching and idolising is surreal. You have to forget it and focus on your job."
Johannisen returned to the Bulldogs team last weekend after sustaining a serious hamstring injury in round four and was the hero in the Dogs' last-gasp win after booting a set-shot goal in the dying seconds. He's certainly a key component of coach Luke Beveridge's push towards a second straight finals campaign.
The Johannisen family moved from Johannesburg to Perth when Jason was eight and the Bulldogs took possession of the teenager's raw speed and skills via the 2010 rookie draft after he had played in East Fremantle's under-18 premiership team.
"My memories of Johannesburg are playing soccer with the neighbourhood kids and my cousins. My Dad played soccer and I would go and watch him and I would try to mirror what he did on the streets,'' Johannisen said.
"I went to primary school (in Perth) with a cousin, who's a year older, and he was playing footy with his schoolmates and I was still a bit shy about it all. So he asked me to come and play with them.
"That's why footy is such a great team sport – you can play it with your friends.
"I was playing rugby in Perth, which was one of the few winter sports I knew. I decided to have a crack at Aussie Rules and fell in love with the game,'' he said.
"I watched it on TV, so I found it so much more exciting. That excitement was what really attracted me to it."
Jason Johannisen celebrates his winning goal against the Swans with Marcus Bontempelli
After a tentative start in the seconds for the Bulldogs' VFL affiliate Williamstown, Johannisen rapidly progressed and was promoted to the Dogs' senior list in 2012. He made his AFL debut in round 19 that season, but his development stalled and by the end of 2014 he had played just 27 games.
Johannisen found a new lease of life when Beveridge arrived at the Whitten Oval late in 2014. Under the guidance of the new senior coach, defensive coach Rohan Smith and development coaches Chris Maple and Ashley Hansen, the running defender's pace and dare added an exciting dimension to the team in 2015.
He finished sixth in the Dogs' best and fairest, and was firing early this year after a strong pre-season until the hamstring tear against Carlton.
Smith said the coaches had worked with Johannisen to instill belief in his game to complement his natural speed and efficient ball skills.
"I wanted him to concentrate on his confidence. Once he started to believe he was good enough to play at AFL level, he took his game to another level,'' Smith said.
"He's probably among the quickest players in the AFL and, once he learnt to use that speed, he got confidence from that.
"I've always encouraged him in the right situation to take off, put the footy under his arm and go. Playing in defence, you've got to have that defence-first attitude and Chris Maple has done so much work with him in one-on-one aspects, encouraging him to know when his turn comes as a defender, he can use that speed to spoil and tackle.
"People see that speed as an offensive weapon, but it's a defensive weapon because his chase-down tackles and ability to get up the ground for an intercept mark or to spoil have increased," Smith said.
"His game is well-rounded now. He always had that offensive flair, but the defensive side is coming out. He has turned himself into one of the best half-backs in the competition."
The 23-year-old Johannisen, known for his changing hairstyles and interest in cutting-edge street fashion, said he was forever grateful his parents decided on the shift to Australia after visiting his uncle in Perth on holidays.
And he's equally thankful the Western Bulldogs' have helped transform a young South African-born soccer player into one of the AFL's most exciting playmaking defenders.
"I've thoroughly enjoyed my time with the Bulldogs. They took a gamble on me, so all I can do is try to repay them," he said.
This is an edited version of a story published in the round-16 edition of the AFL Record, available at all venues.