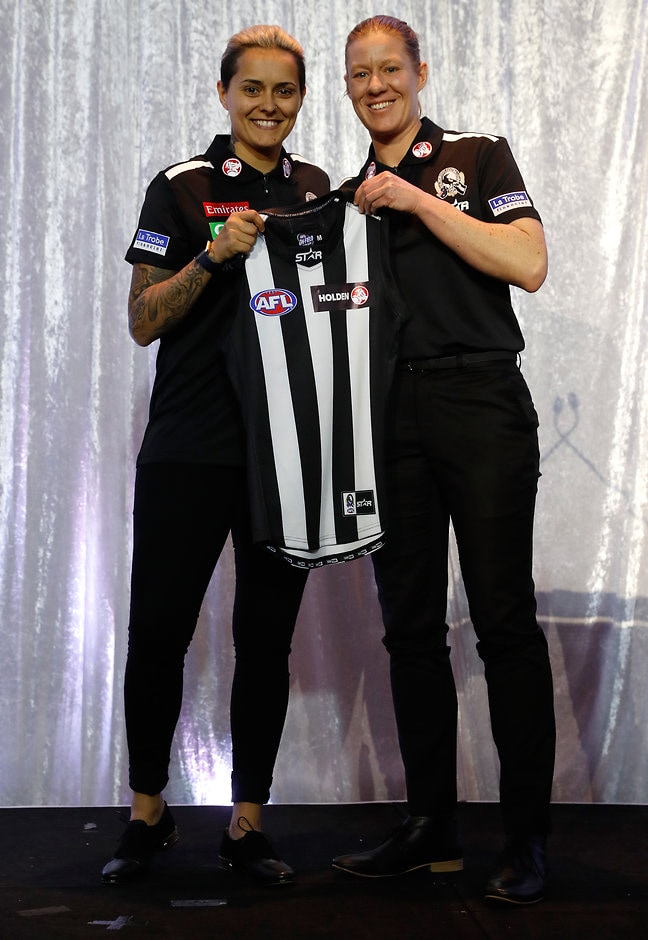 As a kid I would run around the backyard kicking the ball and commentating to myself, with me being a Collingwood player
Meg Hutchins
COLLINGWOOD will create a unique first among the many firsts in the new AFL women's league next season.
The Magpies team will include experienced defender Meg Hutchins, who's also the club's women's football operations manager.
The 34-year-old will delegate off-field duties on game day to an assistant while she uses her vast experience to organise the Pies backline.
"The club has been supportive, knowing (playing in an AFL league) was my lifelong goal, and to make sure it's achievable. The role of operations manager is really not needed on game day. Most of the work will be done during the week," Hutchins said.
The decorated defender will be one of Collingwood's pre-signings, allowing her to play in the competition's inaugural season. She was appointed the Pies' women's football operations manager in May.
A six-time All Australian, Hutchins knows she's fortunate in more ways than one to finally get the chance to play in an AFL competition.
She hasn't played since tearing the lateral meniscus in her right knee playing for the Western Bulldogs against Western Australia in an exhibition game at Etihad Stadium in early June.
"The doctors and physios here told me to go out and buy a lottery ticket. I was lucky my ACL held strong," she said.
"I feel really fortunate. Even though I've missed a number of games, it could've been a lot worse. It could have potentially spelt the end.
"I knew I had done some damage and I tried to rotate myself off as quickly as possible. We strapped it up, but I did a test (at half-time) and it didn't feel right."
Like most female footballers, Hutchins had to revert to other sports in her early teens when football was no longer an option. She played hockey and basketball before becoming an elite rower in the stroke seat of a Victorian women's eight crew at an Australian championships.
"Any chance I would get, I'd kick a footy around. I had two older brothers and got involved with University Blues in the Victorian Amateur Football Association. I was a water-girl with that team about eight years," she said.
Uni Blues had a ruckman named Gillon McLachlan, now the AFL's chief executive. "I was running water out to Gill all the time. It's funny how things work out."
Hutchins resumed playing football at 21 with VWFL club Eastern Devils, winning the goalkicking multiple times before switching to defence seven years ago.
"I've been working towards this my whole career. It has always been a dream to play AFL football in an AFL-sanctioned competition," she said.
"As a kid I would run around the backyard kicking the ball and commentating to myself, with me being a Collingwood player.
"Now I can actually live out that little fantasy."