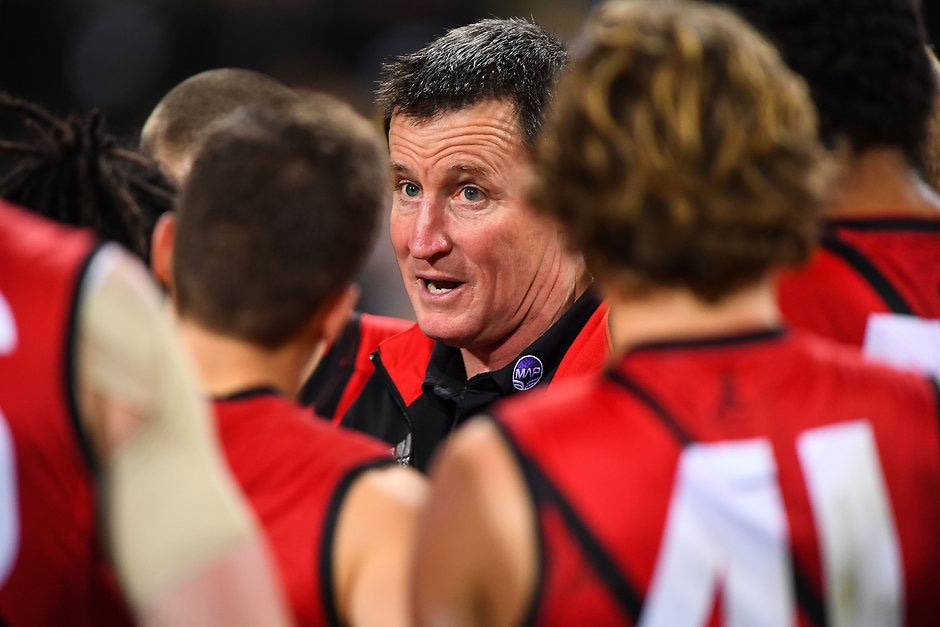 MOST of Essendon coach John Worsfold's public utterances tend to have a calming effect.

He has the intellect to articulate what needs to be said without his voice revealing any of the emotion that might lie behind his words.

It has made him the perfect leader at Essendon in 2016, a man who has led two clubs through dramatic upheavals without losing the public's trust or his authority.

His perspective has helped, humble enough to concede mistakes, resilient enough to embrace what was required to correct them and then human enough to take a break from the job when he realised he could not give it his all.

A return from that break happened this season when he became Essendon coach and on Sunday he will coach his 300th AFL game, to add to the 209 he played at West Coast.

A loss to Geelong would leave his win-loss record at exactly 50 per cent with 150 losses to match his 150 wins.

Not that you imagine Worsfold takes much notice of win-loss percentages.

Former teammate Glen Jakovich was in the side when Worsfold began his 12-year stint at the Eagles – where he was a two-time premiership skipper and club legend before he retired in 1998 – in a Western Derby against Fremantle in 2002.

He told AFL.com.au that Worsfold was a great people person.

"John's biggest asset is that he embraces the club first. He has a great personality that allows him to talk to every person in the football club," Jakovich said.

"He trusts people but is very demanding that they follow through with their skills and talents and he is big on work rate."

With a midfield including Ben Cousins, Chris Judd, Daniel Kerr and Dean Cox, he led the Eagles into battle against their greatest rivals at the time, the Sydney Swans, coached by current Melbourne coach Paul Roos.

Their battles between 2005 and early 2007 became famous with six consecutive games between the two teams, including two Grand Finals, decided by less than a goal.

John Worsfold and Chris Judd in 2006. Picture: AFL Photos


Throughout it all, Worsfold remain unruffled while what was unfolding on the ground bordered on chaos.

He was rewarded with a premiership in 2006 after a narrow loss in 2005.

"He had a lot of faith and belief and he doesn't panic under pressure," Jakovich said.

That faith and belief would have been tested when the cultural issues at West Coast were laid bare and the club made a priority of addressing those over winning games for a couple of seasons after 2007.

He managed to go back to the well, recruiting young players and leading the club through its most difficult period.

When he spoke to the AFL Record in 2010 as the West Coast laboured at the bottom of the ladder, he provided an insight into the strength of his conviction and his understanding of the depth of talent at his disposal.

He spoke of the patience required when developing Nic Naitanui, Chris Masten, Scott Selwood (now at Geelong), Brad Ebert (now at Port Adelaide), Luke Shuey, Brad Sheppard, Will Schofield and Mitch Brown.

"They have all shown glimpses of how good they are going to be so that is the exciting part. There is really not a lot of doubt about the fact they are going to be very good players," Worsfold said at the time.

"It's hard to pick but it will come in more of a rush than a trickle for us.

"Rather than seeing a couple of extra wins this year over last year and maybe a couple more next year, it will come in a bit of a rush, where all of a sudden we will be one of those top four competing sides and challenging for a flag."

The next season West Coast played Geelong in a preliminary final for a spot in the Grand Final.

But it wasn't able to reach the Grand Final and after two more seasons Worsfold decided in 2013 that 12 years and 281 games at the helm was enough to hand the keys to Adam Simpson, who led the team into a Grand Final in his second season.

During his break from football Worsfold helped first-year coach Phil Walsh adjust to being in charge in last year's pre-season before returning to help the Crows after Walsh's tragic death mid-season.

His actions during that turbulent time for Adelaide spoke volumes for the sort of person and leader football had in its midst.

Then Essendon came knocking in a time of crisis.

Jakovich said they could not have found a better man. He knew the character being brought into the club.

Those at Essendon say Worsfold, who is not one for wasting words, commands instant respect because he makes rational decisions (although word is he has not been quite as calm in the coach's box near the end of the season as he was at the start).

He knows the challenges at the Bombers will keep coming.

Football is better for having him back in coaching and becoming just the 20th coach to reach 300 games shows he knows what it takes.

"It's been an extremely tough year in a lot of ways but it has also been a really exciting year," Worsfold said on Wednesday.

"[I'm] really enjoying it…"