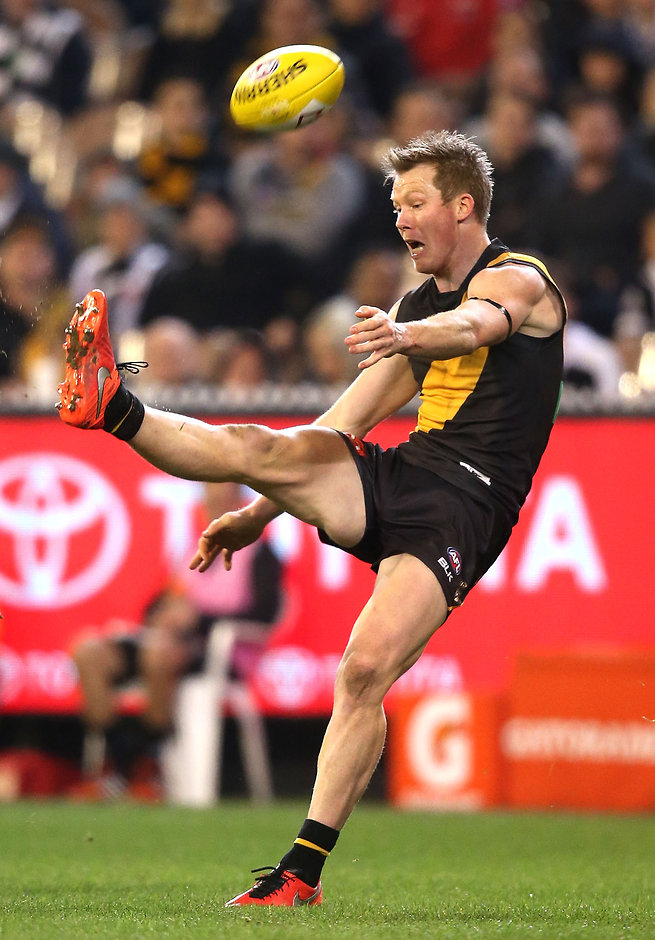 THERE have been some regrettable moments for Richmond star Jack Riewoldt throughout his career, but the forward is happy with how it has panned out.
The 27-year-old will play his 200th match against Geelong on Sunday afternoon at the MCG.
He made an obscene hand gesture towards the Hawthorn bench in 2011, and was known for his on-field dummy spits in his younger days.
Riewoldt has had a love/hate relationship with the media, most memorably when he ran from the media in 2014 after receiving a minor clip from his coach Damien Hardwick.
"There's been some stuff there that I wish hadn't happened, but it's all about the learning process through it," Riewoldt said on Saturday.
"I've matured into the person I am today through those things. Granted, I would like to take a few of them back that have probably put the club in a position that they didn't deserve to be in.
"When it comes down to it, they've all been pretty harmless. I haven't done anything too bad."
He saw the surgeon on Friday regarding a broken finger in his first ever practice game for the Tigers that has caused problems since. However, Riewoldt was declared fit to play.
"I've just had a little bit of a lingering issue with that. (The surgeon's) given me the all clear, so I'm 100 per cent and right to go," Riewoldt said.
He had a bout of the flu earlier in the week but said he had overcome the illness.
Fellow forward Tyrone Vickery wore a glove on his left hand, which he took off while practising his goalkicking. He appeared to be wearing strapping on the same wrist and hand.
Brett Deledio (calf) and Kamdyn McIntosh (ankle) made an appearance on the track, kicking to each other in a light manner. The vice-captain has been ruled out for the season while McIntosh will struggle to play another game after he suffered a syndesmosis sprain in his right ankle in May.
Since he was drafted at No.13 in 2006, Riewoldt has not been part of a victorious team against the Cats.
Geelong has won the last 11 matches between these sides, and 18 of the past 19.
Riewoldt said he was usually manned by Tom Lonergan, rather than Harry Taylor, who also lines up in his 200th game.
"I've played on Lachie Henderson when he's played at Carlton. It just goes to show the versatility of their backline," he said.