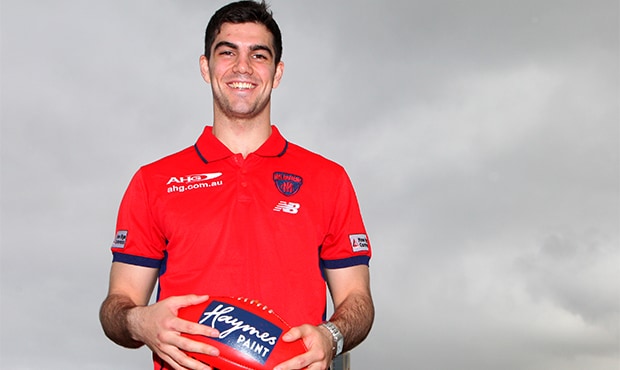 I obviously played footy while I was growing up and it was my number one sport for a long time so I'm really excited to get stuck into it
Corey Maynard
MELBOURNE has signed former NBL basketballer Corey Maynard as a category B rookie.
Maynard is the brother of Collingwood's Brayden Maynard. His father Peter Maynard played eight games for Demons between in 1980-81 before playing 216 games in the SANFL with Glenelg and Woodville West-Torrens.
Maynard's grandfather, Graham Campbell, played 151 games for Fitzroy and won the 1957 best and fairest.
Maynard, 24, has not played football since he was 16 and can go straight on to the Demons' list under the AFL's category B rules.
He returns to football from a basketball career that saw him play division one college basketball for Bryant University for four years in the United States before two seasons in the NBL with the Cairns Taipans and Townsville Crocodiles.
Maynard told melbournefc.com.au he was really excited to follow in his father's and his brother's footsteps.
"I'm really excited," Maynard said.
"I obviously played footy while I was growing up and it was my number one sport for a long time so I'm really excited to get stuck into it.
"(Dad) likes to tell us he was pretty skilful and we've watched some old tapes of him. He forces us to sit down and watch them with him when they won two flags back in the '80s. He was a really good footballer back in his time.
"(Brayden's) played nearly 30 games now and he's only 19 so he's got off to a really good start in his career. I'm a long way off that. It will take a lot of time and I'm realistic about that but I'm really excited about the opportunity.
Maynard said he had no regrets about ending his basketball career to pursue AFL football.
"It was a really positive journey I had in basketball," Maynard said.
"But it was kind of getting to that point where I was getting to the age where if I really wanted to give footy a crack I probably had to think about making a switch. I'm really happy with the decision."
The Demons had been tracking Maynard for three years and their national talent manager Jason Taylor said his competitiveness is his most exciting attribute.