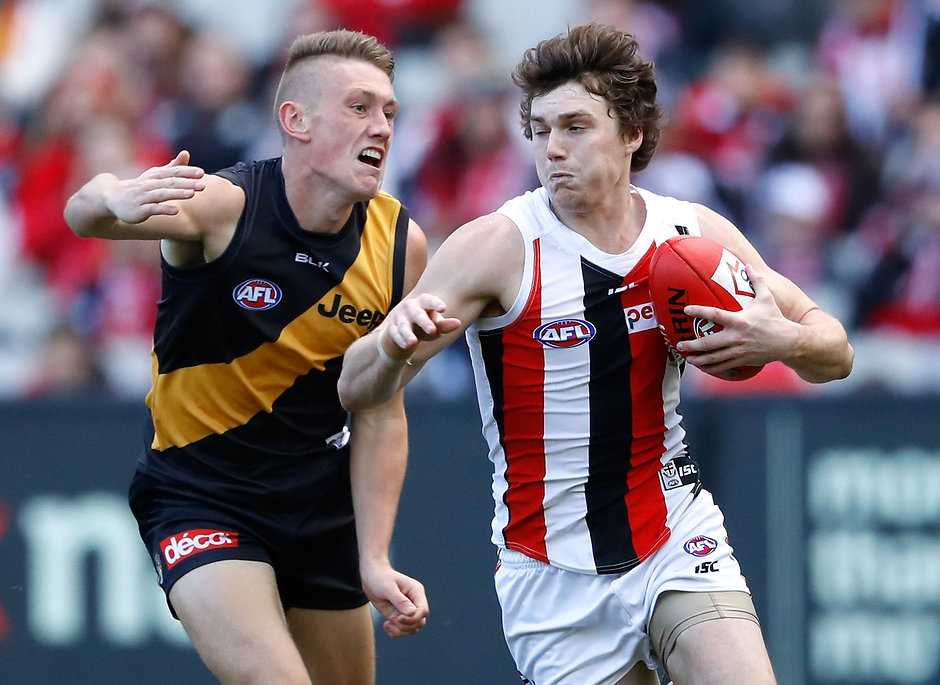 EMERGING St Kilda wingman Blake Acres says the guidance of skipper Nick Riewoldt has helped him play consistent football in the past month.
The 20-year-old sat down with the Saints' champion about four weeks ago to watch vision together and tap into his experience.
Acres also made sure he watched vision of Riewoldt to get a sense of the veteran's tireless running and where he positions himself during games.
On Saturday, Acres showed once again that he was reaping the benefits of the tuition with 26 disposals, seven tackles and five inside 50s.
"It's been a lot easier working with him and being able to watch what he does helps me a lot too," Acres told AFL.com.au.
Playing just his 25th game, the 19th selection in the 2013 NAB AFL Draft broke the lines and took calculated risks to move the ball forward quickly.
A lover of the long wide handball, he likes to run in curves as though he's crossing a river on a fallen log, but the style helps him find space.
"He [Riewoldt] just tells me to keep taking the game on. Everyone does on the team [as] everyone works together, which is good," Acres said.
Five talking points: Richmond v St Kilda
Sometimes that willingness to go for it ages the coach Alan Richardson, but he is also pleased with the type of player Acres is developing into.
"There are times with Blake where my heart is in my mouth," Richardson said.
"He takes them on. He takes some risks.
"He is going to be an exciting player, but like all of our young guys, [he has] got a bit of work to do."
WATCH: Alan Richardson's full post-match press conference
Acres said playing the same role for five or six weeks in a row had also helped him develop, but he is nowhere near resting on his laurels.
He knows he can run but he wants to develop his inside game more, understanding that the best players have a good balance between contested and uncontested possessions.
Acres said he would like to model his progress on teammate Seb Ross, who has quietly become one of the game's most improved players.
He knows to take nothing for granted having to work hard for his spot early in the season after being dropped twice. Since that experience he has earned a NAB AFL Rising Star nomination and gained a permanent spot in the line-up.
The only downside of the day for Acres was watching big Paddy McCartin go down with a broken collarbone.
"It's been devastating for him," Acres said.
"He'll do the right thing and he will become bigger and stronger."