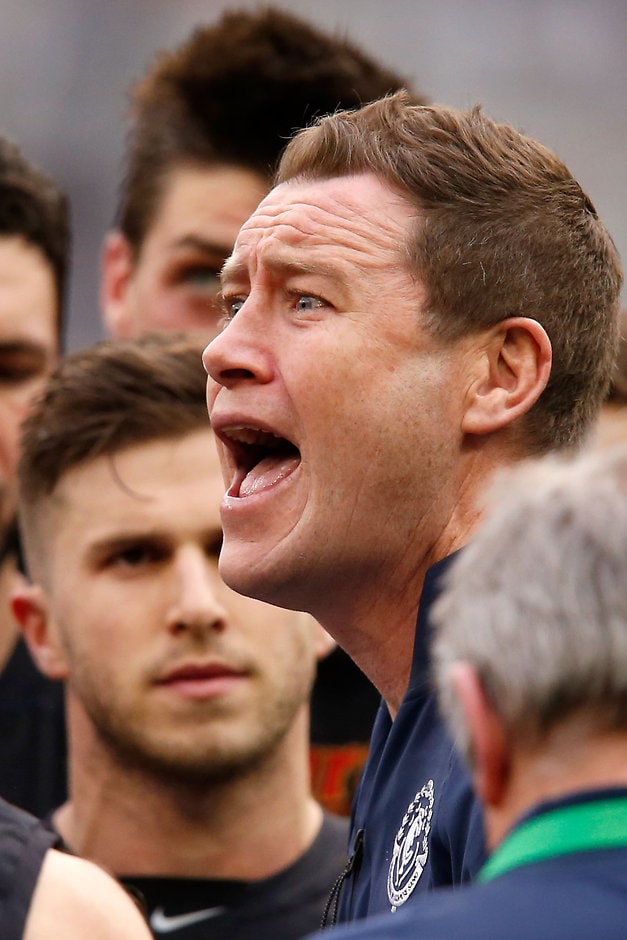 (I'm) in a place right now to seriously look at any senior coaching opportunities that presented
John Barker
EIGHTEEN months ago, nine assistant coaches were selected as the first members of the AFL's Level Four accreditation course, a program that has quietly been preparing its members for promotion to senior roles.
It is likely that by the time the Brisbane Lions announce Justin Leppitsch's replacement, three of the past five senior coaching appointments will have come from the program.
In that inaugural intake, alongside Brendon Bolton (Carlton) and Simon Goodwin (Melbourne), was Carlton assistant John Barker, who describes the program as "one of the best part of the past two years" in his development.
It is a program he will graduate in the coming weeks knowing he is now ready to look at senior vacancies with the confidence he can handle the job.
"It is a great testament to the course and the content that a lot of the scenarios they challenge us with are what senior coaches face," Barker told AFL.com.au.
"I got the opportunity last year when I sat in the chair (as Mick Malthouse's replacement) and all these scenarios start appearing and you have to deal with them.
"I'd done a lot of the thinking about those scenarios already, and it showed me that the Level Four is going to prepare coaches who are looking to take senior roles."
Who's in the running for the Lions job?

Barker was reluctant to declare his hand when asked about the Brisbane Lions vacancy, but he did say he was "in a place right now to seriously look at any senior coaching opportunities that presented".
The 41-year-old already has 14 games coaching experience after being appointed as the Blues' interim coach last year.
It was a period that opened his eyes to the challenges faced by senior coaches outside the cut-and-thrust of match-day, underlining the value of his Level Four experience.
"The scenarios that occur in the box are probably not as pertinent to the program as the stuff that happens off the field day to day – cultural issues or your stance on issues that occur with standards at the club," Barker said.
"I was dealing with some issues with players and had to decide ... what we want to stand for as a club and how we go forward.
"That pre-thinking in the Level Four made you really aware of where you sat on certain things and how important it was that you had a values-based foundation to your thinking."
Carlton coach Brendon Bolton joins John Barker as another Level Four success story. Picture: AFL Photos
Coaches are challenged through the Level Four course on issues faced at every club in 2016. What is their stance on players who they know are taking illicit drugs, for example? What does their ideal football department look like? How does their leadership style impact on the people around them?
Their opinions are tested by mentors – including former Australian cricket coach John Buchanan and legendary hockey coach Ric Charlesworth – as well as each other.
It is a course that operates under Chatham House rules, allowing the coaches to speak about their own experiences, without being too candid about the clubs they work at but knowing the conversations won't leave the room.
The culmination will be a two-step interview, which emulates a senior coaching process, in front of a panel that will include a former president, CEO and football manager.
It's an interview that will cut to the core of who they are as coaches, with inaugural inductees Stuart Dew (Sydney Swans), Matthew Nicks (Port Adelaide), Blake Caracella (Geelong), Simon Lloyd (Geelong), Adam Kingsley (St Kilda) and Robert Harvey (Collingwood) also preparing to finish.
"We all had to put to paper what we stand for as a person, and how that permeates into our coaching and the values we hold as a coaches," Barker said.
"On the back of what we put to paper is a fair portion of how we'll be assessed by these panels, because I'm sure they'll be asking us a lot of questions about what we put to paper."
While the AFL's ambition is to make the Level Four a mandatory qualification for new senior coaches, that next step is only likely once a sample of graduates have been in senior roles for a least three years and are judged to have made a successful transition.
Clubs will also need to accept that the program should be mandatory.
Barker, who boasts a commerce degree and experience in corporate banking and business advisory, is one of the program's biggest advocates.
As a coach who has continuously sought to improve, it has given him good reason to ask the same of his players as an assistant.
"It's hard for you to do that if you're not prepared to do that yourself," he said.
"If you're prepared to stretch yourself as well I guess you're showing your players that you value that continuous growth.
"The Level Four has been a great conduit for that."