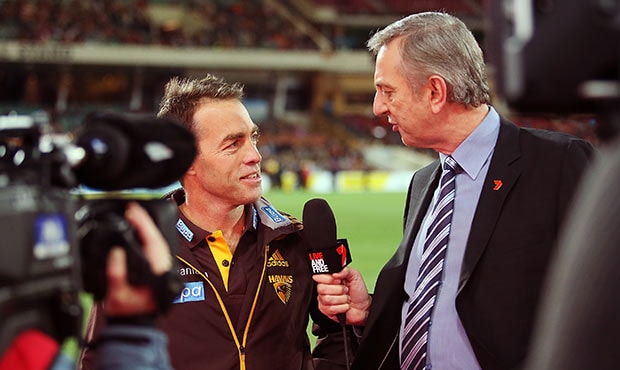 TO MOST people in his shoes, the choice would have been pretty clear. Lathlain Park or Lord's? Bassendean Oval or The Oval?
They were the choices facing emerging ABC sports broadcaster Dennis Cometti in 1985. The legendary Alan McGilvray was about to retire as the chief cricket commentator for the ABC and Cometti was being tapped on the shoulder to be his replacement.
McGilvray was a radio icon, the soundtrack to Australian summers spent at the beach, the bush or the backyard. He was such a part of cricket that a song, The Game Is Not The Same Without McGilvray, was penned in his honour.
McGilvray wanted Cometti to shadow him through an Ashes tour of England, to network with some of the giants of cricket broadcasting such as Brian Johnston and John Arlott, with a view to joining them as the ABC's man for every Ashes tour thereafter.
Cometti was a fine cricket commentator in his own right, part of the ABC troupe that travelled across Australia every summer. "Dennis Cometti at the WACA Ground for ABC Sport" was a sign-off many Australians of a certain age still remember.
But Cometti said no. The lure of the winter game proved too much and the end result of his "sliding doors" moment was a renewed commitment to broadcasting football, which culminates in this year's Grand Final, the last game he will call before he hangs up the binoculars, takes off the Channel Seven lapel pin and packs the notebooks away into a dusty cupboard back home in Perth.
Over a coffee at his home away from home, Melbourne's Grand Hyatt Hotel, Cometti explained to the AFL Record why he passed up the opportunity to become the next McGilvray to become, well, the first Cometti.
"I was a footy person first and foremost," he explained. "It was my first love."
It was a love that developed watching West Australian football in the late 1950s and early 1960s when the great players and the standard of football wasn't far behind that in Victoria. It explains his affection for, and perhaps even his infatuation with, 'Big' Bob Johnson, the former Melbourne ruckman who moved to Perth and became a star.
As a former member of the Australian Football Hall of Fame selection committee, he brought players from that era to the forefront.
Cometti could play a bit and he showed that in 60 games for West Perth in the late 1960s under the coaching of the great Graham 'Polly' Farmer. He thrived under Farmer, once kicking four goals in a semi-final and was even known as 'Polly's Pet'.
But he got injured in a semi-final and his injury rehabilitation coincided with the death of his father and he lost the passion to play. "I didn't rehab as I should have. I was an only child and my father and I had always done the lot together," he said.
Football was a huge part of that. Cometti had been living the dream, playing the Rolling Stones every day as a top-40 disc jockey at radio station 6KY and kicking snags for West Perth on the weekend.
Then came the opportunity to work full-time in the ABC sports department in Perth. His mother was delighted, he said with a laugh, because it "offered job security". But it also set him down the path to becoming one of Australia's great sports broadcasters.
Cometti joined Channel Seven in 1986 and, once the network regained the VFL rights two years later, he became the voice of football. He still dabbled in cricket and called games for 2UE for the best part of a decade alongside Ian Chappell, Tony Greig, Richie Benaud and Henry Blofeld, but football was his bread and butter.
The game was going national and in Cometti and Adelaide's Bruce McAvaney (from 1990), it had fresh voices who represented the new breadth and depth of the game.
Theirs has been a fantastic partnership. Cometti has no peer when it comes to painting the big picture and his brilliant turn of phrase and dry wit have been widely mimicked, but never surpassed.
He could make a late-season Sunday afternoon stinker between two bottom clubs eminently watchable, particularly for a time a few years back when he accepted a weekly challenge from 3AW breakfast host Ross Stevenson to insert a random phrase or song title, which had nothing to do with football, into the commentary.
McAvaney brings the excitement, the love for the big names and, of course, the facts and figures.
"He's an icon, but we come at it from different points of view," Cometti said. "We're mates … at least I think we are! He's a lovely fellow and we finish each other's sentences like an old married couple.
"But we have an arrangement that only old friends can have. When we stay at the same hotel, if we walk into the same restaurant and one of us is there, there's no obligation for the other to go and sit and talk. You can sit by yourself and read the paper. That's a level of comfort you sometimes don't have with your own relatives."
The pair have become synonymous with Friday night footy and Grand Finals. Cometti says there are two factors behind the growth of Friday night games – Wayne Carey's star turn throughout the '90s and McAvaney behind the microphone.
But his move to Channel Nine in 2002 for five years after Seven lost the AFL television rights played a part in that as well. Friday night became the domain for the big games and the big clubs. Nine treated the games as news events and they were blessed with matches such as Carey's explosive first game for Adelaide against North, Danny Frawley being spat at by Richmond supporters while coach and Bali bomb survivor Jason McCartney's incredible comeback game for the Roos.
"I remember the first Friday night game with Eddie (McGuire) at the MCG. With the number of reporters and photographers, there wasn't enough room in the booth," he said.
"It struck me then that this has gone up a notch or two and, in fairness to Seven, since they got the rights back (in 2007), it has gone up another notch or two once again."
Cometti's first foray with Seven meant travelling the country every week to call games. It was eye-opening for a card-carrying West Australian to travel every week to the wilds of the Whitten Oval, Waverley, Windy Hill and Moorabbin, but he loved it all the same.
He rates the 1989 epic Hawthorn-Geelong Grand Final as the best he has called. He also has special reverence for late 1980s State of Origin games between Western Australia and Victoria.
"The purest footy I ever saw. They were remarkable," he said of the games that used to be played on a Tuesday afternoon at Subiaco Oval that would bring Perth to a standstill and have Victorians rushing home early to watch on television.
He has always been a progressive thinker when it came to football and he could see the WAFL withering as the gaps between the haves and the have-nots began to widen.
"The Victorians have always been good to me and their football was always the best in the country," he said. "I'm just not sure they understand how good the competitions were in South Australia and Western Australia. The best players there were great players, just that a lot of them chose not to come."
For someone with such profile and exposure, Cometti has tended not to use his television appearances or his newspaper column in The West Australian as a soapbox.
"I've probably bored people in Perth crazy with interchange – my optimal number is 40, like in the early '90s," he said.
"People can try to shape opinions, but that can last for perhaps a week. I don't see the need to do that because the games speak for themselves."
The games have always been his thing. As have the Games. If Cometti is best known for anything other than his football commentary, it was his stellar work calling the swimming at three summer Olympics – Barcelona (1992), Atlanta (1996) and Sydney (2000).
Apart from his syllable-perfect pronunciation of Dutch superstar Pieter van den Hoogenband, he was poolside for the re-birth of Australian swimming and in particular two of the great moments – Kieren Perkins' 1500m win from lane eight in Atlanta ("This is rare gold, the best kind of gold") and the heroic, drought-breaking 4x100m men's freestyle win by Australia in Sydney.
Cometti jokes that his only qualification to call swimming was "the swimming pool in my back yard". But once Seven won the television rights to Barcelona in 1992, all the broadcaster's big guns were called up for Olympic duty.
"There's a lot of work between the heats in the morning and the finals that night and if an Australian is featuring then you know the entire country is watching," he said.
"You didn't have time for a migraine because you had to be back there the following morning."
He admits that by 1996 he was at the top of his craft.
Dennis Cometti with AFL CEO Gillon McLachlan. Picture: AFL Photos


"The good thing about swimming is they don't go very far from you. A race is a race is a race and it doesn't shift on you. There's nothing unexpected, while a football game is free form."
He loves pretty much everything from the '90s and argues football was more free-flowing then and at its zenith. And it explains why he is a fan of the changes introduced by the AFL this year designed to speed up the game. It can make for a more manic existence for a caller, but Cometti wouldn't have it any other way.
"I prefer that to the stop-start footy we were getting, where you repeat yourself constantly," he said. "There's more energy in the game and for the commentators. Three or four ball-ups and the ball not moving … that was a downer on the game for the commentators."
The shame is that just as the game is back being played on the terms Cometti likes, he is calling it a career.
"I love doing the footy when I'm sitting there. But the travel is the key," he said, recounting what a grind having to pass through several airports every weekend has become.
He and his wife of 46 years, Velia, love Melbourne and spend long periods of time there every football season. But they chose not to relocate from Perth when their family was younger and only in the past few years has the constant travel become a factor.
"Taking off your shoes and your belt every time (at the security gate at the airport), it's not what I aspire to any more. For a young person on the way up, that's a different story," he said.
Not helping is his artificial knee, which he says sets off the alarm. "It plays La Cucaracha every time!" he laughed.
"Then you get on the plane and you think 'What have I forgotten today?' I've had people break into my hotel room to get things to me at the ground, but if you're in Melbourne and you've left your notes back in Perth, then you're in trouble.
"I like watching games on tape then writing things down. I'm not like Bruce who retains it all."
The Grand Final is the perfect stage on which to retire. This will be the 17th premiership decider he has called. It is a whirlwind week replete with all sorts of commitments and obligations.
"There is so much buzz about it, like a heavyweight title fight, but you have to be careful it doesn't become all too consuming," he said.
The key to getting through it all, he says, is some solitude. "Step back, give yourself some space and take the time to consider what it's all about."
And perhaps with a nod to whoever sits in his chair next year, he added, "Don't be overawed by it. Appreciate what you're about to do."
Cometti isn't sure what comes next other than dinner after the game with Velia.
"If it's been a good broadcast I'll be relieved and if it's a good game then better still. But I won't be sad or happy," he added when asked the obvious question about how he will feel departing the MCG commentary box for the last time.
"We'll just walk back to the hotel and plan what's next and how we're going to pay the bills."
Somehow, you don't think that will be too much of a problem.