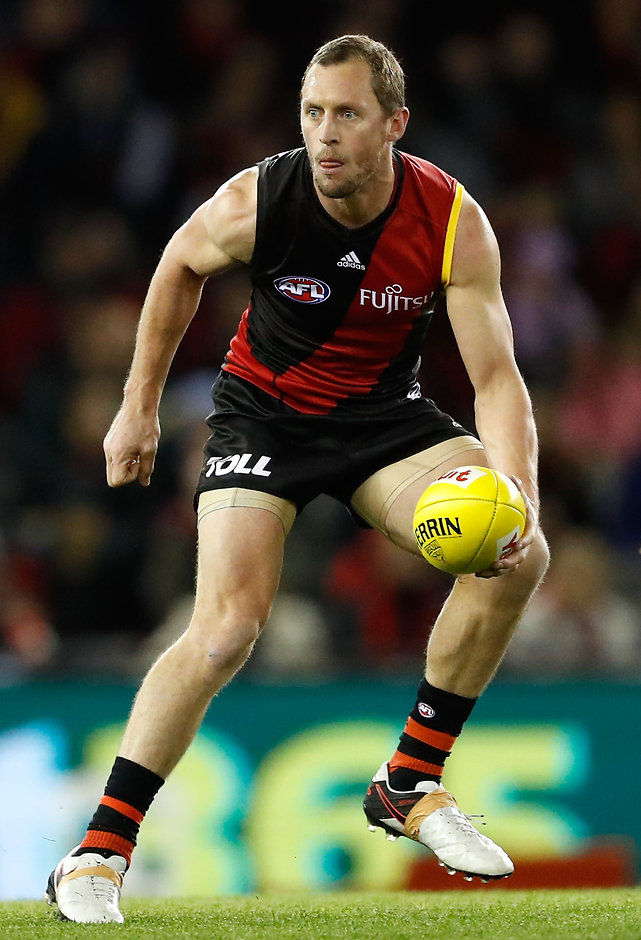 I'm really honoured to have the chance to continue my career in the red and black
Matt Dea
ESSENDON top-up players James Kelly and Matt Dea have officially been signed by the Bombers as delisted free agents on one and two-year deals respectively.
The move had been mooted for some time, with the club able to retain the pair as free agents, since they were cut from the club's list at the end of the season.
AFL.com.au reported in August the club would be able to retain its top-up players in this manner.
Kelly has committed until the end of next season while Dea has penned a contract to see him at the Bombers until the end of 2018.
For Kelly, it means his career will continue into a 16th season after he won three premierships at Geelong.
He retired at the end of 2015 after the Cats didn't offer him a contract.
The 32-year-old lined up in 20 matches this year, playing largely off half-back.
He told essendonfc.com.au that working under coach John Worsfold was a reason for him to play on.
"It's been a real privilege for me to be part of this footy club," Kelly said.
"I have really enjoyed my football under 'Woosha' and was always hopeful for the chance to go around again next season.
"I am really looking forward to watching the development of the younger players on our list as we strive for future success."
Worsfold told the club's website that Kelly's nous was valuable to the team.
"James' leadership has been invaluable to not only his teammates but the entire club since day one," Worsfold said.
"He is a really accomplished player – he's done everything you need to do as far as AFL football goes, but still has the desire to play.
"His role as somewhat of an 'on-field coach' has only been strengthened by his overwhelming ability to lead by example in terms of sharing his knowledge and experience."
Kelly needs another seven matches to crack the 300-game barrier.
Dea, 25, had a six-year career at Richmond before joining the Bombers.
"The boys have been fantastic and the coaches have been really supportive since the day I arrived," Dea said.
"This season was a massive opportunity for me to develop my game and I'm really honoured to have the chance to continue my career in the red and black.
"I am really excited about what the future holds for this group in 2017 and beyond."
Matt Dea excelled for the Bombers' backline this year. Picture: AFL Photos