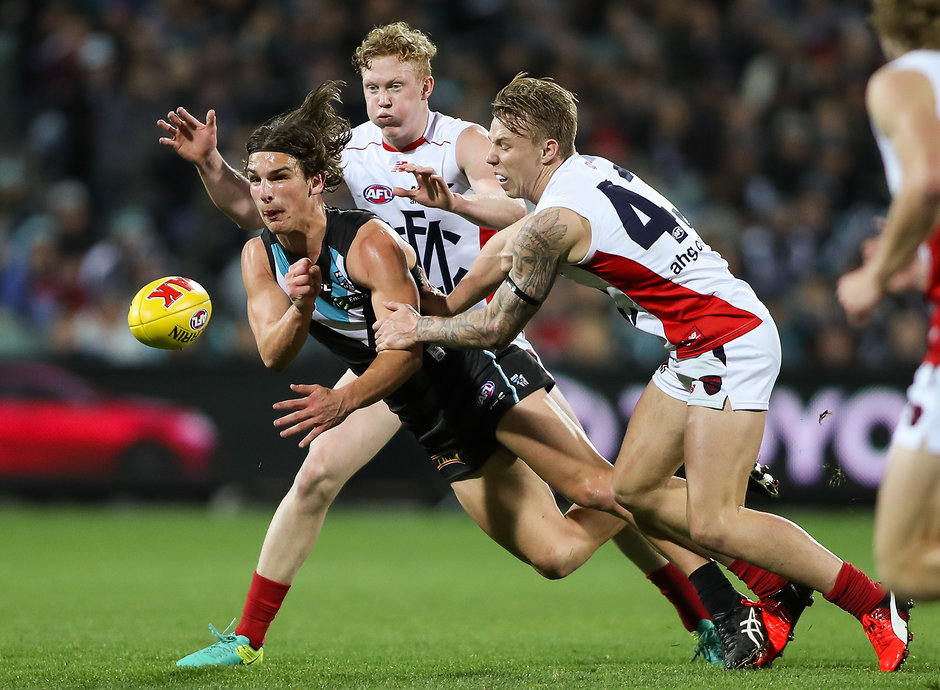 Originally I was a forward, but you've got to have another string to your bow
Jesse Palmer
CREATING havoc in front of goals is Jesse Palmer's preference, but the Port Adelaide youngster is also ready for bursts through the midfield.
The 20-year-old forward will use the gruelling pre-season to build his endurance base to ensure he's ready for an increased workload next year.
The 188cm Palmer wants to continue to play up the ground while also building on his versatility.
"Originally I was a forward, but you've got to have another string to your bow," Palmer said.
"In terms of midfield, I've got to improve my endurance.
"In the future, maybe down the track (I can play in the midfield), but I see myself as a forward."
There will be opportunities in the Power's forward line next year following the departures of Jay Schulz and John Butcher.
Palmer played strongly for Port Adelaide in the SANFL before making his AFL debut in round 21 and holding his spot for the last three games.
"It was good to get that experience, to get a taste for it and gives you a bit of a base of what to work on during the pre-season," Palmer said.
"It's a pretty big step up from SANFL footy.
"It was a good experience and I thought I held my own, just like all the other boys did when they got their opportunity."
Palmer is entering his third season with the Power after he was taken with the 78th pick of the 2014 NAB AFL Draft.
The Power are desperate to return to the finals after two disappointing seasons.
Cutting down their turnovers by foot will be a major focus of their pre-season.
"We're not shying away from that, we weren't the best at skills this year," Palmer said.
"I'd say we'll have a pretty big focus on that this year."
Palmer, along with Power teammates Dougal Howard and Logan Austin, attended the Power's inaugural Power Community Youth Program Sports Carnival.
The carnival is an end of year reward for more than 200 students who completed the community youth program, which promotes healthy living, harmony, respect and teamwork.