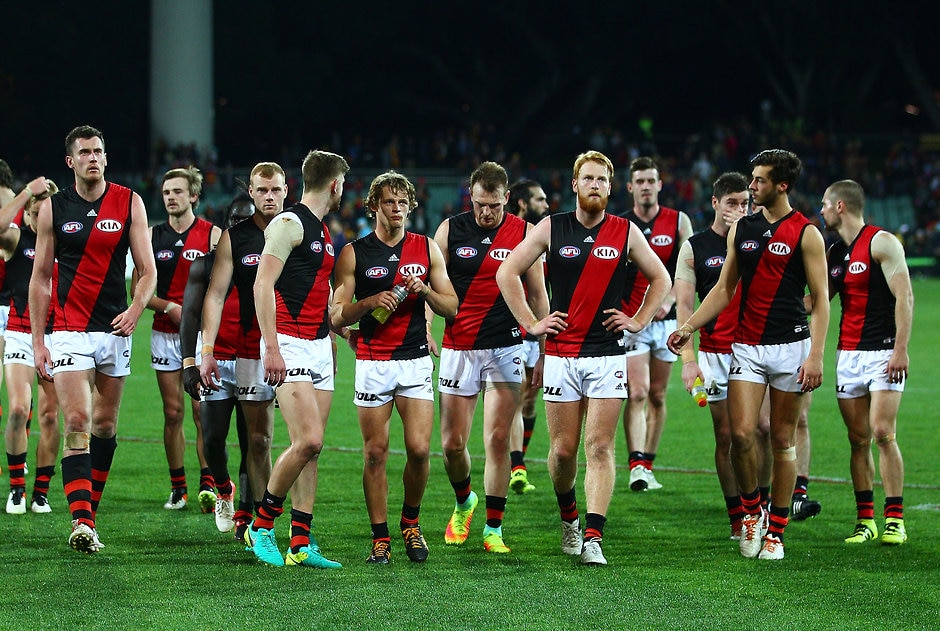 ESSENDON has announced a massive loss of nearly $10m for the 2016 financial year as the fallout of the club's disastrous 2012 supplements program continues to hit home.
In a statement, the Bombers cited the impact of the Court of Arbitration for Sport's guilty verdict and suspension of 34 past and present players in January as a significant factor in the financial blow.
Nearly half ($4.5m) of the Dons' total loss ($9.8m) was registered from covering legal fees and compensation claims.
A further $3.1m was lost through reduced match receipts, plus consumer and commercial revenues.
In addition, paying 10 'top-up' players to cover the suspended Bombers in season 2016 cost the club $1.5m.
There was also a non-cash cost of $806,000 from writing-off assets, which are no longer in use, at the club's former Windy Hill home base.
Bombers CEO Xavier Campbell said the abnormal costs were disappointing but not unexpected given the circumstances.
"Our club has experienced a unique set of challenges this season, and while we've been stringent in our financial operations, a number of one-off costs severely impacted the financial result," Campbell said.
"Shortly after the CAS decision, the board and administration implemented serious measures to respond to these challenges, including a range of cost cutting measures and identifying greater efficiencies across the business.
"With the abnormal costs to our business now largely behind us, we are confident that our underlying business model, debt reduction plan and strategic priorities, will return Essendon to a position of strength in the coming years.
"Our debt position currently stands at $9,006,603. We expect debt levels to peak during 2017 and our strong cash flows from normal operations will then allow us to begin paying down the debt.
"Despite these issues, we have taken a number of important steps to ensure a positive future for our club both on and off the field and I am confident we can now transition into a new era with a strong sense of optimism and purpose.
"The executive team, with the support of the board, has laid the foundation for our comeback as a football club in line with our vision to be the most respected, inclusive and successful sporting club in Australia.
"The unwavering support of our passionate members, new and existing commercial partners, and other key stakeholders continue to be a great strength of our club."
The 2016 result comes after the Bombers posted a $1.3m net loss for the last financial year.
The Bombers recorded a profit of $721,517 in 2014.
Key points of 2016 financial result:
· Net assets - $27,453,599
· Total Revenue - $53,499,545
· Membership Tally - 57,494
· Total debt position - $9,006,603
· Cash at bank - $2,904,392