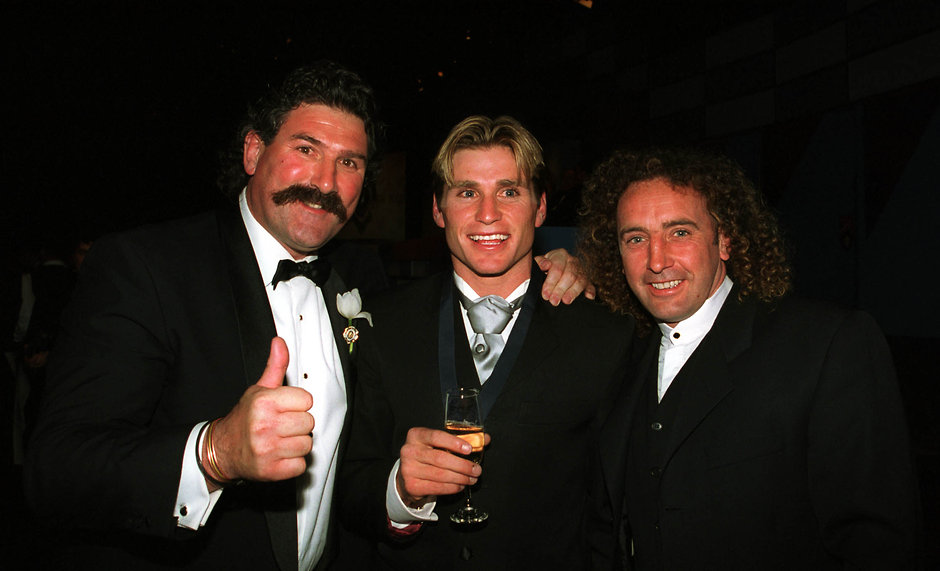 • Cotchin and Mitchell awarded 2012 Brownlow Medal
• New winners accept medal with 'mixed emotions'

SAM Mitchell is now Hawthorn's fifth Brownlow medallist.
He follows in the footsteps of Col Austen (1949), Robert DiPierdomenico (1986), John Platten (1987) and Shane Crawford (1999).
It was an unconventional win by Mitchell, to say the least, but that's the way it has been at Hawthorn.
Of the five Brownlow wins at Hawthorn, only Crawford won in the traditional first past the post fashion. He was the consensus best player of the season and posted 28 votes, six ahead of Essendon's Mark Mercuri.
Even then there was a small twist with the 1999 medal count taking place in Sydney, the first and only time it has been held outside Melbourne.
DiPierdomenico and Platten's Brownlow wins were both tied results. DiPierdomenico and then Sydney midfielder Greg Williams both finished with 17 votes in a really tight count.
Platten prevailed the following year with 20 votes, again in a tie, this time with St Kilda full-forward Tony Lockett.
Not that the Hawks were complaining. DiPierdomenico's Brownlow win was at the time the first by a Hawthorn player. Club godfather John Kennedy snr wore the club's lack of Brownlow success as a badge of honour in a team sport, but given the cavalcade of stars to have played for the club, a Brownlow win was long overdue and was celebrated accordingly.
But the Hawthorn Brownlow triumph that most parallels that of Mitchell is Col Austen winning in 1949.
Austen tied for the medal that year but, according to the rules of the time, lost on a countback* to South Melbourne's Ron Clegg with 23 votes.
He was awarded the medal in 1989 when the then VFL decided to retrospectively give medals to all players who had tied but missed out before then.
So officially, Austen became first Hawthorn's Brownlow medallist. But he was very much a Hawk outsider by the time he was recognised by the League.
Austen, who was vice-captain of the Hawks at the time, walked out of Hawthorn in early 1950 in support of Alec Albiston, who was stripped of the captaincy by new coach Bob McCaskill.
Austen and Albiston were given open clearances, to Richmond and North Melbourne respectively, after expressing their displeasure.
Austen would add 51 games in three seasons for the Tigers to his 85 for the Hawks. But so bitter was his split from the Hawks that he called himself a Richmond man from that time on. It took the retrospective medal for him to make his peace with the Hawks after 40 years away and be welcomed back into the fold.
Mitchell's relationship with the Hawks is nowhere near as sullied. His departure at the end of last season seemed to be amicable and was based on future coaching opportunities as much as anything.
And the Hawks were quick to hail his triumph on Tuesday afternoon, sending out a congratulatory note on twitter almost immediately.
He will receive his medal at a private ceremony next month, but now that a Brownlow has been added to his haul that includes four premierships (including one as captain), five All Australians and five club championships, it will likely only increase the clamour for there to be an opportunity for Mitchell to formally farewell the Hawks and their fans at some stage next year.
The Hawks and the Eagles meet at the MCG in a Sunday twilight clash in round five next season.
*Under this countback system, the leading vote winners were separated with the medal going to the player who polled most three votes. If the three votes were the same, it was counted back to two votes. In 1940, Des Fothergill (Collingwood) and Herb Matthews (South Melbourne) could not be separated after this countback system and were both recognised as Brownlow Medallists.
The views in this article are those of the author and not necessarily those of the AFL or its clubs