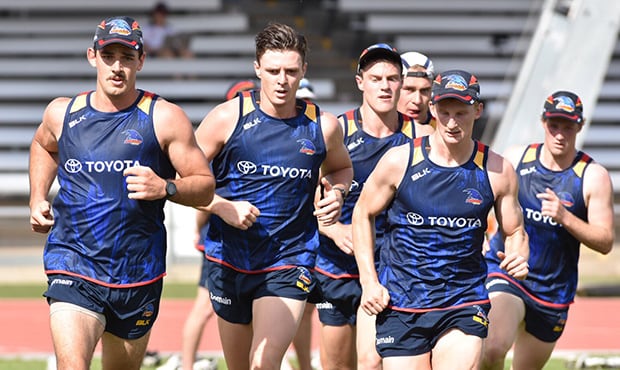 ADELAIDE captain Taylor Walker and All Australian midfielder Rory Sloane cut their holidays short to sweat it out in searing 30-degree temperatures on the opening day of pre-season training.
Walker, Sloane and Curtly Hampton joined the Crows' first-to-fourth-year players at the SA Athletics Stadium on Monday morning.
The trio weren't required back to training for two weeks, but returned early to set an example for their younger teammates.
Curtly Hampton, Paul Seedsman, Rory Sloane and Tex Walker joining the young Crows on track pic.twitter.com/z4PX5gOXZ5

— Lee Gaskin (@Lee_Gaskin1) November 20, 2016
When the hour-long session ended, Walker and Sloane continued to run laps of the track by themselves.

"Tex (Walker) was in pretty good shape, he looked quite big," Crows defender Jake Lever said.

"I saw a photo before on Twitter when I was standing next to him … I'll have to stand clear of that.

"It's great for the young guys to know the captain's there and obviously Sloaney is a great leader of our football club.

"Really impressed with how both of them turned up."
Sloane is coming off his most complete season in the AFL having been named to the All Australian team for the first time along with winning his second Malcolm Blight Medal as the Crows' club champion.
Walker had another impressive campaign, the power forward selected by his peers as the best captain in the competition.
Crows going through a quick handball drill @AFL pic.twitter.com/uAFYr2s1ph

— Lee Gaskin (@Lee_Gaskin1) November 20, 2016
Hampton looked in great shape as the former Greater Western Sydney defender looks to make an impact in his second year at the Crows.
Hampton was sidelined for the first half of this season through injury, before slowing working his way back to form in the SANFL.

Lever said a group of about a dozen players had been training together for the past fortnight.

"I don't think there was anyone who struggled, because for the last couple of weeks the boys have been getting down to a local oval and we've been training really hard," Lever said.

"Unless you're overseas for eight weeks of the break, you really can't come back and struggle, because there's always boys pushing you along.

"I know for me personally it's been a real help being in Adelaide for the last three or four weeks and getting everyone down there because obviously it's a lot harder to run 11 or 12k by yourself than it is with the other fellas."
Midfielder Riley Knight made a strong start in his quest to become a regular in the senior side, winning the 2km time trial.

Knight was sidelined for three months with an ankle injury, with his only game of the season coming in round three against Richmond.

"Injuries are a part of footy and, unfortunately, I got another serious one last season and that kept me out for a bit," Knight told afc.com.au.

"It was good to get back and play some footy at the end of the year.

"Unfortunately, I couldn't break back into the senior side, but it was good to play some SANFL finals and get that experience.

"It was good to get back out there and run a solid time."

Knight, 21, beat out defender Jake Kelly, second-year forward Wayne Milera and wingman Rory Atkins in the time trial.
Yeahhhh, Boog ! @RileytKnight wins first time trial ⏱ of the pre-season for 1-4 year players ahead of @jakekelly2036 #weflyasone pic.twitter.com/LI5UAFulZS

— Adelaide Crows (@Adelaide_FC) November 20, 2016