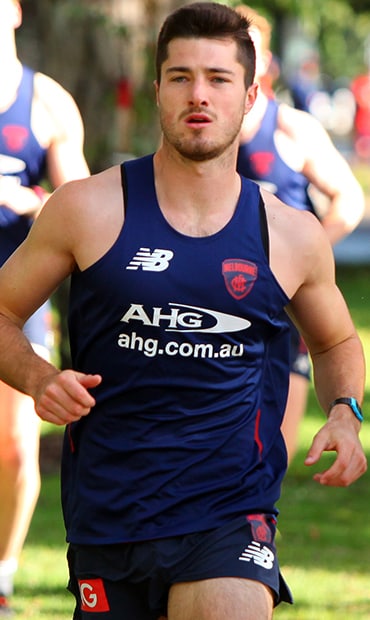 DETERMINED to break into Melbourne's team on a permanent basis in 2017, young midfielder Alex Neal-Bullen has impressed with a third-place finish in the club's 3km time trial on Wednesday morning.
It was Neal-Bullen's highest-place finish in his third pre-season at the club, with Tom Bugg and skipper Nathan Jones first and second respectively in the run held at Princes Park in Carlton.
With regular placegetters Tom McDonald and Jack Viney not participating because of modified programs after off-season surgery, Neal-Bullen decided it was his time to shine.
"It's the first one for the pre-season and it's probably the best one I've had at the club. It's always good to get it over and done with because there are always a little bit of nerves before the run," Neal-Bullen told melbournefc.com.au.
"Tommy Bugg set a good pace to start with, so it's always good having someone in front that you can chase.
"Buggy and the skipper, Nathan Jones, were out the front and they set a good pace and I ended up at the 1.5km (mark) running 4:55min and then I came home strong and finished with a sub-10 (minute), so it was a good run there."
Neal-Bullen, who appeared in just four senior games for the Demons, despite consistently strong form in the VFL, said the anticipation leading into the time trial was always daunting.
The 20-year-old is renowned for his endurance, having run a time of 9.54 at the NAB AFL Draft Combine in 2014.
Skipper Nathan Jones finished second behind Tom Bugg. Picture: Matthew Goodrope, melbournefc.com.au
"You go into the run [thinking] that you'll be able to do it, but it's always going to be a hard run," he said.
"There is never an easy 3km run, so it's more the mental ability you have to keep pushing when you're feeling very fatigued."
Star forward Jesse Hogan was another player who didn't run and Neal-Bullen said it was a relief not to have McDonald, who usually finishes 20m ahead of the pack, in the race.
"It was a bit more of an even race (without McDonald)," Neal-Bullen said.
"It was good to be able to have a few out the front, pushing each other along."