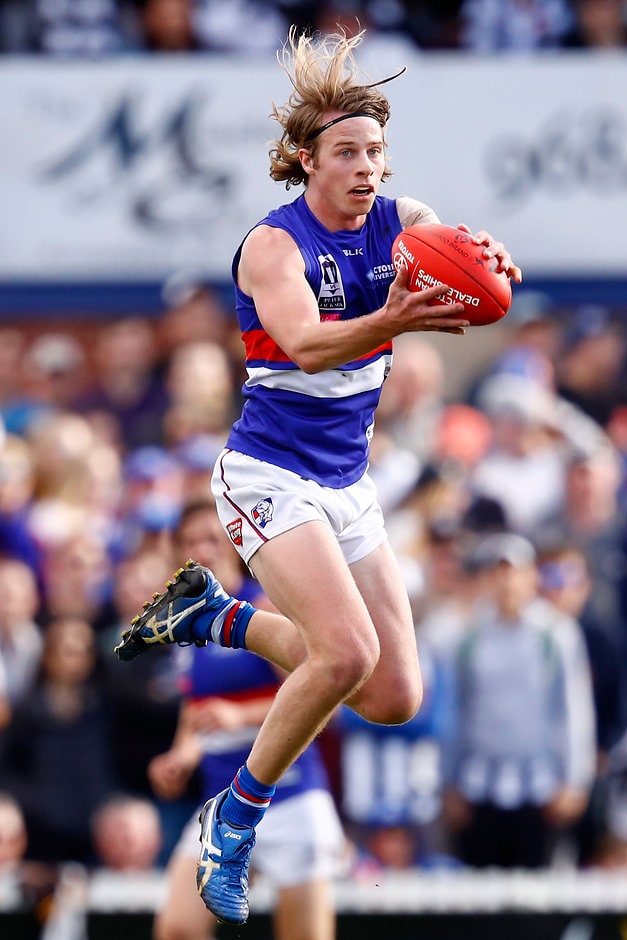 • Every pick, every club on the NAB AFL Draft Tracker
• Draft verdict: How did your club fare?
• 10 things we learned from the draft
ENTERING the draft at pick No.47, Melbourne was looking for a player who stood out from the pack.
The Demons found that with powerful lead-up forward Mitch Hannan, a member of Footscray's VFL premiership team.
Hannan shot to prominence earlier in the season when he hauled in a spectacular grab while playing for the Bulldogs against the Northern Blues in April.
The 22-year-old got lift off his opponent and with the ball appearing to travel well over his head, Hannan leant back and managed to haul in the footy with one clean motion in a moment reminiscent of Bomber Gary Moorcroft's famous mark in 2001
Melbourne recruiting manager Jason Taylor was clearly impressed.
"You just look for a point of difference in a player but we just put them in the order as best we could," Taylor told AFL.com.au.
"Mitch has got some real speed and power about him.
"He can take a big mark and he can be hard to handle as that third forward, at times. But he has been able to play in the midfield."
Hannan, originally from Gisborne, was also best afield for St Bernard's in the club's 2015 VAFA premiership victory.
The Demons took Oakleigh Chargers product and Scotch College football captain Dion Johnstone with pick No.64, their final selection in the draft.
Taylor said forward of centre was an area of the ground the club wanted to address, with Johnstone bringing good pressure to the opposition and an ability to hit the scoreboard.
Selection No.47 – Mitchell Hannan
Jason Taylor says: "He's played mainly as a forward for Footscray VFL, but he played midfield when he was at St Bernard's and was best on ground in their premiership win in 2015. He's got good power, he's a good size. We're not sure which area of the ground he'll develop but he's got a flexibility."
Selection No.64 – Dion Johnstone
Jason Taylor says: "Dion was the captain of Scotch College football team. We just really like his hardness, his character and he's finished the year off really well. He hits the scoreboard and he puts a lot of pressure on up forward and that's an area of the ground that we need to bolster."
Melbourne fan reaction - Curated tweets by AFL