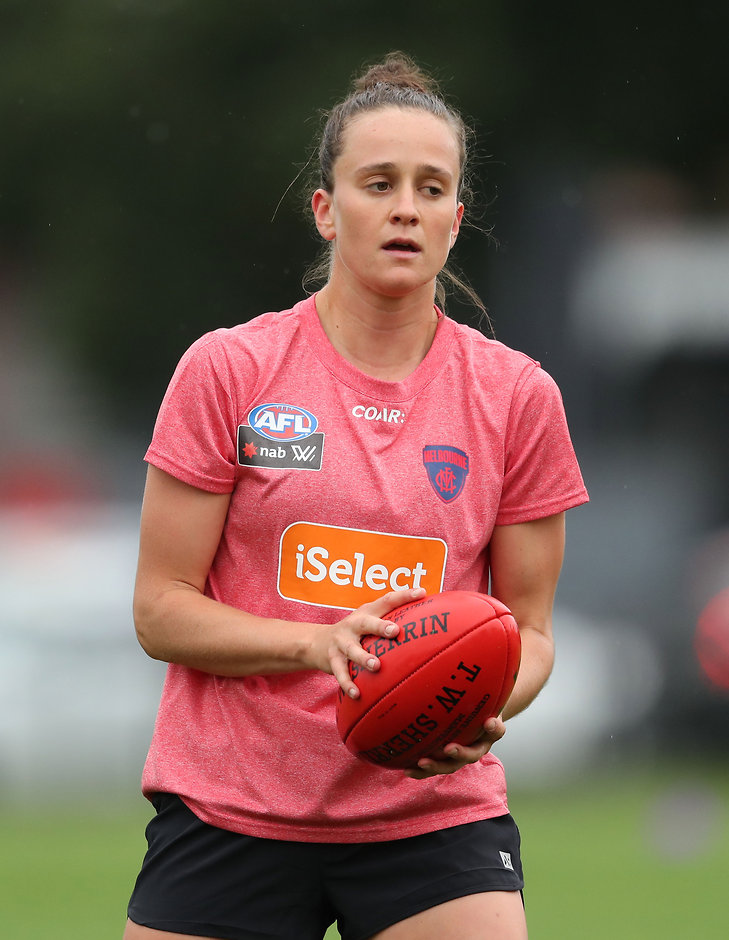 IN FOOTBALL terms, Melbourne's Harriet Cordner has plenty of upside.
Although she's an untried rookie, her athleticism, imposing pedigree, dedication and determination to succeed make her a player to watch when the AFL Women's competition starts in February.
The 24-year-old university student is the third-generation Cordner to pull on the Demons' red and blue, albeit for the club's women's team.
"It's something I never really imagined would happen. I've got two older brothers and as young kids they dreamed it would happen," Cordner said.
"I guess I did too until I was old enough to understand that girls didn't really play footy. So there's so much pride and excitement in getting picked by Melbourne.
"I'm a defender in soccer, but I quite like the thought of playing up forward. I'm quite excited to see what it's all about and where I fit in."
Grandfather Dr Don Cordner, the 1946 Brownlow medallist, played 166 games from 1941-50 and brothers Denis, Ted and John also played with Melbourne. Don and Denis were named in the club's team of the century in 2000 and both played in premiership teams.
Harriet's father Chris played for VAFA club University Blacks and his cousin David Cordner was a high-leaping key forward who played 53 games for the Demons from 1982-87 in a career curtailed by injuries.
"Naturally, my whole family followed footy and I thought I would give it a go. I was the only girl at our Auskick group in Canterbury (in Melbourne's east) and I got to under-12s but there was nowhere else to go," she said.
She competed in athletics and was playing for a soccer team when she attended an AFL talent search meeting at Maribyrnong in Melbourne's west in late June.
"I didn't really know what doors it could open and I ended up getting invited to a talent search at Melbourne and it unfolded from there," she said.
No wonder this Cordner had instinctive football talents too after endless kick-to-kick sessions with family, particularly at Point Lonsdale where her grandparents lived until Don Cordner passed away in 2009.
Don Cordner in an MCG motorcade celebrating the Demons' 140th anniversary. Picture: AFL Photos


"We used to go to the footy with them to the MCG and they would sit in a box and at half-time 'Pop' used to bring us out a glass bottle of Coke and a few chocolates wrapped in a napkin," Harriet recalled.
"He told a lot of really good stories from his playing days. He had a lot of stories of how the game has changed.
"His story of when he decided he wouldn't play footy any more after helping a lady by delivering her first born and she had quite a difficult delivery. He made a promise he would be there for her second delivery and she happened to go into labour on the day of a second semi-final.
"He fulfilled his promise and delivered the baby at 1.30pm and then raced down to the MCG and at half-time he declared he would never do that again because he was absolutely exhausted. Now players get to the ground four hours before a game."
So, how would such a legendary Demon as Pop feel about her pulling on the famous jumper too?
"I think he might have taken a little while to come around to it, but I think he would be really excited," she said.
"My grandma is really excited. When I told her I went to the talent search, she said, 'You'll have to play for Melbourne'. She couldn't comprehend me playing for anyone else."