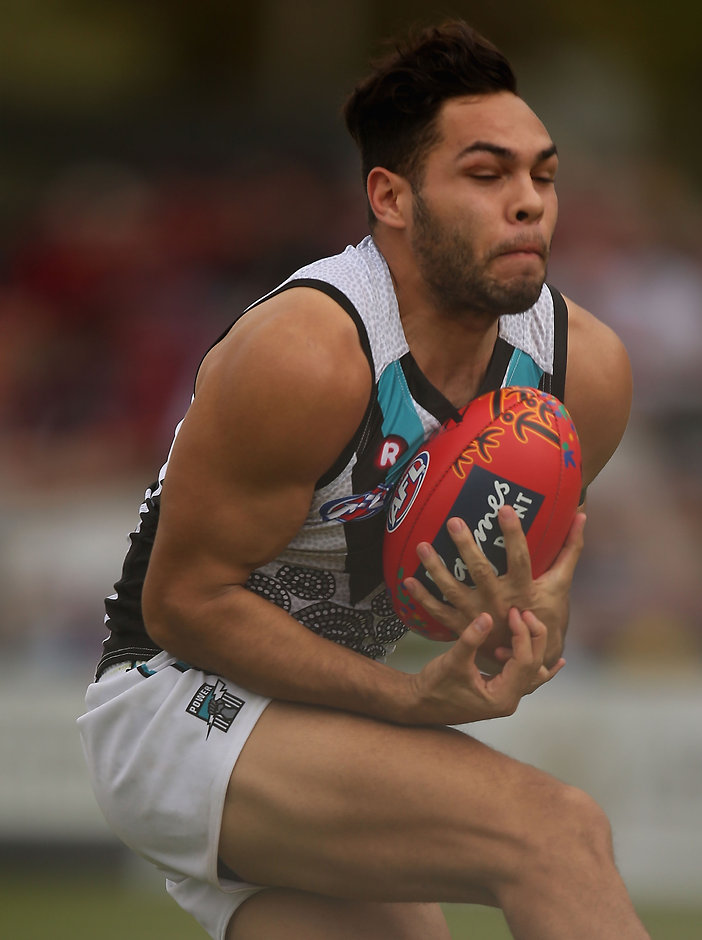 We pride ourselves on being a team and a club that makes good humans, not just footballers
Tom Jonas
PORT Adelaide's leadership group has defended its handling of Jarman Impey's crash-and-run case, saying the defender's wellbeing is their primary concern.
Impey and teammate Aidyn Johnson have both been fined $5000 by the club and banned from selection for the opening round of next year's premiership season after being involved in the incident on December 3.
"The club has obviously handed down some sanctions, but at the same time 'Jars' is a kid who has been through some tough stuff and the club has really wrapped their arms around him," Tom Jonas, a member of Port's leadership group, told reporters on Wednesday.
"He's (Impey) in a good spot as a human and he's also able to come out and train and (hopefully) he can provide for us on game day as well."
Defender Nathan Krakouer was suspended for six games in March this year after being out drinking while recovering from a hamstring injury. Krakouer suffered a broken jaw after being struck outside a Perth nightclub that evening.
It led some to make assessments of Port's handling of off-field incidents.
However, Jonas rejected claims the club had issues with player behaviour.
"I think the club's been really strong in those situations. We pride ourselves on being a team and a club that makes good humans, not just footballers," he said.
"We've got strong development and wellbeing programs to deal with that."
Jonas received the largest suspension handed down by the AFL Tribunal in 2016, after he was banned for six weeks for striking West Coast's Andrew Gaff in round nine.
The 25-year-old said he was eager to change the perception of being a 'thug' in 2017.
"It goes without saying how keen I am to make amends and get out on the park and show that I can play some good, consistent footy," Jonas said.
"I walk a pretty fine line. I don't consider myself a thug but I went over the line so I've got to be able to stay within the boundaries and not let that happen again.
"But aggression and playing tough is the way I play football so I can't change completely otherwise I'll lose value."
The defender received a three-year contract extension from the Power at the end of October, signing with the club until the end of the 2019 season.
"I'm really grateful for that. The club's been fantastic and there's no place I'd rather be," Jonas said.