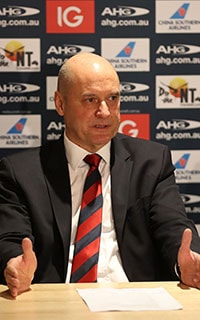 MELBOURNE has extended the contract of chief executive Peter Jackson for a further season, tying him to the club until the end of 2018.
Demons president Glen Bartlett announced the extension at the club's annual general meeting at the MCG on Thursday evening.
Jackson was initially contracted until the end of 2017 and his role in helping to make the club financially viable again has been well publicised.
"In discussions with Peter Jackson and the board we have agreed to extend the contract of our CEO until 2018," Bartlett said on Thursday night.
"Peter has done an outstanding job as CEO managing the affairs of this club and we are all really excited to be able to continue the journey we started together in 2013."
Bartlett also said the Demons saw an increase in home game attendances of more than 18 per cent, understood to be the highest boost of any club in 2016.
Jackson said the club had been in discussions with VFL affiliate the Casey Scorpions about playing as the Casey Demons in 2017.
Casey is expected to wear Melbourne colours in the VFL next season.
"We've been in discussions with the Casey Scorpions to amend out alignment agreement with them, which was a 10-year agreement that runs until the end of 2018," Jackson said.
"We expect in 2017 that we'll change the name of the VFL team to the Casey Demons and play in the Melbourne jumper."
Coach Simon Goodwin said the club had to raise its key objectives for 2017, as it looks to make the finals for the first time since 2006.
Melbourne was the youngest team in the competition on 14 occasions in 2016, a sign that proves the team has a lot of talent to work with, according to Goodwin.
"We are now generating higher expectations around our performances and I think that's a great position for this footy club to be in," Goodwin said.
"The players have come back with an extremely positive attitudes and they've shown a willingness to work hard and get better as a team.
"We want to create a program where players want to come to work everyday and getting better and have success and we're seeing signs of that every day we walk in."
Defender Colin Garland and trainer John Clare were named as life members.