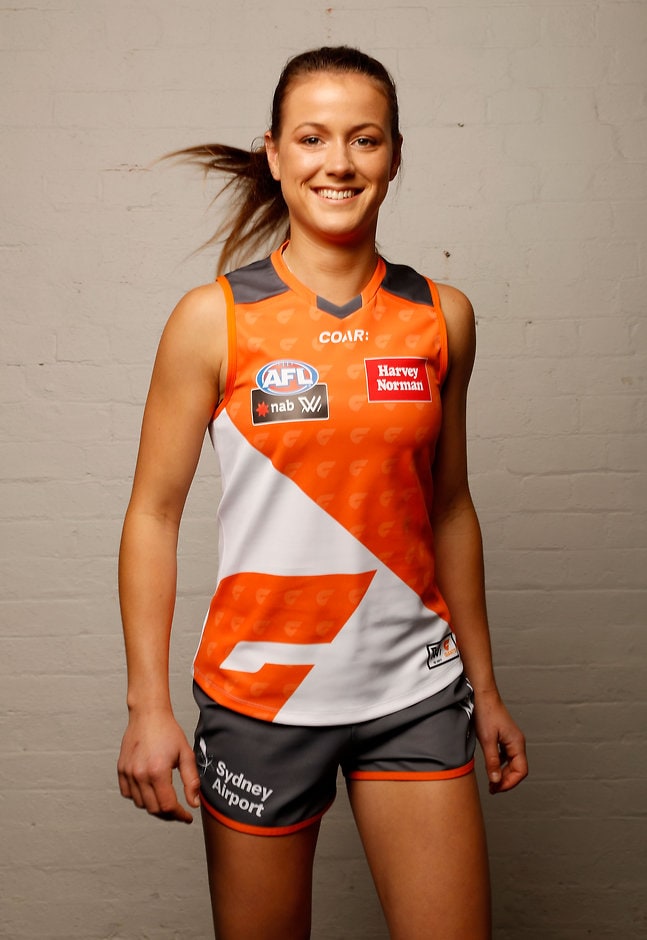 We're not from a state that's all about Aussie Rules, but I don't think that'll stop us in any way
Nicola Barr
STAR Greater Western Sydney midfielder Nicola Barr has hit back at those tipping her side to be wooden-spooner in the inaugural NAB AFL Women's competition next year.
The Giants have been tipped to finish last by major betting agencies, with one offering odds of $12 for Sydney's only team in the eight-club competition to win the premiership in 2017.
The club signed highly credentialled West Australian duo Renee Forth and Emma Swanson as their marquee players earlier this year, but suffered a significant blow when it lost Forth for the season after she ruptured her ACL playing in the WAWFL finals.
Barr told AFL.com.au while she understood there would be doubters, especially given the amount of star power drafted to clubs from traditional footy states, she had ignored talk about the Giants being cellar-dwellers next season.
"I have heard that, but I don't pay any attention to it," she said.
"The people who have done that (set the betting markets) don't know any of the players or coaches, and wouldn't have any knowledge about our team.
"Yes, we're not from a state that's all about Aussie Rules, but I don't think that'll stop us in any way.
"We've got a lot of girls from different states and the level of talent from NSW is incredible too, so I don't pay any attention to that (talk), and I think the other girls are the same."
The Melbourne-born Barr, 20, a Sydney University medical science student, was a naturally talented sportswoman as a youngster, playing soccer, netball, cross-country running, touch football, tennis and volleyball.
She played soccer with Manly United through to under-16 level before answering an SOS from one of her year 10 teachers at Queenwood School for Girls to play in an AFL competition. She quickly progressed and represented NSW/ACT in the AFL Youth Girls' National Championships in 2014 and showed enough to be invited to join the Sydney Swans' women's academy program.
Barr, who plays for the Sydney University Bombers in the AFL Sydney competition, represented the Swans in an AFL women's exhibition series game against the Giants before a Swans-Giants match at the SCG this season.
She won the Mostyn Medal as best and fairest in the AFL Sydney competition, was the competition's Rising Star award winner in 2015 and can lay claim to being the first No.1 draft pick in AFLW history.
The nature of the AFLW system meant marquee and priority signings had already been selected by the competition's eight clubs, so while the dashing onballer said being the first player drafted was an honour, she had quickly moved on.
"There was a massive build-up to it and a lot of excitement, which was fantastic, but I think it's easy to get swept up in that and forget why you're here," she said.
"It was really exciting and it sounds great, but the draft is out the window now, and we're all on the same level."
As well as starting pre-season training on the track, Barr and her GWS teammates have already started building their own culture as foundation players of the club, just as their male counterparts did in 2011, an aspect of the AFLW she's most proud of.
"That's what's so special about this whole competition. Every player at every club is in that position," she said.
"We've had some education sessions about what sort of values we want to represent as a team, and we're taking it really seriously because we are the foundation members.
"It's really exciting to start something girls coming through can look at. We're starting a really strong base, and hopefully we can continue that."