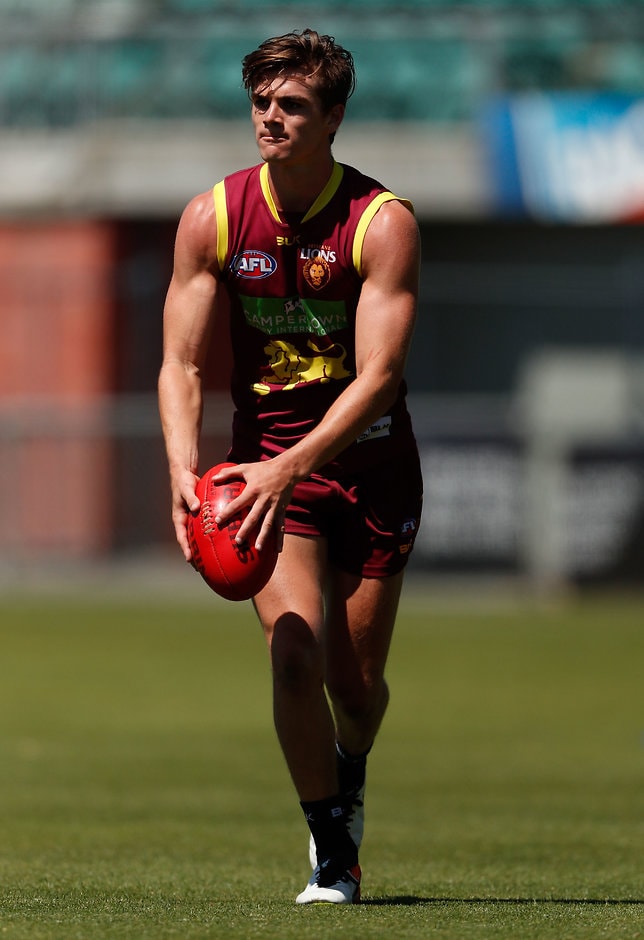 If the Lions are up and going everyone flocks to them
Ben Keays
LIONS Academy graduate Ben Keays can't wait to see the Gabba rocking once again.
After roaring his support for the club from the stands as a teenager, he wants his teammates to experience what it's like when the Lions are firing.
Keays was just 12 years old back in 2009 when the Lions were last played finals and were averaging crowds just under 30,000.
The son of a Fitzroy supporter who moved north from Hampton, Victoria in 2002, the young Keays cheered on his heroes wearing the maroon and blue.
Sadly, with only Daniel Rich and Tom Rockliff still on the list from that season, Keays suspects few of his teammates understand what it's like to have Brisbane people passionate about the footy.
"They probably think low crowds, no-one really cares about footy, but if the Lions are up and going everyone flocks to them," Keays told AFL.com.au.
How long it takes for a return to those days is anyone's guess but Keays shapes as a crucial cog in the rebuilding plan.
A local product, he entered the Lions Academy as a 14-year-old while attending St Joseph's College, Gregory Terrace – or Terrace as it's known in Queensland – before being taken with pick No.24 in the 2015 NAB AFL Draft.
Lions coach Chris Fagan said the Academy gives the Lions advantages with players such as Keays, Eric Hipwood, and future graduates Connor Ballenden and Jack Clayton being the types the club can build a talented local flavour around.
"It just gives you a great opportunity to get the young talent interested in playing AFL footy," Fagan said.
"You can capture them at a relatively young age. You can iron out a few of their skill deficiencies and help them build their bodies long before they are eligible to play AFL footy, so that is a distinct advantage that we have to take."
Keays wasn't without deficiencies when he made his debut in round six last season but he looked at home as the Lions pushed the Sydney Swans to three points that day.
The game was a highlight for Keays as friends and family flocked to the Gabba to watch the 19-year-old wear No.1 on debut, waving signs bearing his name and making enough noise to attract attention.
"I remember walking out of the huddle after three-quarter time and there was security all over them," Keays said.
"I could pick out the faces and I was like 'Oh Jeez."
He remembers the intensity too, which made the drop off as the Lions' season progressed even more noticeable.
Unfortunately for Keays, the competitiveness of his first game was short-lived as the Lions lost the next nine matches he played by an average of 10 goals.
"Everyone was really down and [there was] just no noise and no enthusiasm," Keays said.
Although he tried to look at each week as a fresh opportunity, he admits the season became taxing at times.
It wasn't until his 11th game that he experienced a win when the Lions defeated Essendon in round 18 at Etihad Stadium.
But with the help of his coaches, Keays finished the season with a better sense of his learning curve.
"[I] took in a lot. The players I played on, I have mental notes that they do this and that," Keays said.
Greater Western Sydney's Heath Shaw and Port Adelaide's Jasper Pittard stood out among a list of opponents he experienced while playing the high half-forward role in a defensive manner.
Shaw's instructions and Pittard's rebounding were memorable as he experienced the game at the elite level for the first time.
After a junior career spent moving from stoppage to stoppage he added a defensive element to his game.
"I have always played with a lot of intensity and a high work-rate so it was just transferring that to running to the right spots and turning your head and pairing off at the right time," Keays said.
"I didn't find it too difficult and I worked a lot on my tackling as well."
He's finding Fagan's approach refreshing and is looking forward to it translating into games as the battle for spots heats up among the young players.
"They're all pretty excited because they feel like anyone could push in and play next year. We don't know what our line-up is going to look like," Keays said.
With a great grandfather who played for Fitzroy (and Collingwood) in Fred Keays and a lifetime supporting the Lions, he hopes to part of the next successful era.
And get that Gabba rocking again.