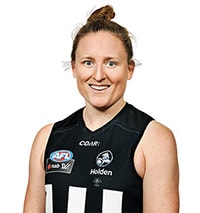 Before my ironman race (last) year, I was running 100km a week, plus swimming and riding
Lou Wotton
FROM the football field to the triathlon circuit and back to footy – it's safe to say Lou Wotton has taken an unconventional route to the NAB AFL Women's competition.
The veteran Collingwood ruck had a stellar 13-year career with the Eastern Devils in the VWFL, captaining the club for 10 years and winning two league best and fairest awards before hanging up the boots to focus on triathlons and ironman races.
But the lure of the women's competition proved too much, so Wotton nominated for the draft despite not having played for two years.
"A lot of people had been pestering me about playing, especially my sister (and Eastern Devils president) Jo and her boyfriend," 33-year-old Wotton said.
"I didn't really know if I could do it, because at that stage (when the national competition was announced) I was training for my second ironman, so my focus was on that.
"I had been watching quite a few of the team sports at the Rio Olympics on TV and was really missing that team environment."
Wotton also watched last September's AFL women's all-stars match between the Western Bulldogs and Melbourne from Queensland, where she was competing in the half-ironman world championships. She had initially allowed herself to take in only the first half, having to get up at 4am the following day, but ended up watching until the final siren.
"If I was constantly wondering whether to nominate for the draft or not, that was telling me something. Then after that match, I thought it was way too good an opportunity to not give it a go," she said.
"As soon as I nominated for the draft I was texting old teammates asking them to join me for a kick, because I was quite nervous."
Wotton was not selected in the draft, but had been contacted by both Melbourne and Collingwood about signing as a free agent.
"There were no negatives with either club. They've both got elite facilities and amazing people," Wotton said.
"The one thing Collingwood did have was some really good teammates and friends from the Devils who had been drafted, so that made it easier in the end."
Her interest in triathlons and the longer-distance ironman races was sparked towards the end of her first football career, when she completed the swim leg of a triathlon.
"At the end of that race I felt really lazy because everyone around me had done three legs and I'd only done the one. Everyone told me triathlons were really addictive and they are," she said with a laugh.
"I got addicted to the feeling of just relying on yourself. In footy, you have your teammates around you all the time, so it's quite a different sport, and it's quite a sense of accomplishment when you cross the line."
Wotton has had to adjust to her new training regime, swapping long runs and bike rides for ball work and sprints.
"Before my ironman race (last) year, I was running 100km a week, plus swimming and riding. It was a lot of early mornings, usually double sessions every day, but I loved it. You have to love it in order to do that amount of training," she said.
"My body's adapting to the short and sharp footy training, and it's just really nice to have people training with me again.