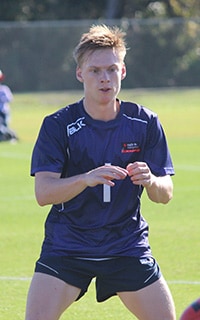 JAMES Worpel is making scrambled eggs as Brayden Crossley prepares the toast. Jaidyn Stephenson is getting the cutlery and plates ready while attempting to make some coffees, and Nathan Richards is making sure everyone has a fresh glass of orange juice.
It's 8am on the third morning of the NAB AFL Academy's high performance training camp in America, and the tasks have already started for the potential draftees. Today's first job, in their apartments at the IMG Academy in Florida, is hands on: making breakfast for a group of recruiters.
Stephen Conole, from the Brisbane Lions, Gold Coast recruiter Dom Ambrogio, and St Kilda scout Chris Liberatore – three of 13 clubs represented on the trip – sit in the loungeroom, as an NBA game plays in the background. "Here we go," Worpel says as he delivers the meals. "Enjoy, boys." (For the record, they did.)
The rotating 'breakfast club' of recruiters and draft hopefuls was a new element of this year's tour, which was the third time the AFL's prestigious group of young talent has headed to America for a pre-season trip.
Florida was the first stop, where the group of 36 players from around Australia – plus four Irish hopefuls – trained at the IMG facility. Every year the enormous complex has grown bigger, with a new Gatorade Sports Science Institute building constructed since the academy's previous visit.
"I'd heard rumours about how big it was and had a look on Google before I came over," said Connor Ballenden. "But nothing really prepares you to see it in person. It's huge."
The group had four main sessions in Florida, which were complemented by specific sprint sessions under world-renowned coach Loren Seagrave.
Seagrave, who has coached Olympic sprinters, told them things they hadn't heard before, like using their toes to kick the air and then trying to get their feet back to the ground as soon as possible to launch again. "It was weird," Callum Coleman-Jones said. "It was different from anything I've ever done with my sprinting, but it worked."
The final full day at IMG was one the players were dreading. It was a 'four-quarter' conditioning session that started with a 3km time trial, included nine 100m sprints, intense tackling drills and a lap of the facility to finish. The time trial was won by Jack Higgins, a dedicated, determined and dogged midfielder from the Oakleigh Chargers.
Jack Higgins keeps his eye on the ball.

"Jack's fanatical about his footy, but you need players who are fanatical. We always say 'Do we need to grab Jack and tell him to settle down a bit and to pull back a bit?'" said new academy coach Luke Power.
"But from my experience with players who are fanatical, you need to keep feeding them as they have an appetite to want to get better and do things all the time and improve. If you take that away, that's when they get lost."
Power is fresh to the role, but knows each of the academy players are different.
Some have grown up around football. Patrick Naish's dad Chris still occasionally brings out the tape of his Richmond side overrunning Essendon in the 1995 semi-final, while Charlie Spargo's father Paul played 81 games with North Melbourne.
Hayden McLean's dad Paul played with Fitzroy, and his uncle and grandfather played for Melbourne, while Tom De Koning was at home recently watching The Winners when he spotted his father Terry running around for the Western Bulldogs. "He got a few touches but was a bit all over the shop," De Koning said.
De Koning, a key forward from the Dandenong Stingrays, is one of 10 siblings in his family. "I've only got one full brother and one full sister but we're all so close," he said.
Tom De Koning showing off his foot skills.

Growing up a member of a big family benefited Worpel, too. The hard-at-it Geelong Falcons midfielder is the second youngest of nine siblings. He remembers there always being something to do, or something being broken (including his brothers' arms), at home growing up.
But it has also had a tangible impact on his football. At his old house they had a gym set up in the garage, and Worpel enjoyed the routine of building up his body. He starts his draft season as one of the most ready and physical on-ballers in the pool.
Hunter Clark, Luke Uniacke-Davies and Aaron Darling have been mates for many years after playing with and against each other on the Mornington peninsula, while Richards gave away rugby league as a teenager in regional New South Wales to focus on footy.
"I didn't expect to get this far. I was looking at the Griffith Swans back home and hoping to play in the seniors there one day, so it's been a surprise," Richards said.
Jack Clayton gave up a promising cricket career – he played for Australia's under-15s and 17s sides – to concentrate on being a tight and smart left-footed midfielder, while Jarrod Brander, who has been clocked bowling 130km/hour, was convinced footy was for him when injuries surfaced the more he bowled.
Some players have moved and pursued their footy away from home. Paddy Dow left Swan Hill to board at Geelong Grammar in year 10, while Darcy Fogarty grew up in country South Australia but shifted to Adelaide for school and now looms as a possible top-five pick.
Changbuoth Jiath has come a little further. He was born in Ethiopia and moved to Australia in 2007, where his family lived in Melbourne before his father got a job working as a schoolteacher in Morwell. Kwaby Boakye, whose parents are from Ghana, left Melbourne to follow his brother to Rockhampton as a 15-year-old and is now a member of the Suns' local academy.
"It's a bit of a dream really, and it's been fast-tracked," Boakye said. "It's been a lot to take in given where I came from, having not played footy until I moved to Queensland, to now being in America with this team."
Players had different experiences on tour. It was a tough two weeks for Darling, who had a knee reconstruction in December and is only early into a long rehabilitation program. But he found ways to get involved on the sidelines, and still felt as much a part of the team as possible. Jake Patmore and Tom Schmusch had to overcome a bug that ruled them out of the first few days of the camp, while Lochie O'Brien hurt his quad midway through and was restricted thereafter.
Challenges came in other forms, too. Noah Balta and Cameron Rayner, as two of the newest additions to the group, had to get to know their teammates better, while Sam Hayes, as the only All Australian from last year, was keen to use the camp to set up another promising season. "It all starts here," he said.


The international camp is the centerpiece of the academy's program – a prize for players to aim towards and a key factor in attracting talent from competing sports. It is part of a wider academy philosophy of producing strong young athletes and people, so that the next draft class entering the system is as rounded and ready as possible.
It's why one message from former Chicago Bears general manager Jerry Angelo resonated most with Stephenson, who is tipped to be one of the leading players in this year's pool. Angelo spoke to the prospects and recruiters separately one afternoon at the IMG Academy, offering different pieces of advice to each group collected over his decades of involvement in the NFL.
To the scouts, he spoke of recruiting players who are tough – "You've got to find the 'glass eaters'" – but also reminded them that a player's on-field character may not reflect his off-field character.
His chat with the academy players centred on something else. "He said we are privileged, and not special, to have this opportunity," Stephenson said.
"There's a lot of blokes who can be given this chance to train overseas with the Academy and take it for granted, but we're lucky to be here and should make the most of it while being humble."