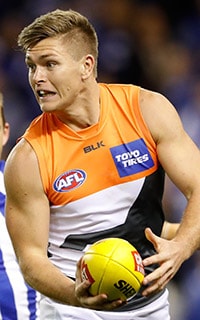 The players in the backline are great to play with, it's very much 'the gentleman's club'
Adam Tomlinson
THE FAITH Greater Western Sydney showed in Adam Tomlinson when it refused a tempting trade offer from Carlton in 2015 reaffirmed to the Victorian that his future was at Spotless Stadium.
There were other factors in Tomlinson's decision to re-sign with the Giants for another two years this week, a new deal that will keep him at Spotless Stadium until the end of 2019.
Tomlinson's bond with his Giants teammates - some of whom he has played with since his junior days - was influential. So, too, was his honest and open relationship with GWS senior coach Leon Cameron.
Tomlinson also feels more secure than ever in the Giants' best 22 after finding a niche for himself in defence in the second half of last season.
And after enduring the expansion club's bleak initial years in the competition, the 23-year-old understandably does not want to leave now that the 2016 preliminary finalists appear poised for sustained on-field success.
But Tomlinson told AFL.com.au the genesis of his decision to recommit to GWS was the club's decision to scuttle a bold Carlton play to lure him home in the 2015 trade period.
With former GWS list manager Stephen Silvagni then at the helm of his first trade period at Carlton, the Blues made a late bid for Tomlinson, trading picks No.20 and No.21 to the Western Bulldogs for pick No.11, which they dangled in front of the Giants just hours before the trade deadline.
GWS refused Carlton's offer even though Tomlinson, pick No.9 in the 2011 NAB AFL Draft, had yet to cement a position in its best team – something the former Oakleigh Charger has not forgotten.
"The greatest thing that came out of that period and that rumour was the fact the club showed a lot of faith in me," Tomlinson said.
"Obviously last year ended up well but they showed a lot of faith in me [in 2015] to shut all those windows down and keep me on.
"It was great for me, it showed the club wanted to keep me at the club and was the foundation for me staying and re-signing this week pretty much.
"It's great being wanted and so that was a big part of my decision."
After playing just eight games in an injury-interrupted 2015, Tomlinson found himself on the outer at GWS early last season, playing just four of the first 15 rounds.
Having been drafted by the Giants as a key forward, Tomlinson had struggled in his first few seasons to establish inside a star-studded Giants forward line that included talls Jeremy Cameron and Jonathon Patton.
From the end of his third season, 2014, the Giants had tried Tomlinson in defence at times, but he continued to struggle to find his on-field calling.
But after "really honest and open" discussions with Cameron last year, Tomlinson put his hand up to play on then-Collingwood spearhead Travis Cloke in round 16.
Cloke kicked four goals on Tomlinson, but Cameron persisted with him.
And the coach was rewarded over the remaining nine weeks of the season, as Tomlinson blossomed into a reliable key defender alongside co-captain and long-time housemate Phil Davis.
Tomlinson, 194cm, punched above his weight on taller opponents such as Kurt Tippett (202cm), Ty Vickery (200cm), Drew Petrie (197cm), Zac Clarke (203cm) and Josh Schache (199cm), and showcased his outstanding endurance for a key-position player on the Eagles' hard-working forward Jack Darling.
One of the Giants' best players in the qualifying final triumph over Sydney, Tomlinson said being allowed to settle in defence had done wonders for his confidence.
"To find a spot that I was comfortable in and I wasn't chopping and changing throughout the game was really important to me," he said.
"It gave me a sense of confidence every time we got on the field that I knew what I had to do and I could do that without worrying about whether I was going to be put forward or put back.
"And that came down to the chats I had with Leon in the middle of last year. We tossed and turned on where my position was and I then went back and built some confidence there and played some good footy.
"Who knows what happens in time down the track, but right now I'm really happy being a defender. The players in the backline are great to play with, it's very much 'the gentleman's club'."
The Giants are 2017 premiership favourites with all the major betting agencies ahead of their sixth AFL season, but as much as Tomlinson is excited by what the club could achieve over the coming seasons, he has not forgotten where he and his teammates have come from.
"We got belted by Hawthorn by 162 points in our first year and we'll never forget that. There were a lot of other big losses in the first three years too," Tomlinson said.
"We played some really good footy for the most part last year and if we can continue that on for the next three years, it's really promising.
"Hopefully it all goes well and it's a good time for us. I want to be part of it."