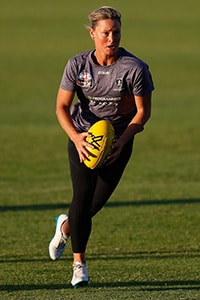 JAVELIN star Kim Mickle will shelve her football career with Fremantle following her knee reconstruction to focus on winning back-to-back Commonwealth Games gold medals next year.
Mickle underwent surgery on Wednesday after rupturing an ACL during her NAB AFL Women's debut for the Dockers on February 12.
The 32-year-old, who is still recovering from a dislocated shoulder suffered at the Rio Olympics, was always determined to chase gold on the Gold Coast in April next year.
But her knee injury means she will give javelin her full attention when she starts rehabilitation.
"It always was (my focus)," Mickle told fremantlefc.com.au.
"If my shoulder didn't come back (well after reconstructive surgery) then I would have been looking at hopefully having another game of footy next year, but that was always if the shoulder didn't hold up.
"Now we're just going all balls out for the shoulder and Commonwealth Games."
Mickle opted for a "double-bundle" hybrid-LARS knee reconstruction, which is better suited to a power sport such as javelin than hamstring or patellar tendon grafts.
"There's three or four different knee reconstructions you can have depending on what you need out of life," Mickle said.
"When I heard about this LARS and the fact you can double-bundle it with a hamstring (graft) it floated my boat big time because a LARS (operation) is a quick fix.
"You probably need to have another surgery in a year or two just to fix that up, but it's a quick fix (now)."
Dockers coach Michelle Cowan said the club supported Mickle's decision to chase her javelin dream next year.
"Her focus is on the team as this season happens and then post that she's really driven to hopefully go back-to-back gold medals with javelin," Cowan said.
"We'll support her on that journey because that's a really exciting one for her.
"I've said all along if we can get girls playing multiple sports I think that's fantastic."
Meanwhile, after losing three players to season-ending injuries, the Dockers have called on top-up player Brooke Whyte for Sunday's must-win clash against League-leaders Adelaide at Fremantle Oval.
Whyte has been training with the side after being looked at for the initial squad, and adding the defender ensures Freo has 24 fit players for the Crows clash.
"She had some key areas that she needed to work on and to her credit has worked really hard on those," Cowan said.
After drawing with Greater Western Sydney last round, the Dockers remain winless and in seventh spot on the ladder with four games to go but they aren't giving up hope of reaching the Grand Final.
"Our season is still alive, absolutely," Cowan said. "The girls know that and they'll be out to compete this Sunday."