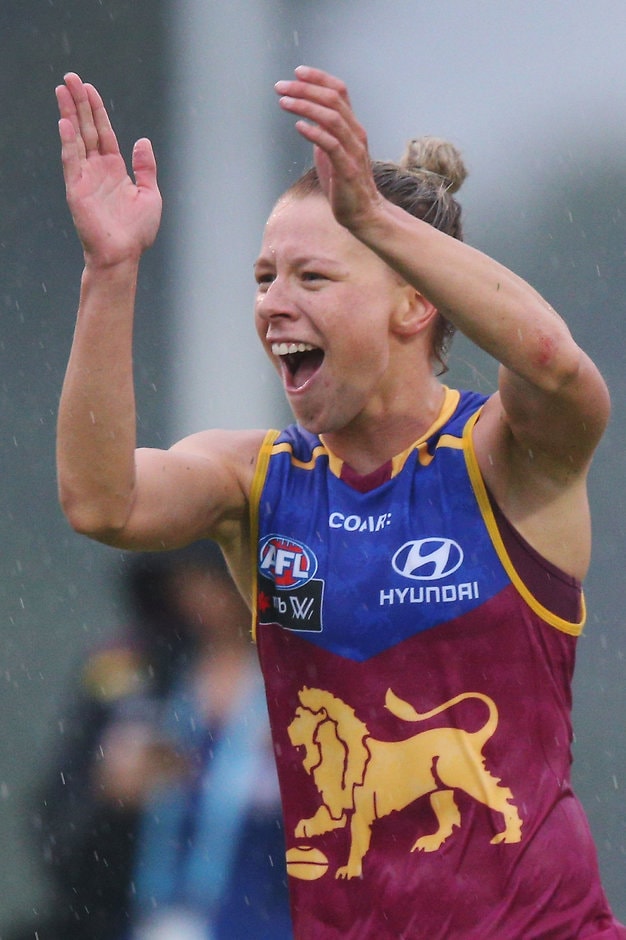 [The pacemaker] doesn't stop me at all
Kate McCarthy
BRISBANE Lions midfielder Kate McCarthy certainly hasn't let a health scare more than 10 years ago stop her excelling in every sport she's pursued.
The secondary school teacher is used to 'performing' in front of a classroom of 25 students. However, last weekend she put on a show for more than 5000 spectators at a NAB AFL Women's match at South Pine Sports Complex in Brisbane and many more watching on television and online with a contender for goal of the year.
McCarthy collected the ball in the centre before sprinting towards goal. She took five bounces, steadied and booted the goal from inside the goalsquare.
"I picked it up and there was a lot of open space so I thought, 'Here's my chance to have a run'," McCarthy said post-match of her goal late in the second quarter.
"I had a few bounces, got about 30m out and thought about kicking it. But I thought I'd better be safe, so I had one more bounce."
McCarthy was a shining light in the Lions' gritty four-point win over Collingwood.
Surprisingly, the 23-year-old has only been playing footy for two years, starting in the QWAFL for Coolangatta and Yeronga before being selected 82nd overall in last October's draft.
The midfielder has experience playing sport at an elite level, having represented Australia in touch football and as a junior in track and field, when she recorded a personal best 12.06 seconds for 100m. She has also represented Queensland in cricket.
Her speed was a major asset in her touch football days and it also sets her apart in the AFLW, although she had to wait until last weekend to show it off.
"The first game [against Melbourne] was raining so it was very congested and the second game [against Fremantle] didn't open up as much as it could have, so it was really nice to finally have some space," McCarthy said.
McCarthy competes with a pacemaker. Prior to her AFLW debut, she tweeted using the hashtag 'metalheart'.
I think today I may be the first person to play an AFL match with a pacemaker. Don't let anything hold you back! #metalheart #AFLWDeesLions

— Kate McCarthy (@katemccarthy24) February 5, 2017
At 12, she was diagnosed with a grade-three heart blockage, which doctors believed would prevent her from playing elite-level sport.
"[The pacemaker] doesn't stop me at all,'' she said.
"I was pretty tired at the end of the game so we could blame it on that, but really it was just the long run that took a lot out of me."