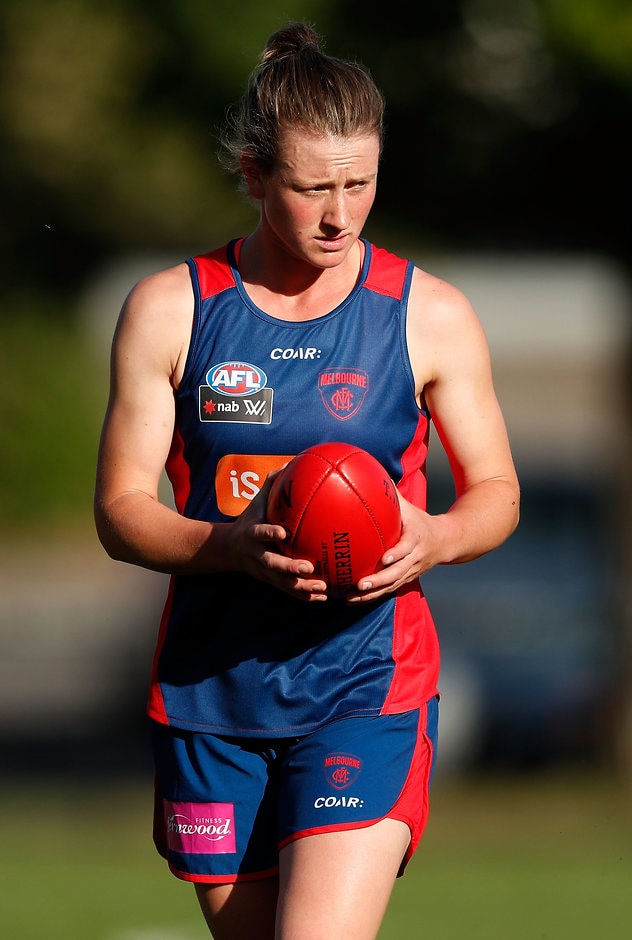 MELBOURNE has been forced to rule out forward Shelley Scott for its NAB AFL Women's match against Greater Western Sydney on Friday afternoon.

Scott, who can also play in the midfield, was battling shoulder soreness in a bid to join the squad flying to Sydney on Thursday night. But the Demons left her out of the team after she failed to convince selectors of her fitness during a light skills session on Thursday.

GWS has made three changes to its team while the in-form Demons have made two.

Round five is certain to be a cracker, highlighted by a top-of-the-table clash between the Crows and the Lions pn Saturday. Both teams have made just the one change for what many tip to be a Grand Final preview.

Meanwhile, the Blues have named star half-back Briana Davey as an emergency for their must win game against the Dogs. Davey has been battling a back complaint and did not play last week.


FRIDAY, MARCH 3
Giants v Melbourne, BISP, 5.05pm AEDT
GREATER WESTERN SYDNEY
B: A.Williams 20, K.De Pellegrini 9
HB: A.Farrugia 18, Renee Tomkins 1, Nicola Barr 8
C: Ashleigh Guest 19, Emma Swanson 17, Maddy Collier 14
HF: Rebecca Beeson 6, Phoebe McWilliams 3, Aimee Schmidt 11
F: Ellie Brush 10, Jacinda Barclay 34
FOLL: Erin McKinnon 23, Britt Tully 16, Jess Dal Pos 7
I/C: Ella Ross 15, Louise Stephenson 12, Clare Lawton 41, Codie Briggs 31, Kate Stanton 33, Jessica Bibby 22
Emergencies: S.Walker 5, A.Saundry 4

In: Louise Stephenson, Jacinda Barclay, Codie Briggs
Out: Mai Nguyen (knee), Stephanie Walker, Alex Saundry
MELBOURNE
B: J.Grierson 19, M.Clifford 44, K.Smith 13
HB: D.Pearce 6, L.Duryea 11, R.Cranston 30
C: H.Cordner 21
HF: K.Paxman 4, A.Mifsud 9, L.Mithen 14
F: S.Lampard 8, J.Anderson 28, C.Phillips 35
FOLL: L.Pearce 15, M.Hickey 18, E.O'Dea 5
I/C: E.Humphries 3, M.Boyd 25, A.Newman 16, A.Kemp 36, D.Berry 7, S.Jolly 10
Emergencies: E.Strachan 1, S.Scott 12
In: A.Newman, S.Jolly
Out: S.Scott, B.Patterson

SATURDAY, MARCH 4
Carlton v Bulldogs, Ikon Park, 11.35am AEDT

CARLTON
B: L.Attard 14, A.Downie 30, R.Privitelli 9
HB: L.Brazzale 12, D.Hardiman 31, M.Keryk 4
C: L.Arnell 13
HF: S.Hosking 10, A.Brown 27, G.Pound 6
F: J.Kennedy 23, B.Moody 16, D.Vescio 3
Foll: K.Shierlaw 25, K.Loynes 2 N.Exon 15
I/C: B.Jakobsson 35, K.Gillespie-Jones 5, T.Lucas-Rodd 18, T.Nestor 20, I.Ayre 22, S.Audley 26
Emergencies: B.Davey 1, K.Darby 8

No change

WESTERN BULLDOGS
B: L.Bailey 13, L.Moorecroft 23, K.Lamb 27
HB: H.Wildes 17, B.Hunt 21, K.Ebb 12
C: E.Kearney 5
HF: N.Callinan 10, L.Spark 11, H.Scott 22
F: J.Lambert 7, T.Ernst 19, K.McLeod 6
Foll: A.O'Connor 4, E.Blackburn 2, B.Lochland 1
I/C: L.Birch 18, M.McDonald 15, A.Gogos 36, L.Williams 9, K.Tyndall 8, R.Timmins 20
Emergencies: E.Gamble 14, C.Clarkson 24

In: A.O'Connor, R.Timmins
Out: E.Gamble, C.Clarkson
Fremantle v Collingwood, Rushton Park, 10.35am AWST
FREMANTLE
B: H.Miller 19, T.Bresland 5, A.Chuot 14
HB: C.Davidson 33, E.Antonio 12, K.Bentley 23
C: G.O'Sullivan 22
HF: D.Hooker 17, G.Houghton 27, A.Lavell 7
F: M.Caulfield 24, S.Barr 10, A.Sharp 1
FOLL: K.Clinch 25, B.Smith 18, K.Donnellan 15
I/C: B.Whyte 28, D.Okely 16, L.Filocamo 4, B.Devlyn 26, K.Phillips 13, A.Janz 30
Emergencies: S.Cain 20, T.Golisano 11

In: A.Janz
Out: S.Cain

COLLINGWOOD
B: C.McIntosh 20, S.Livingstone 12, S.Chiocci 17
HB: M.Hutchins 25, N.Stevens 21, C.Edwards 1
C: A.Barden 38
HF: A.Eva 2, S.D'Arcy 4, J.Cameron 27
F: E.Grant 5, M.Hope 23, J.Garner 43
FOLL: E.King 60, L.Tesoriero 7, B.Bonnici 8
I/C: C.Bernardi 6, B.White 33, S.Casey 22, R.Schleicher 18, M.Kuys 9, T.Morgan 26
Emergencies: H.Roden 11, G.Walker 31

In: S.Casey, C.Bernardi
Out: G.Walker, K.Sheahan (knee)

Adelaide v Brisbane Lions, Norwood Oval, 6.40pm ACDT

ADELAIDE
B: T.Radan 6, S.Perkins 28, A.Hatchard 33
HB: A.Foley 3, K.Gibson 2, J.Sedunary 17
C: G.Bevan 4
HF:C.Randall 26, S.Allan 39, S.Thompson 14
F: A.Holmes 1, E.Marinoff 10, S.Riley 8
FOLL: R.Metcalfe 11, R.Killian 7, D.Cox 31
I/C: M.Hollick 18, C.Cramey 22, H.Anderson 19, D.Varnhagen 9, J.McCormick 5, E.Phillips 13
Emergencies: L.O'Shea 21, J.Mules 23
In: A.Hatchard
Out: T.Thorn

BRISBANE LIONS
B: S.Virgo 5, S.Campbell 20, L.Kaslar 11
HB: T.Randall 16, K.Lutkins 13, B.Koenen 3
C: M.Hunt 6
HF: K.Ashmore 10, S.Frederick-Traub 14, K.McCarthy 9
F: J.Membrey 27, T.Harris 7, J.Wuetschner 23
FOLL: S.Webb 4, E.Bates 1, E.Zielke 8
I/C: N.Wallace 24, J.Stanton 17, N.Hildebrand 22, S.Goodman 19, B.Gibson 25, A.Anderson 18
Emergencies: K.Deegan 12, D.Kimmince 26
In: T.Randall
Out: K.Deegan