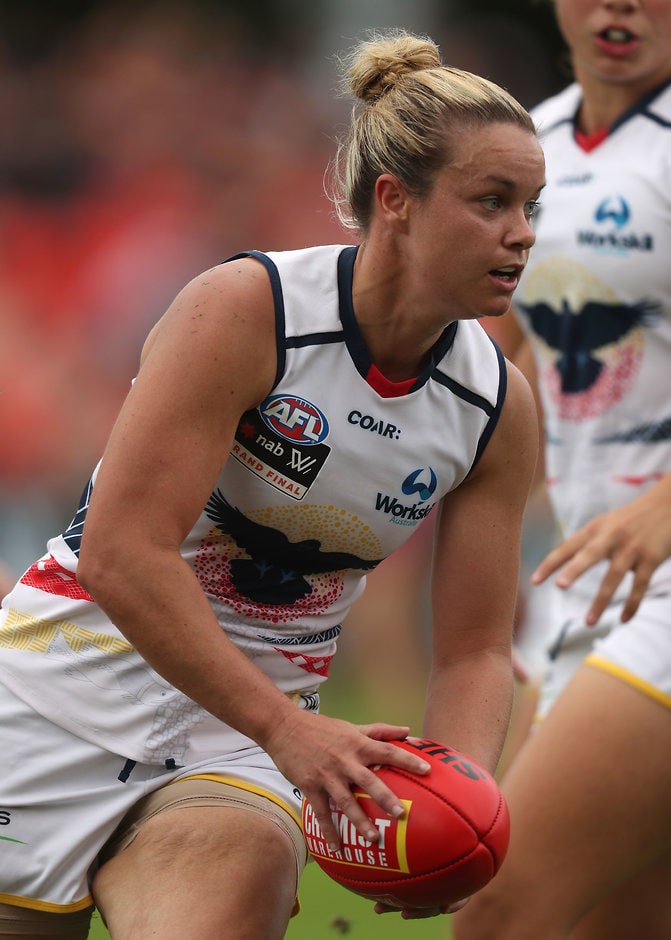 IN THE joyous and slightly chaotic aftermath of Saturday's inaugural NAB AFL Women's Grand Final at Metricon Stadium, Adelaide defender Courtney Cramey revealed she was only cleared as fit to play on the morning of the match.
The veteran South Australian captain had suffered a head knock in the Crows' final-round win over Collingwood, and failed to finish the match as a result of concussion.
Sporting a colourful bruise on her lower jaw – which, curiously, resembled the Crows' colours of red, blue and yellow – Cramey said it was "unbelievable" being told she would be able to run out with her teammates for the Grand Final.
"It was a bit of a different lead-up to the game for me. I found out this morning that I got the all-clear and was ready to play," Cramey told AFL.com.au amid the post-match celebrations.
"I did all the right things throughout the week. The doctors and support staff were amazing and the girls got around me as much as they could."
Cramey went on to play her best match for the season in the Grand Final, finishing with 23 disposals (behind only Erin Phillips' best-on-ground effort of 28), way above her season average of nine.
Twenty of her 23 touches were kicks and she was instrumental in the Crows' forward forays.
A total of 15,610 were at the Suns' home ground to watch the match, with Cramey acknowledging the many Crows fans who had travelled from both Adelaide and Darwin for the game.
"All of our family jumped on the same flight (which the club dubbed the 'Crows Jet') and came here. Their support by our side [helped] us over the line," she said.
Phillips' clean sweep?
It was a commanding best-on-ground performance from Adelaide co-captain Erin Phillips, who had nearly sewn up the award by quarter-time such was her dominance.
Despite having not played football for nearly 20 years, the star Opals and WNBA basketballer has been a revelation this season.
Her time spent in an elite sporting environment (Phillips has played professionally in the United States for nearly 10 years) means she has years of top-level conditioning over other players, and she used her speed, size and ball skills to her advantage this season.
Phillips, who on Monday won the AFLPA MVP award as voted by her peers, is hotly tipped to take out the competition best and fairest award on Tuesday night at the W Awards in Melbourne.
She has also been nominated for the Coates Hire goal of the year and the Woolworths mark of the year awards.
Could Phillips take out all three to add to her best on ground and premiership medals?
Interstate stars aim to return
Both Adelaide and the Brisbane Lions selected marquee and priority players from outside their respective states to complement their home-grown talent, and at this early stage, most appear keen to return.
With AFLW players having jobs outside of football, it's a big ask for them to uproot their lives and move interstate. On top of having to find a place to live, they often have to find work or study options as well.
Although coaches will have the final stay on whether players are re-listed for the 2018 season, when asked after the Grand Final, three of the stars appeared keen to stay in their adopted states.
Adelaide co-captain Chelsea Randall said she was looking forward to spending time with her Perth-based family in the brief off-season, but would be back in Adelaide.
"I'll be staying if I'm lucky enough to get re-listed," Randall said.
"They've been sensational – the footy club, the boys, everyone's gotten behind us. It's been genuine support."
Brisbane Lions key position player Sabrina Frederick-Traub is another who has uprooted her life from Western Australia and said the next thing on her list following the Grand Final loss was to start training for the 2018 season.
"Unofficially, I'll probably be in Brisbane," she said.
"I love it here and everyone's been so supportive. They're my second family now. I don't see why not. I'm set up here and I love Queensland."
The Lions will also be boosted by Victorian Kaitlyn Ashmore's declaration she wants to represent the club next year, although she wants to play out 2017 with Melbourne Uni in the VFL Women's.
"If Craig (Starcevich) wants me back, I'll be back in a heartbeat. I love it here, I love everyone and I love the club. If they'll have me, I'll definitely come back," Ashmore said.
Sabrina Frederick-Traub celebrates her last-quarter goal in the AFLW Grand Final. Picture: AFL Photos

Was it a free kick?
With just five seconds left in the Grand Final, Brisbane Lions defender Nicole Hildebrand pumped the ball inside the Lions' forward-50. The ball spilled from a pack, and Phillips pounced.
She had taken a few steps when Frederick-Traub applied a heavy tackle, the ball falling loose from Phillips' hands.
It was a textbook holding-the-ball decision, but with a twist. As Phillips hit the ground, the siren went and the umpire blew his whistle to signal the end of the match.
If the match had gone a few seconds longer, the Lion could have found herself having a shot for goal to tie the match and force extra time.
Frederick-Traub was upset immediately after the game, but gathered herself enough to high-five every single Auskicker on the ground to present medals.
She was philosophical a few hours later.
"I did [think I had the free kick], but it's a really hard job being an umpire," she told AFL.com.au
"As much as I was angry in the moment, I've done umpiring before and it's very, very difficult to make a call and he was just doing his job."
Solid numbers
The Grand Final crowd of 15,610 took the season's total attendance to 196,550 across 29 matches (an average of 6778 per game).
It also attracted a peak TV audience of 884,000 on Channel Seven, along with a further peak of 63,000 on Fox Footy.
The best 'mark' of all time?
As mentioned, the best of the AFLW season will be celebrated on Tuesday night.
On top of the prestigious league best and award, fairest, the NAB AFL Women's Rising Star and the Virgin Australia All Australian team will be named. There are also two fan-voted categories – mark and goal of the year.
Livewire Carlton forward Darcy Vescio will go home with the leading goalkicker award. But that didn't stop Vescio, a graphic designer for the Blues by day, doing her bit to ensure she received votes for her round-five mark, tweeting this "artist's impression" of a mark over the two other candidates.
Vote now for Mark of the Year. It closes tomorrow 11:59pm. https://t.co/ajvauBr3JG

*artist's impression below* pic.twitter.com/xI8Kk1XZBp

— Darcy Vescio (@darcyvee) March 22, 2017