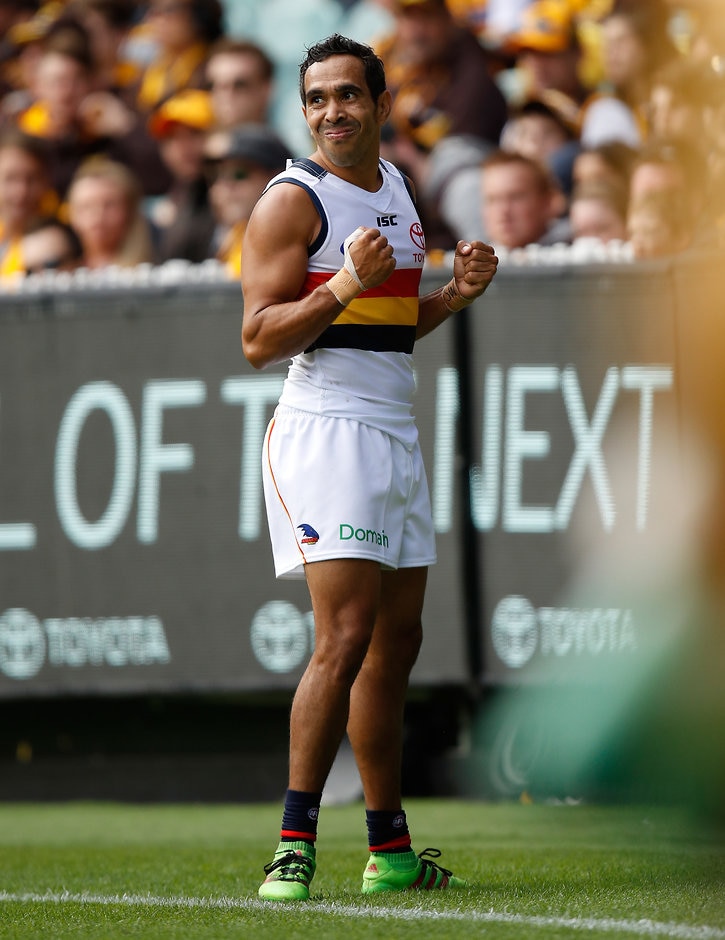 THE MANNER in which Adelaide broke its run of seven consecutive losses to Hawthorn will give the Crows players a massive confidence boost according to Crows' coach Don Pyke.
Although the coach acknowledged that having 16 players experience their first victory against the Hawks was positive, Pyke was more heartened with the players' ability to adapt when challenged early in the game.

Click here for full match details and stats
After quarter-time the Crows were able to limit Hawthorn's uncontested marks and shut down space to haul in a five-goal deficit.
They dominated in the air, taking 22 contested marks to Hawthorn's six and taking 17 marks inside 50.
"It was a different game from last week's game [against Greater Western Sydney] so the capacity to play in different ways and win in different ways was a real positive," Pyke said.

WATCH Don Pyke's full media conference
"It was a great response from the players and that only helps build their belief about what they are capable of doing."
Pyke said it was too early to tell how much the team had improved in 2017 but he said the foundation was now in place, which enabled them to introduce more elements to their performance.
"The benefit of last year is that it has allowed us to build a foundation of how we want to play. Now we are able to add some things to that [and] the players have a pretty clear picture in their head of how we want to play now," Pyke said.
Pyke was upbeat about the adjustments the team made with defender Andy Otten helping out Sam Jacobs in the ruck and pushing forward to kick a goal in the third quarter.
However Pyke was uncertain whether he would take the same set-up into the game against Port Adelaide if Jenkins was unavailable.
"He [Otten] was able to do that role today. Whether it is something we want to go to long term probably depends on the outcome of Josh [Jenkins' injury]," Pyke said.
The dour coach was still scratching his head in an effort to figure out how Eddie Betts squeezed through a banana goal in the third quarter but admitted his influence in that quarter was significant and his two goals pivotal in giving the team some reward for its hard work up the ground.
"He's that sort of player who is capable of impacting a game quickly," Pyke said.
"The goal he kicked from the far pocket. I'm still trying to work out how he got it through to be honest."
Only an injury to Josh Jenkins soured the victory with the key forward going to hospital for scans after a knock to the rib in the first quarter.
The Crows did not expect information on his condition to be available until a couple of hours after the siren.
Whether or not Jenkins is available, next week's Showdown against Port Adelaide promises to be contested in a fierce manner with Pyke looking forward to the battle.
"It sets [things] up well for another big game and that is the nature of this competition. It is unrelenting."