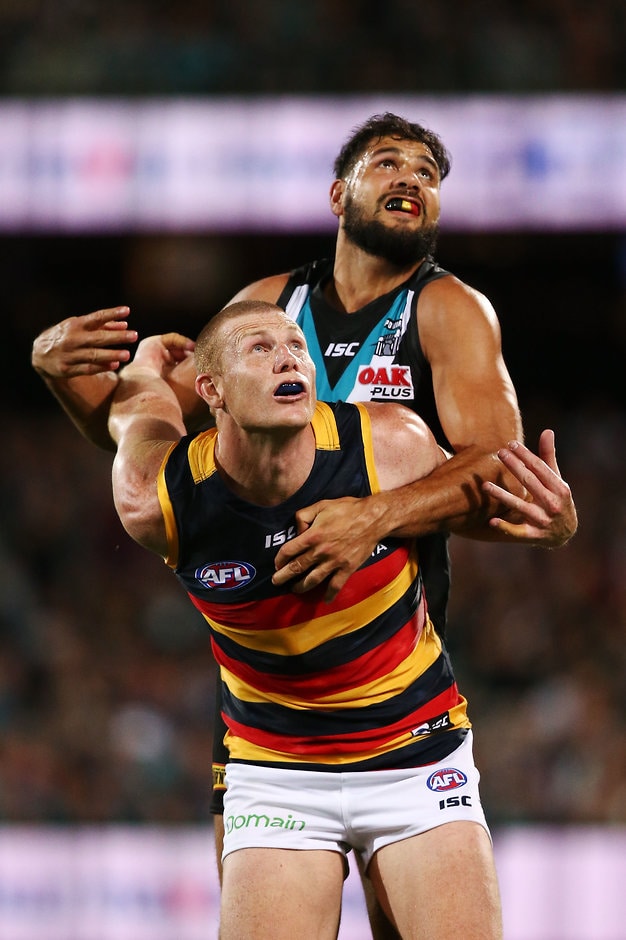 PADDY Ryder's immediate future is in the hands of an Adelaide medical report that will land with the Match Review Panel on Monday after an off-the-ball hit that floored Riley Knight in Saturday night's Showdown.
The Port Adelaide ruckman is on shaky ground and he will need a favourable medical outcome for Knight if he is to take his place against Greater Western Sydney in a big match on Saturday.
The importance of medical reports in MRP findings was rammed home in round two when Melbourne pair Jordan Lewis (three matches) and Jesse Hogan (two) found themselves sidelined for crude hits behind play.
Carlton's medical report in those cases was straight to the point, highlighting a hairline fracture to Cripps and late onset concussion for Rowe, who was still fit to play at the weekend.
The early signs are not good for Ryder, who connected to Knight's left jaw with a left hook in the final two minutes of the Showdown, giving away a free kick that Knight was able to take and convert into a goal.
The 22-year-old Crow left the ground straight after, however, motioning to a trainer that contact had been made to his jaw and finishing the match on the bench.
For Ryder, the stakes are high. He doesn't have an existing bad record, but even a one-match suspension would be a significant hurdle for his team as they prepare to take on the 2-1 Giants.
His strike had many similarities to those committed by Lewis and Hogan. It was off the ball and is certain to be graded intentional for that reason.
Contact to Knight was also high, as shown by broadcast vision and Knight's reaction when he leaves the ground speaking to a Power trainer.
That leaves impact as the crucial category in deciding his penalty. Low impact will result in a one-match sanction, while medium will see him sidelined for two.
His only chance to face the Giants and Shane Mumford would be an unlikely finding from the MRP that impact was not significant enough to constitute a charge.
It is understood Knight has been cleared of any damage from the incident and given the green light by the Crows' medical team to train this week.
The fallout from a brilliant Showdown will continue, with the Panel set to analyse Adelaide midfielder Charlie Cameron's high bump on Port's Dan Houston.
After Houston disposed of the ball, Cameron followed through and made contact with his shoulder to his opponent's head.
In the midfielder's favour is the likelihood that his conduct will be graded careless rather than intentional, given it was in play and a bump rather than a strike.
As with Ryder, the contact is clearly made to Houston's head, leaving impact as the category the MRP will debate at length, with the assistance of a Port Adelaide medical report.
In the Crows' favour, as they prepare to host Essendon on Saturday night, is the fact that Houston was able to get to his feet and play on, increasing the likelihood of a low impact grading and a $1000 fine.