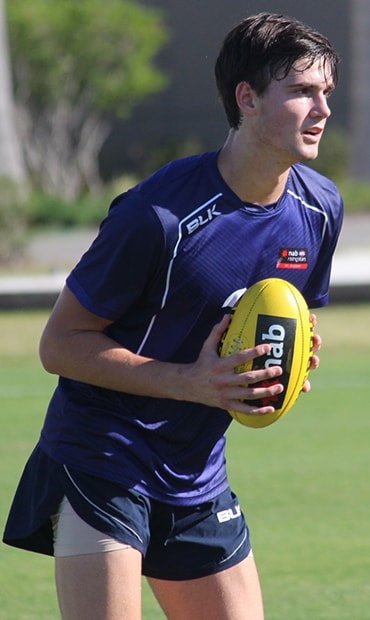 It dragged on a little bit and the decision was made that my zone was out of the GWS academy. It was a bit weird to process at the start but I've moved on now and I'm content with the decision.
Top draft prospect Jarrod Brander
JARROD Brander first realised there was a chance he would be withdrawn from Greater Western Sydney's academy zone in the middle of last year, when the AFL sent officials to interview the teenager about his living arrangements and footy background.
They stayed for an hour that night, asking questions of the then 17-year-old about his involvement with the Giants' academy, and how he split his time living between his families properties in Wentworth (in the Giants' zone) and Mildura (outside of the club's zone).
Brander's parents were also interviewed individually for about the same length by the League, as it weighed up what to do with the talented prospect, who has been long tipped to be an early selection at this year's NAB AFL Draft.
About seven months later, in March this year, Brander finally found out he would not be eligible to join the Giants as an academy selection after its zone was scaled back by losing the Murray and Albury regions. He had been a part of the academy since he was 12.
"It dragged on a little bit and the decision was made that my zone was out of the GWS academy. It was a bit weird to process at the start but I've moved on now and I'm content with the decision," Brander told AFL.com.au this week.
"I hadn't heard too much other than that the decision was going to be made around that time. I thought it was going to be the day before but nothing came out, but then I saw something on Facebook that the Murray region had been taken out.
"I got onto my manager and he had a chat to me and he hadn't really heard anything either, and then (GWS football manager) Wayne Campbell rang up mum and said the zone had been taken out. That's how I found out properly."
Some things have stayed the same for the 194cm prospect since that call was made. A week after finishing his cricket commitments for his school Geelong Grammar, he played with the Giants' side in the NAB AFL Under-18 Academy Series. Although a little rusty, he went well. He will also play for the Allies in the division one carnival later this year.
But he has also noticed a few changes since the AFL's decision to strip the Giants of priority access over the 18-year-old.
"It's definitely a bit different. Doing the interviews with clubs during [NAB AFL Academy] camps, everyone seems a little bit more interested because I remember last year some clubs were a little bit tentative about how much they wanted to know because they thought I was going to go to the Giants," he said.
"I could end up anywhere now. I thought there was probably a fair chance I'd go to the Giants with an academy pick if I was part of it, but it's weird now to have more open possibilities."
It is no surprise rival clubs were happy with the AFL's ruling. Brander presents as one of the leading key position players in the pool; he's athletic, runs well, and is a strong mark overhead. His kicking is good, and he can play at both ends, having dominated games as a defender and forward in recent seasons.
He would like to settle in one position – he spent a half at both ends in last Sunday's NAB AFL Academy 20th anniversary game at the MCG – but knows that is unlikely as he switches from his school side to Bendigo Pioneers in the TAC Cup and at nationals level. "I don't really have a favoured position as yet," he says.
Brander's unusual lead-in to his draft year waiting for confirmation of his academy eligibility has been coupled with a busy period finishing his cricket season. He joined Geelong Grammar in 2015 and has been a fixture of its cricket team, having been recorded bowling at 130km per hour.
His cricket campaign made for a busy summer: training on Monday and Wednesday after school, a fielding session on Thursday afternoons, and games throughout Friday and Saturday every week. On Tuesday nights he heads to Simonds Stadium to train with Geelong's VFL side with five other Pioneers prospects based away from their TAC Cup club, and there were also a handful of footy practice matches thrown into his schedule.
Still, after suffering injuries in recent years connected with his fast bowling, Brander has learned to adjust his load so not to overdo it. His season with Grammar showed the benefits of that, with Brander picking up 32 wickets (at an average of 10 runs) and making 280 runs (at 30) himself. It is set to be his last cricket season for some time, and he's looking forward to putting all his focus into his football.
"The last game I played was in the APS representative match and I got belted around, so I was pretty happy cricket was over. I won't play again for a while I'd think," he said.
"It'll be different going into next summer without cricket and everything being about my footy, because it has been a big part of my growing up and I love the sport.
"But once it finished I was excited to get a full crack at footy, train a bit more and start getting into some full games. It's a big year and I don't try to get too far ahead of myself. There's so many possibilities at the end of the year."