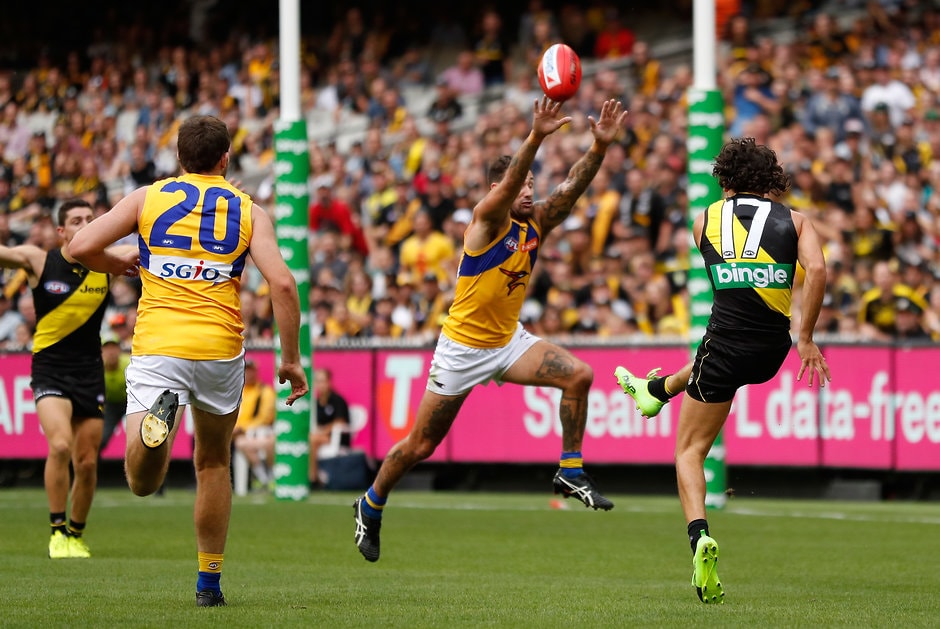 DANIEL Rioli's magic touch in 2017 has made him Richmond's most dangerous player when it comes to turning possessions into scores, Champion Data statistics show.
Rioli's great skill has placed him among the early contenders for Goal of the Year, but it is not only his moments of brilliance that are making him a nightmare for opponents.
The small forward has averaged 10.7 possessions a game in 2017, and he is proving that, like cousin Cyril, he does not need to win a lot of the ball to impact games.
Statistics show that when he has touched the ball and been involved in a chain of possessions this season, 48 per cent of the time it results in a Richmond score.
That is more than anyone else at the club and ranked equal 37th among the 430 AFL players involved in at least 10 possession chains this season.
It is also a lift from his 36 per cent hit rate last year, which ranked No.4 at the Tigers.
Then there is Rioli's ability in one-on-one contests. The second-year forward showcased his ability to prevail in these situations in the build-up to his sensational goal against West Coast at the weekend.
Having seen off Brad Sheppard in a contest by the boundary, he combined with teammate Dion Prestia and danced around Jeremy McGovern to kick a goal that will take some beating for the best of this season.
The contest was one of six one-on-ones the 19-year-old has been involved in this season and he is yet to lose any, winning three and neutralising three.
"He has a ferocious work-rate, which is the thing that has accelerated his development," teammate Jack Riewoldt told Fox Footy this week.
"He just wants to get better and he's an extremely talented player.
"He's been a really crucial part of the forward line this year, along with Dan Butler and Jason Castagna."
That trio's value to Richmond has arguably been more important for the defensive chaos they cause than the 13 goals they have collectively kicked.
The pressure they apply is creating opportunities for others, with the Tigers boasting a spread of 17 goalkickers across their opening three wins.
Castagna, who is on a rookie contract, ranks No.1 at the club for forward-half pressure acts (13 a game), while Butler ranks No.2 (11.7 a game).
Rioli is ranked No.4, with an average of 11 pressure acts a game, showing he has the desire not only to kick the magical goals but also to create opportunities for others.
Out of contract at the end of 2017, his is a key signature for Richmond, with all signs pointing towards an extension in the coming months.
It is only the delay in collective bargaining talks between the AFL and AFL Players Association that is holding up a new deal to keep him at Punt Road Oval.