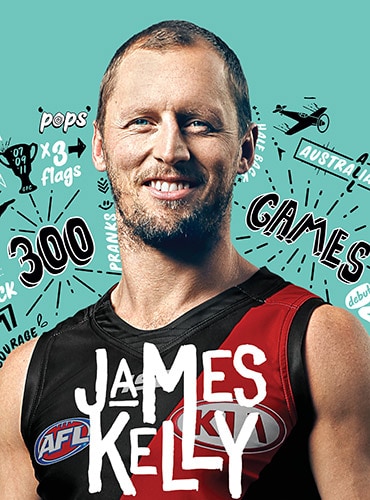 BY THE end of last year, James Kelly was sure he wanted to play on with Essendon into 2017.

The Bombers, too, were certain they wanted Kelly to stick around for at least another season.

His year as one of Essendon's 10 'top-up' players had gone well; better than he and the Bombers probably expected or anticipated, given he was signed to the club just weeks before the pre-season competition. It wasn't quite as simple as signing a new deal, however.

Essendon, having re-signed the majority of its suspended players, had something of a list squeeze.

It couldn't guarantee there would be a spot available for the former Cat and three-time premiership star, despite the mutual desire to continue.

"I was always just there for the one year to help out," Kelly told the AFL Record.

"Later in the year, there was a chance I was going to play on for a second year.

"I caught up with 'Woosha' (coach John Worsfold) and we spoke about it.

"He said they had some list management challenges they had to get through, but he said if they worked out, would I want to play on?

"I said if there was a spot for me, I would certainly do it again.

"At that stage of the year, my body was feeling good and I was still going well, so I thought, 'Why not?'

"If I was enjoying it as much as I had, it would be silly not to."
Kelly was keen to tackle another season with the Bombers. Picture: AFL Photos


Some more waiting was required before Kelly officially signed on for the 2017 season in November last year as a delisted free agent.

A one-year placement had become a two-year stay. Kelly finished last season on 293 games, having played 273 at Geelong from 2002-15.

The lure of a 300th game didn't factor in his thinking when making the call to play on. In fact, it took a little while to realise that, if the cards fell a certain way, he could reach the milestone against his old side.

"To be honest, I didn't look at the fixture for quite a while," Kelly said.

"It was my dad who said, 'If you don't play every game, you might play your 300th against Geelong'.

"He's been keen for me to play 300 games for a while. Even when I retired at Geelong, he was holding out hope.

"Once the season actually started, I took more notice of it and thought that, if it all panned out, that would actually be a nice thing."

It has panned out perfectly. Having been rested for the Bombers' round six loss to Melbourne, following a short turnaround from the Anzac Day clash, Kelly will reach the mark against a side featuring plenty of premiership teammates.

"I'd be lying if I said it didn't make it extra special," he said.

"There's still a lot of people at the Cats who I've got a lot of respect for and still have good relationships with.

"To have them there, selfishly on a day that's a little bit about me, would be nice.

"I don't know what it will mean to me.

"I feel happy about it and I feel proud of myself. But the same with other milestones I've had, I feel like I've got a job to do.

"I've still got to go out there and play. It's a nice thing for myself and my family to experience but, more than anything, you just want to win."

Playing consistently hasn't been a problem for Kelly since he joined the Bombers, or across his career for that matter.

As a 32-year-old last season, Kelly was one of Essendon's most reliable players in its wooden-spoon year.

His calm and steady hand across half-back provided experience and maturity to a young and vulnerable side.

He had a presence off the field, too.

With most of the Bombers' leadership group wiped out by the season-long WADA bans, Kelly took it upon himself to help steer and guide his teammates through a challenging campaign.

Essendon people talk of his impressive ability to offer ideas in team meetings, to be assertive without being over-the-top, and to make sense when he speaks.

He's also comfortable having a laugh, seeing the lighter side to things and connecting to a broad range of personalities in the change rooms.

But as one of only two of the Bombers' replacements to remain on the list (alongside former Tiger Matt Dea), Kelly needed to match his intellect with performance.

He did that last year by finishing equal runner-up in the best and fairest (with Joe Daniher, behind winner Zach Merrett).
Kelly looks back and is pleased he took the Bombers' call before last season when their doomsday scenario arrived.
"I'm pretty glad I did it. I'm glad because I've really enjoyed the past 18 months," he said.

"I enjoyed playing footy last year, I'm enjoying playing again this year and I'm enjoying the challenges of what all of that brings.

"I'm really happy I did it. I haven't regretted it at all.

"It didn't take long (to feel like a Bomber). Footy clubs are eerily similar in the way they operate and what happens in the change rooms.
"Once I actually got there and started training, it wasn't long before I started playing with them. It was only five or six weeks later.

"I didn't have time to reflect on my career at Geelong – it was just about getting to work and get playing."

Kelly was noticeably shocked on best and fairest night.

Despite his excellent career that has spanned several positional changes and roles and a Virgin Australia All Australian season in 2011, he had never finished higher than third in a best and fairest (which he did for the Cats in 2010).

His first season at Essendon surpassed that.

"I really was surprised," he said.

"I knew I'd played good footy and had been reasonably consistent.

"To finish second and share that with Joe and behind Zach, who is a player I really admire, was really enjoyable. I was a bit chuffed about that."
The way they were: Kelly and Cam Mooney back in 2003. Picture: AFL Photos


Of course, the Bombers were missing some of their best players, which opened the chance for Kelly to rekindle his career, having departed Geelong several months earlier.

Their return was a huge drawcard for Kelly wanting to come back in 2017.

He didn't have strong relationships with any of them before joining the Bombers, but through some social catch-ups last season, started to realise he would like to run out alongside them.

"Playing with the returning guys was the main factor," he said.

"They're guys I had respected from afar and to be able to play with them and potentially play finals with them was the main thing that made me go around again.

"I'd met a few of them and had a beer with a few of them from time to time, but I didn't know any of them really well personally.

"A few times last year we had a few beers with a couple of them, and at the time I just thought they were really good fellas and that it would be a shame I wasn't going to play with them next year. That's changed, obviously."

The returning group also gave Kelly confidence Essendon could return to the finals for the first time since 2014.

That prospect is delicately poised, with three wins after seven rounds and just one (over Collingwood on Anzac Day) in the past five.

The team's up-and-down start to the season hasn't tempered Kelly's hopes of attaining a top-eight finish.

"I started the year wanting to play finals and I don't think that will change until or if we get to the stage where that's not possible.

"I'll be focusing on that and talking to the boys about that constantly."

But that's only one of the ambitions Kelly brought to Tullamarine.

He saw a chance to help the Bombers through crisis and into brighter times.

"When I started playing last year, I just wanted to help," he said.

"I wanted to help those guys through a really tough time and I wanted the guys who weren't playing to know there were people there who were going to keep the club in a good state while they were away.

"This year it's a bit the same. I'm still just here to do whatever I can to help and help them transition back into footy."

Kelly admits he didn't know a lot about some of Essendon's younger brigade when he arrived.

But they, too, have been part of the reason he has enjoyed his stint at the club so much.

He praised Orazio Fantasia and Merrett for their intelligent, diligent work that has propelled their game forward in the past two years and is encouraged by the talent in Darcy Parish and Aaron Francis.

He has also become a mentor of sorts for Andrew McGrath, the No.1 pick stationed in the backline near Kelly.
Kelly will play his 300th against plenty of old mates. Picture: AFL Photos


Despite his focus being on the Bombers, Kelly still finds himself watching plenty of Geelong games.

He departed the club on good terms, being a key player in the 2007, 2009 and 2011 flag triumphs and a central figure in the Cats' ability to create a culture of success over more than a decade.

"You don't want to take too much credit for what the club's done, and the club is really well run and we played some really good footy there," he said.

"I feel most proud of where the club was when I got there and where it was when I left. That's the thing I take most pride out of."

But Kelly will play the most significant milestone game of his career in red and black.

Will it be his last season? If the past two years have taught Kelly anything, it's that it's hard to know what's around the corner.

"I learned last year you never say never," he said.

"But I would probably say yes (this is my last year), but I don't know where the club's going to be at the end of the year and I don't know how I'm going to feel.

"The 300th wasn't on the radar at all.

"My career was done. I was able to put everything to bed, and to get the opportunity to come back and play has been great and I've really enjoyed it.

"This milestone is another part of that."