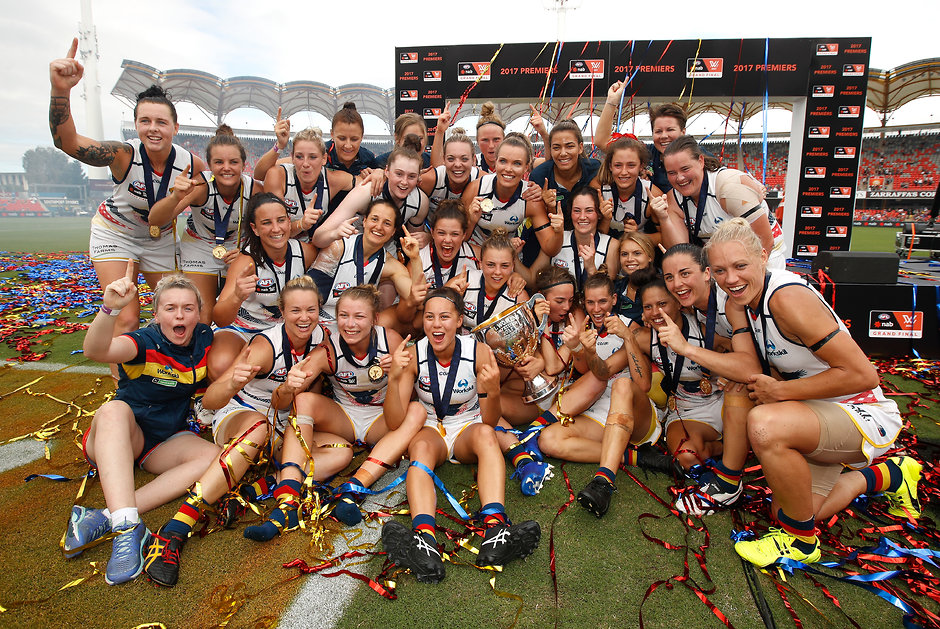 MONDAY marks the first day of the sign and trade period for the NAB AFL Women's competition.
The trade period (May 15-26) was delayed by several weeks as the AFL Commission deliberated on whether to expand the eight-club competition in 2018 after the success of the inaugural AFLW season.
Although several clubs – including Geelong and St Kilda – were pushing hard to enter the competition next year, the Commission rightly decided for a year of consolidation, rather than immediate expansion.
A common concern throughout the inaugural season was the average skill level of players across the competition. The top players were clearly far more talented than the rest, leading to an inconsistent standard of play.
Therefore, it makes sense to develop talent in existing teams, rather than spreading it across a greater number of clubs.
We saw the devastating effect injury can have on relatively small lists, with Fremantle, Greater Western Sydney and the Western Bulldogs struggling with serious injuries to key players.
The AFL has increased the list size for 2018 from 25 to 27, with a further three rookie list spots available. Two of the nominated rookies may come from other sports.
However, the three rookies will not be able to play until they are upgraded to the senior list because of an injury to another player.
Clubs will be busy scouting playing fields around the country after the success this year of players from other sports, including Erin Phillips (basketball), Cat Phillips (ultimate frisbee) and Nat Exon (athletics).
The AFLW competition will expand in 2019, with five clubs (St Kilda, Geelong, Richmond, North Melbourne and West Coast) given provisional licences. They will receive priority from the AFL when it considers the next lot of applications.
The competition will expand by at least two (taking it to 10 teams) or even four (12).
Geelong has entered a team in the VFL Women's competition (as has Hawthorn), while St Kilda staged an exhibition match with players made up of AFL Victoria's Southern Women's Academy squad.
North Melbourne is aligned with VFL Women's team Melbourne University, and arranged a practice match with a combined Uni/Tasmania side against VFL Women's powerhouse Darebin.
The potential new Victorian clubs could play at their training grounds (Simonds Stadium, Moorabbin, Punt Road and Arden Street), but the addition of all four would inevitably stretch the Victorian talent pool too thinly.
Port Adelaide also has a women's side (the Port Adelaide Magpies) which will line up in the Adelaide Footy League competition.
A second club in Western Australia could work, given the state's depth of talent. This year, Emma King, Chelsea Randall, Sabrina Frederick-Traub and Kellie Gibson starred playing outside their home state and it's not inconceivable to believe they won't return home at some point.
The AFLW may have a Western Derby of its own soon enough. Picture: AFL Photos
The trade rules
All players were signed to a one-year contract for the 2017 season, theoretically meaning every single player could change clubs. It's extremely unlikely we'll see Melbourne captain Daisy Pearce running around for Collingwood next season, even though the marquee players are up for grabs.
Clubs can re-sign only 22 players from their 2017 list (which ranged from 27-31 depending on the number of injury replacement players), requiring at least five players per club to be delisted.
Clubs can only re-sign or trade players with the players' permission. While the competition remains semi-professional and requires players to work and/or study, being traded interstate could impact significantly on these other pursuits.
On the flip side, players who moved interstate for 2017 could return home in 2018. Brisbane Lion Kaitlyn Ashmore is Victorian, and indicated after the team's Grand Final loss she was keen to stay at the club, but has headed south to play for her VFLW club Melbourne Uni for the remainder of 2017.
Trades can involve multiple players and clubs, as well as draft picks from the 2018 NAB AFLW Draft, but future draft picks cannot be traded.
Once traded to a new club, players cannot be on-traded for 2018, nor put on the rookie list.
If a player chooses to leave her 2017 AFLW club, and a trade cannot be found, the club may receive a compensation selection in the draft. This is at the AFL's discretion.
A free agency period will run from May 29-June 1, when delisted players who have not found a home will become unrestricted free agents. Adelaide found great success in 2017 with free agent Sarah Perkins.
Players who have been offered a contract for 2018 at a lower pay rate than 2017 will be restricted free agents.
There were several reports published last week about the playing future of Brisbane Lions forward Tayla Harris, a marquee player who also works for the club. The Lions last week declined to comment about their star's reported request to be traded to a Melbourne-based club.
Harris, 20, has played just one state league game this year, kicking five goals for her junior club Aspley Hornets in Queensland's second-tier competition.
She is also a keen boxer, and appears to be enjoying being back in the ring after the conclusion of the AFLW season.
Will the temptation of Victoria be too much for Lions star Tayla Harris? Picture: AFL Photos
What is each club looking for?
Adelaide
The 2017 premier was well balanced across the field, but could be on the hunt for a key forward to take the pressure off Sarah Perkins.
Brisbane Lions
The Lions nearly had the perfect season in 2017, but lacked grunt around stoppages in their Grand Final loss. An additional inside midfielder would be ideal.
Carlton
Midfielder Nat Exon was a steal for the Blues, but the team looked considerably slower when she broke her ankle. Another outside runner could be enough to take the Blues all the way in 2018.
Collingwood
The Magpies had one of the best forward lines in the competition, but struggled to get the ball to them. A classy midfielder would see the Magpies improve dramatically.
Fremantle
Injury replacement signing Alicia Janz was a revelation in the ruck halfway through the season, but the Dockers struggled with key position players around the ground underlined by the fact small forward Ashley Sharp and midfielder Kara Donnellan topped the club's goalkicking with four each.
Greater Western Sydney
The Giants struggled forward of centre, kicking only 23 goals in seven games. They desperately need a key forward or three to support Phoebe McWilliams (who kicked seven) and Jacinda Barclay.
Melbourne
The Demons looked threatening throughout the season, but are probably one key defender away from genuinely contending. Laura Duryea battled hard and Katherine Smith is only 164cm, so another tall would be perfect.
Western Bulldogs
Ideally the Bulldogs need a Katie Brennan clone, but failing that, a key forward to complement Brennan and small forward Kirsten McLeod would help enormously.
Is it possible to clone the Bulldogs skipper? Picture: AFL Photos
While we've been away
The players had a well-earned break following the conclusion of the AFLW season, and nearly all are now back playing in their respective state leagues. Here's what's been happening in the seven weeks since Adelaide's premiership win:
AFLW league best and fairest Erin Phillips has retired from the WNBA, after she was waived by the Dallas Wings (effectively a delisting). She may still play for the Australian Opals.
Phillips and her family are based in Dallas, and the Crows have said she will return to Adelaide in November, although she is on Port Adelaide's state league list should she decide to play football in 2017.
Katie Brennan has overcome a niggling ankle injury that kept her to just two AFLW matches. She made a return to football at the start of the VFLW season, lining up for Darebin Falcons in the middle of the ground.
Meg Hutchins played her 200th game for the Eastern Devils in the VFLW on Saturday, having started at the club back in 2003. Hutchins, 35, was one of Collingwood's best in the AFLW, and it wouldn't surprise if she lined up again in 2018.
Collingwood announced Kate Sheahan and Kendra Heil would not be at the club in 2018, delisting the pair. Both suffered torn ACLs (Heil in the pre-season), and will have full access to club facilities and physios in their rehabilitation.
Many players have stayed in their new states for the 2017 state league season. Stars lining up in their adopted states include:
Emma King (from Western Australia to Collingwood and now the Eastern Devils)
Sarah Perkins (Victoria to Adelaide and now Port Adelaide)
Chelsea Randall (Western Australia to Adelaide and now Salisbury)
Kellie Gibson (Western Australia to Adelaide and now Adelaide University)
Sabrina Frederick-Traub (Western Australia to Brisbane Lions and now Yeronga South)