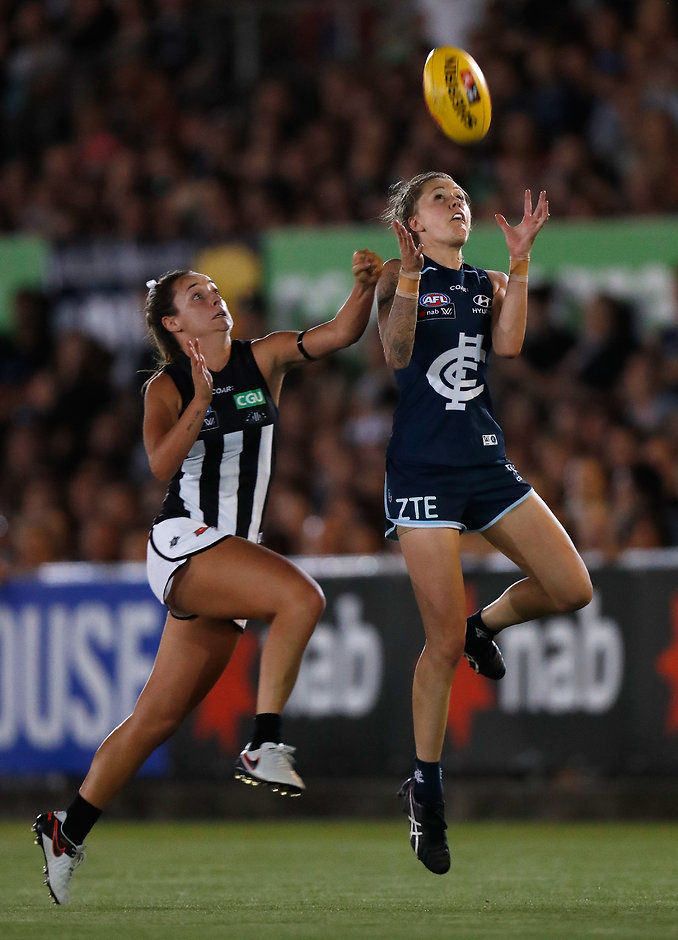 CARLTON has pulled off a massive coup by snatching Collingwood's 2017 best and fairest Nicola Stevens.
Stevens, a playmaking defender, crosses to the Blues in exchange for their first three picks in October's draft in the first deal of the AFLW trade period that started on Monday.
The Magpies receive selections 5, 13 and 21 for the All Australian defender in a shift that adds another chapter to the rivalry between two of football's oldest clubs. The Blues also get Collingwood's fourth-round pick.
"It's very exciting to bring a player who established herself in the competition like she did, a best and fairest winner and All Australian who had an incredible impact for them (Magpies)," Carlton coach Damien Keeping said.
"We're very fortunate to have her services next year. We see her adding to the club on and off the field.
"There's no doubt (about) her ability to read the play and the flight of the ball across half-back.
"Nic has the opportunity to move up the ground rather than just play deep down back. There's an opportunity (for her) to move into the midfield and we saw pre-season with Collingwood she had some success up forward as well.
"The versatility Nic has in her game gives her the opportunity to grow and we look forward to developing that."
Star Blues forward Darcy Vescio, who won the AFLW's goalkicking and took mark of the year, works at the club as a graphic designer and used her skills to create the image celebrating Stevens' historic move.
Loved photoshopping that jumper on.
Welcome to the clurrrrb, @nicstevenss! We're all stoked to have you on board 🤠 https://t.co/uEv9oiBrCo

— Darcy Vescio (@darcyvee) May 16, 2017
Stevens will be able to assist key defender Brianna Davey, who nursed a back ailment through the inaugural AFLW season in February-March. The Blues were also hurt by injuries to other defenders.
"Bri had an incredible year (but) was under (physical) duress most of the time," said Keeping, who coached Stevens at the Western Bulldogs during the AFL's women's exhibition series prior to the establishment of the AFLW competition.
"Adding a quality player to that part of the ground will certainly help. We're excited to see what Nicola can do in other parts of the ground as well."
Stevens, 24, had a meeting recently with Magpies coach Wayne Siekman to explain why she wanted to defect to the cross-town enemy.
"Nicola spoke to Wayne and, obviously, she's a very important player for us. But we didn't want to get in the way of her choice," Collingwood women's football manager Marcus Wagner said.
"Carlton has been very open through the whole process and I think we've got a good equitable trade out of this situation.
"We've repositioned ourselves really well. We want to get into the draft early with so much young talent around.
"We're looking to reposition our list with young talent and this gives us the opportunity to do that.
"We've got confidence in our squad, we've got depth and evenness and we think (the players) will improve in the off-season.
"We probably need some speed and excitement around the ball and getting into the draft early gives us that opportunity."
Melbourne nominated basketballer Kate Hore and Carlton chose basketballer Kerryn Harrington and netballer Maddison Gay for their rookie lists.
Clubs can nominate two players from other sports as part of their three-player rookie list.