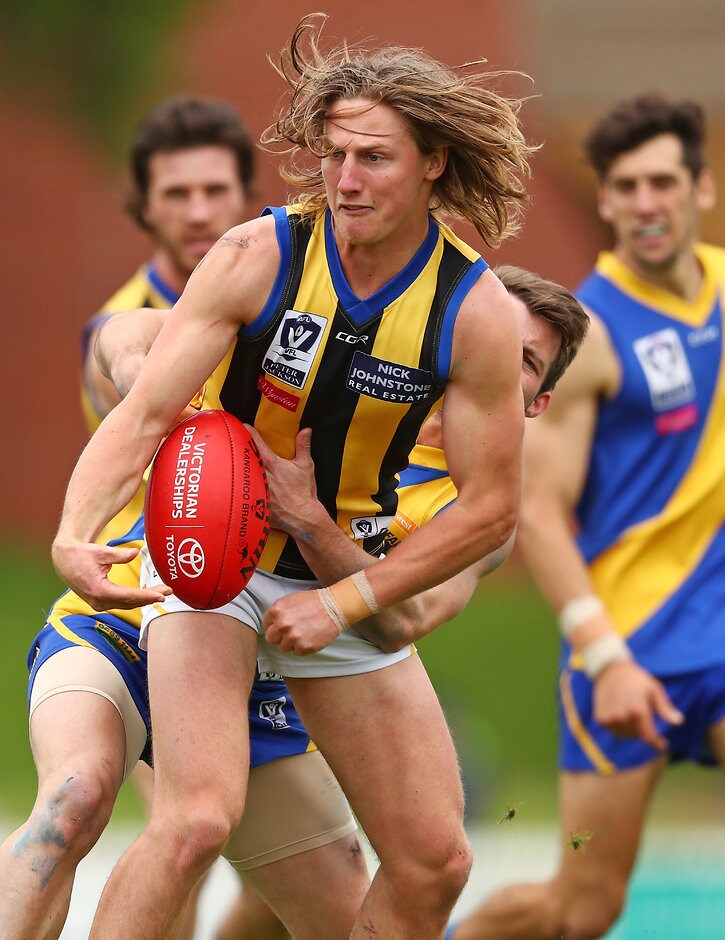 FORMER Saint Eli Templeton heads a list of ex-AFL players who are lining up for Victoria in a state representative game between the VFL and the WAFL on Saturday.
Templeton – who was delisted by the Saints last year - is in sizzling form in the VFL and has had more disposals than any other player.
Other former AFL players named in the VFL squad are Templeton's old St Kilda teammate Brodie Murdoch, delisted Port defender Cam O'Shea, and former Port and Richmond mid Andrew Moore.
There are 14 former AFL players in the WAFL squad, including ex-Bomber Leroy Jetta.
Jetta was delisted by Essendon at the end of 2014 but had to sit out of football last year due to the widespread doping ban that was served to 34 past and present Bombers involved in the club's now infamous 2012 supplements program.

The game is on at North Port Oval from 2.10pm AEST and will be broadcast live on Channel Seven from 2pm.

Check out the full squads below.

PETER JACKSON VFL SQUAD
1. Michael Sodomaco (Werribee), 2. Sam Switkowski (Box Hill Hawks), 3. Nick Rippon (North Ballarat), 4 Tom O'Sullivan (Port Melbourne), 5. Nick Hind (Essendon), 6. Michael Gibbons (Williamstown), 7. Andrew Hooper (North Ballarat), 8. Nick Jamieson (Footscray), 9. Tom Wilson (Northern Blues), 10. Leigh Masters (Williamstown), 11. Matt Hanson (Werribee), 12. Eli Templeton (Port Melbourne), 13. Tom Atkins (Geelong), 14. Bayley Fritsch (Casey Demons), 15. Sam Darley (Richmond), 16. Brett Bewley (Williamstown), 18. Josh Newman (Williamstown), 19. Jordan Kelly (Collingwood), 20. James Ferry (Essendon), 21. Jack Hutchins (Casey Demons), 22. Andrew Moore (Box Hill Hawks), 23. Jordan Lisle (Port Melbourne), 25. Cam O'Shea (Northern Blues), 26. Alex Boyse (Essendon), 28. Chris Jones (Box Hill Hawks), 29. Tom Goodwin (Coburg), 30. Brodie Murdoch (Port Melbourne)

CARLTON DRAUGHT WAFL SQUAD
1. Kirk Ugle (Swan Districts), 2. Shane Nelson (West Perth), 3. Aaron Black (West Perth), 4. Haiden Schloithe (South Fremantle), 5. William Maginness (East Perth), 6. Leigh Kitchin (Subiaco), 7. Jack Bradshaw (Claremont), 8. Tim Kelly (South Fremantle), 9. Ryan Cook (South Fremantle), 10. Kyal Horsley (Subiaco), 11. Jye Bolton (Claremont), 12. Kody Manning (West Perth), 13. Luke Meadows (West Perth), 14. Leroy Jetta (Peel), 15. Andrew Strijk (West Perth), 16. Jonathon Marsh (East Fremantle), 17. Lachlan Delahunty (Subiaco), 18. Corey Adamson (Subiaco), 19. Matt Riggio (Swan Districts), 20. Clancy Wheeler (Subiaco), 21. Jordan Lockyer (Subiaco), 22. Tallan Ames (Swan Districts), 23. Kyle Anderson (East Perth), 24. Ben Saunders (South Fremantle), 25. Blaine Johnson (South Fremantle), 26. Mitchell Andrews (Claremont), 28. Tony Notte (Swan Districts)