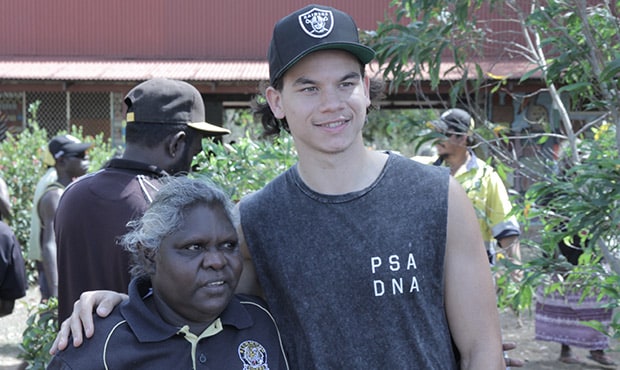 Daniel was the official tour guide and he was keen to come fishing with us and mud crabbing with us
Richmond list manager Dan Richardson
DANIEL Rioli turned tour guide during Richmond's bye, with a small contingent of Tigers players and coaches joining him on the Tiwi Islands this week for a mid-season break.
Richmond's emerging star was joined in his home community on Garden Island, off the coast of the Northern Territory, by teammates Jack Riewoldt, Jayden Short, Shane Edwards and Dylan Grimes.
Assistant coaches Justin Leppitsch, Xavier Clarke and Craig McRae also made the trip with list manager Dan Richardson, with the group using the club's four-day break to get a better understanding of Rioli's background.
"From the moment we drafted Daniel, we said to Bradley his dad and Belinda his mum that we'd like to come up to the island one day and have an experience like this," Richardson told AFL.com.au.
"The purpose of it was to connect with Dan and his community and learn more about his culture and the challenges he and all kids from the Tiwi Islands can have when they're trying to make a fist of life as far away as Melbourne.
"That was the purpose of it, to develop those connections and give Dan a sense of how interested we are in where he's from and his journey."
Rioli's parents and siblings live in a town of about 500 people on Garden Island, with the Tigers contingent staying in a fishing lodge in the heart of the community.
They visited beaches where the late Richmond star Maurice Rioli spent time with his family and waterholes Daniel Rioli visited as a kid.
"Daniel was the official tour guide and he was keen to come fishing with us and mud crabbing with us," Richardson said.
"He was always going home for the break, so he had a bit of time just home with his family, but he spent quite a lot of time with us touring around the island.
"He actually had a role in choosing the players this time around that he wanted to share this time with.
"So it was great to see the players and coaches and myself to an extent connecting with each other and doing something completely different to what we'd normally do in the cut and thrust of a footy season."
Richardson said the Tigers group gained an understanding of the challenges faced by young footballers from the Tiwi Islands who leave to pursue careers elsewhere.
Rioli left home at 14 to attend St Patrick's College in Ballarat, following a similar path to uncle Cyril, who moved from Darwin to school in Melbourne before being drafted by Hawthorn.
"It shows the resilience of people like Daniel and also the family," Richardson said.
"They had the foresight to think it was important enough to send him to boarding school a long way from home because it's an opportunity he should take up.
"It's an opportunity a lot of kids on the Tiwi Islands wouldn't get."