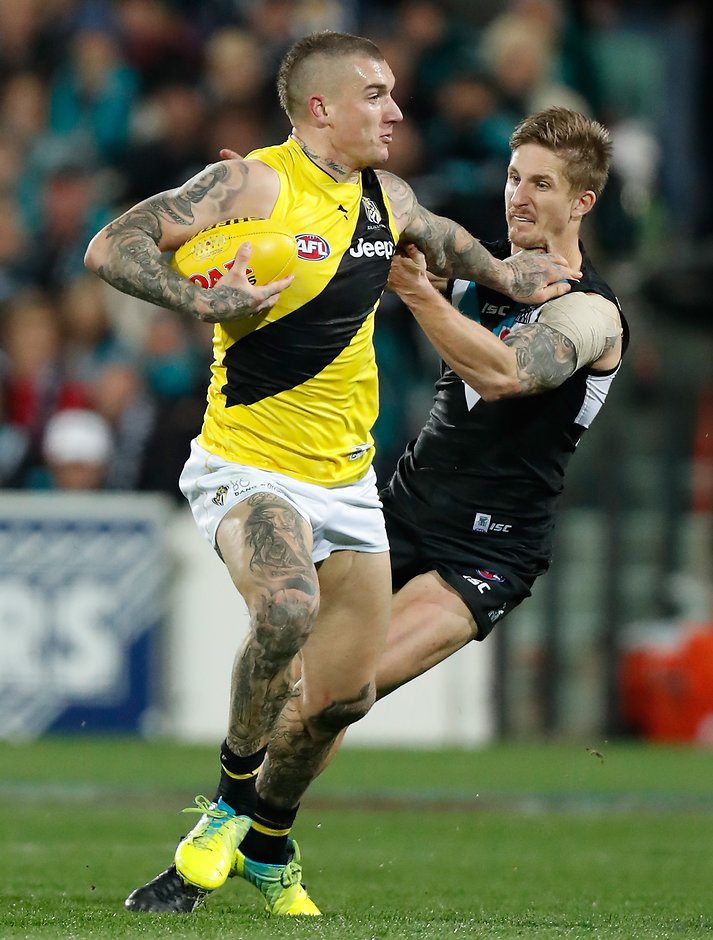 1. Can they keep the lid on at Punt Road after this one
Get excited Tiger fans. Coach Damien Hardwick will preach caution but Richmond circa 2017 has again shown it is made of something a little different to the Tiger sides which have collectively failed to win a final in the past 16 seasons. This was a win from the top shelf against a Port side which was up for the contest, on its home turf. The Tigers looked to be in trouble when Robbie Gray put the Power 16 points up entering time on in the third term, but then something remarkable happened. Richmond was losing the battle at the coal face to that point but stunningly turned the momentum with its willingness to get extra numbers to the contest. Suddenly the Tigers were running the ball out of stoppages and running at a besieged Port backline. Dustin Martin was once again superb and a catalyst in the turnaround, and the Tigers second-tier players had major roles in this win, with a host of players standing up.

Full match coverage and stats

2. Question marks remain at Port
Ken Hinkley said midweek he was growing tired of constant comment on Port's poor record against top eight sides, but his side has not been able to silence the doubters. With this loss, Port Adelaide went to 0-5 against top eight opposition in 2017. Their only top eight scalp in 2016 was a fading North Melbourne late in the year. Port should not have dropped this one after working itself into a strong position entering time-on in the third term. The Power was 16 points up and their inability to keep their foot on Richmond's throat raises question marks. The Tigers outworked Port at the contest for the final 40 minutes of this match and the Port fadeout was concerning. It's been a consistent theme for the Power which has struggled to play 120 minutes against quality opposition for some time. Their want for the contest should be questioned after this.
No ifs, Butlers or maybes - this was a cracking goal from Dan Butler! #AFLPowerTigers pic.twitter.com/uIzl1uh2Bx

— AFL (@AFL) July 1, 2017
3. Tigers win Clash of the defences
This was the clash of statistically the league's two best defences and it was obvious for all to see as they arm wrestled in one of the lowest scoring first quarters of the season. But this clash was anything but boring. The intensity level was finals-like, with both sides restricted to a solitary first-term goal. At one end, Alex Rance marshalled the Tiger defence and chopped out attacking foray after foray. At the other, Tom Clurey competed well on Jack Riewoldt and Hamish Hartlett played loose. But the defences of both sides started with the midfields, neither of which shirked the issue. Both sides showed they can play finals level football, but Port was unable to maintain it all night. Richmond was.
Big Charlie wasn't letting Cotchin get past without a taste of the turf. 💥 #AFLPowerTigers pic.twitter.com/acTZ99MiOI

— AFL (@AFL) July 1, 2017
4. Don't argue Dusty marches on
Dusty Martin's charge for the 2017 Brownlow Medal gained more momentum with another stunning performance which was crucial to Richmond's win. Martin was the man who inspired the Tigers as they went on a stirring three-goal run late in the third term. He kicked the third of those goals, and his running power to blow off a chasing opponent and then clinically finish from the boundary 40m out was memorable. He finished with 37 disposals and broke an AFL record eight tackles. No one could lay a glove on Dusty.

GAME BREAKER: Fend-off king sets a new record
DUSTY! The Tigers hit the front! #AFLPowerTigers pic.twitter.com/3QUsILpV3i

— AFL (@AFL) July 1, 2017
5. Rance tagged but tactic fails
Anyone watching the Alex Rance-Jackson Trengove duel on Saturday night without paying attention to which way the teams were kicking would have thought Rance was the forward. Trengove played a virtual tagging role on the Richmond star and it was effective to a point but ultimately must be judged a fail. Rance finished the match with 19 disposals, which was up on his season average, and he grew in importance as the match went on and got involved in plenty of Tiger defensive transitions despite the attention from Trengove. The tactic also effectively meant Port had one less attacking option going forward. Trengove tried to lead Rance away from the football and had minimal impact. Rance still managed to help his teammates out and go third man up at important times.
Alex Rance's unexpected opponent Jackson Trengove is proving to be a vital cog for the Power. #AFLPowerTigers pic.twitter.com/uNTQMfWpn1

— AFL (@AFL) July 1, 2017
The views in this article are those of the author and not necessarily those of the AFL or its clubs