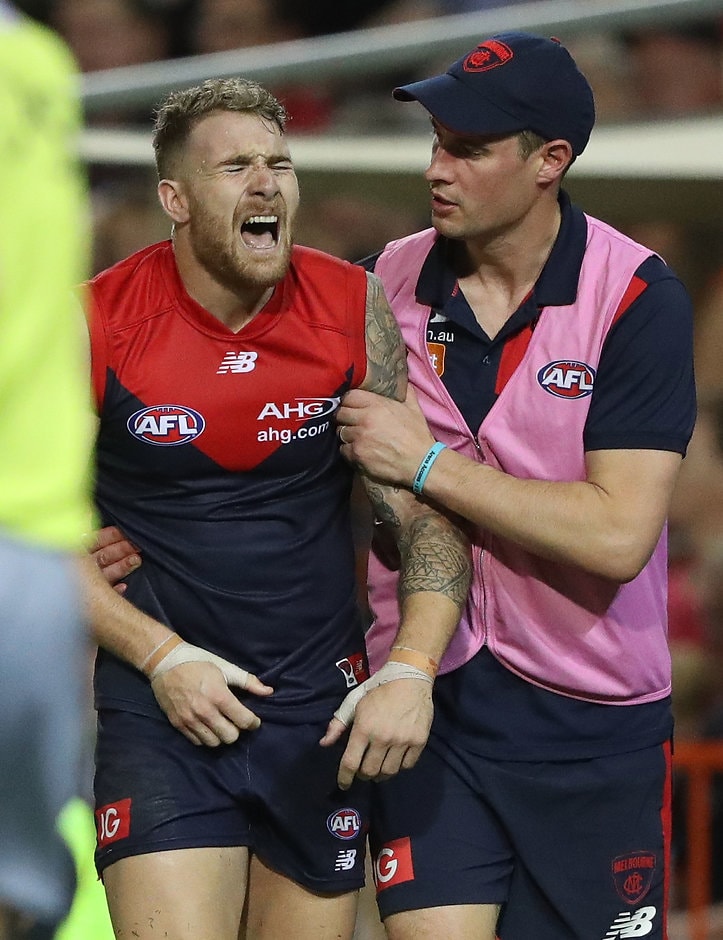 Knowing the person that Jack is, you wouldn't put it beyond the realms of possibility
Dave Misson on Jack Viney
MELBOURNE is planning to nurse forward Dean Kent through the next fortnight before deciding when to book him in for surgery on his injured left shoulder.
Meanwhile, the prospect of co-skipper Jack Viney returning from a foot injury against Port Adelaide this week is "not beyond the realms of possibility" according to elite performance manager Dave Misson.
Kent dislocated his left shoulder when he tackled Crow Rory Sloane late in the third quarter of the Demons' 46-point loss to Adelaide at TIO Stadium in Darwin on Saturday night.
Check out the full injury list for round 18
The Demons are keeping their options open on Kent's possible return this season.
"He'll see a surgeon tomorrow and will need surgery at some stage (this year)," Misson told the club's website.
"What we're trying to do is manage Dean conservatively so that we can try to get him back to play at some point this year.
"We probably won't know for a couple of weeks the timeframes around that, so we'll just see in a fortnight's time.
"We'll either push him further towards playing with some strength work or we may bite the bullet and have surgery. But it will be another fortnight until we know that."
Thursday's main training session will be crucial in assessing Viney's availability after missing the past two matches following surgery on the plantar fascia in his foot.
"Viney has had quite a quick ramp-up. He did his first run on the AlterG (Anti-Gravity Treadmill) on Saturday and then had another run outside today (Tuesday).
"He's got a fair bit to tick off on Thursday before he gets cleared to play, but he's probably overachieved from a rehab point of view, thus far.
"Knowing the person that Jack is, you wouldn't put it beyond the realms of possibility."
Dom Tyson, Jack Watts and Christian Salem are all likely to be available for the game against the Power on Saturday, should they train well on Thursday.
"They've all been doing some great stuff in rehab and did a really good session in Melbourne, here (at AAMI Park) on Saturday and again today.
"So, essentially those guys just need to get through training on Thursday and they should be available."
Co-captain Nathan Jones is now 1-2 weeks away from playing, but given the nature of his quad injury he will have to tick a few more boxes before he is cleared to return.