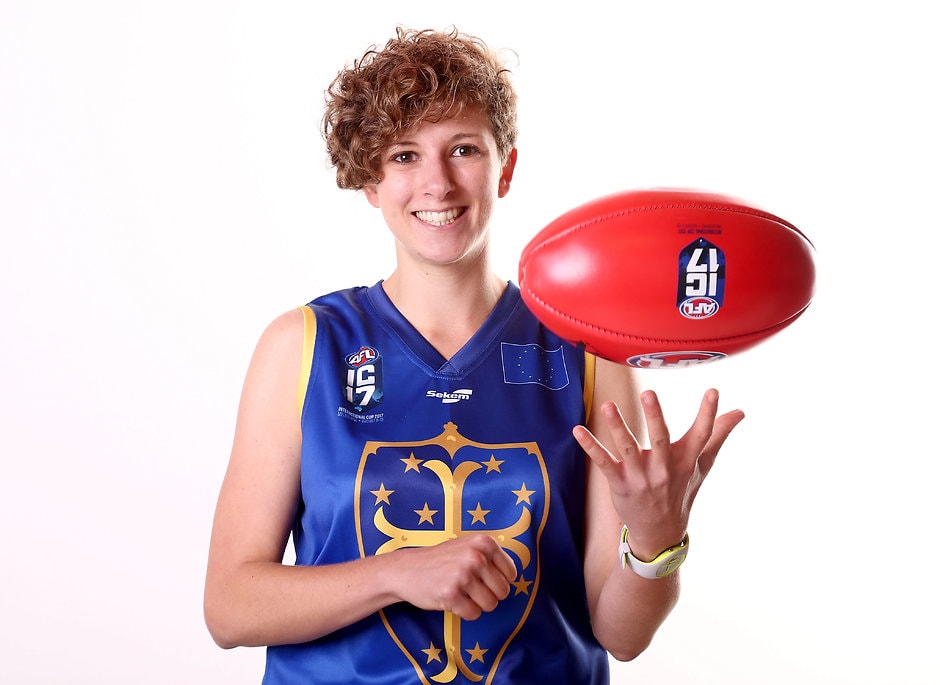 ANYBODY who gets their hands on a Sherrin knows how unique the first experience is. For Frenchwoman Coline Duquet, the feeling materialised on Coogee Beach in Sydney in early in 2013.
After winning handball gold at the 2012 Australian University Games representing the University of Technology Sydney (UTS), Duquet was looking for a new challenge.
"I wanted to play rugby union but could not find a team," explained Duquet, who is playing for the European Crusaders in the AFL International Cup.
"My roommate was a huge Sydney Swans fan and I saw a poster advertising the UTS Shamrocks. I wanted to have the full Aussie experience and I absolutely loved my first footy session. We finished up with a swim and brunch!
"Some of the girls are here with the [Ireland] Banshees so it will be great to see them again," she said.
Duquet's sense of inclusion and light-hearted demeanour makes her an integral part of the Crusaders leadership group. And with players from Croatia, France, Germany, Italy, Poland and Sweden – some of whom only met each other at the tournament launch on August 5 – spirit is key.
"Some people think it's strange that I arrived at a competition without knowing some of my teammates, but I think that's just part of it," she explained.
"You meet someone, you learn their name, you try to get to know them and create something incredible together.
"I encourage the team to have fun and be open-minded – to try and feel the spirit of this sport. Footy is about sharing experiences with your teammates and even with your opponents."
The Crusaders have already faced well-established teams Papua New Guinea and Ireland (at St Patrick's College in Ballarat) and face the USA on Sunday at Melbourne University Oval.
But for Duquet, playing in Melbourne is about so much more than the scoreboard.
"We have such a great group and strong vibes," she said after the first round at Royal Park.
"It feels so good to be here. We are accustomed to nine-a-side footy on a rugby pitch, so sometimes we will be dragged into the contest when perhaps we shouldn't, but our fitness is excellent and I am so proud of my teammates."
It was last November when some of the women who played in the French League and the European Championship started looking for players all over Europe and Australia. The following month they launched a crowd-funding campaign on makeachamp.com to help reduce the costs of getting here and recruit more players.
"The European Crusaders is such a great project – we started from almost nothing," said Duquet. "It is fantastic that there is no barrier for European and Australian-based Europeans who do not have enough footy-playing compatriots to form a team.
"Fanny Maillet [team manager] and Bérengère Portal [captain] put a lot of effort in to help us get here. Whatever happens in the competition, it is already a win."
The 25-year-old ruck, who works in European and international affairs, earned the nickname 'Emu' during her time with the UTS Shamrocks. Now she lives in Paris and plays for the Cockerelles with seven of her European Crusaders teammates.
"I would love to be returning in three years with a French national team," Duquet said. There are 10 of us playing for the Crusaders, so if we keep getting new faces involved each year, why not?"
The mission of the AFL International Cup carnival is to do exactly that, and get a Sherrin in as many new hands as possible.
"Now the AFL Women's competition is up and running, it is amazing to know there is a professional women's game to aspire to. We just want to make sure Australian rules becomes better known for women in France."