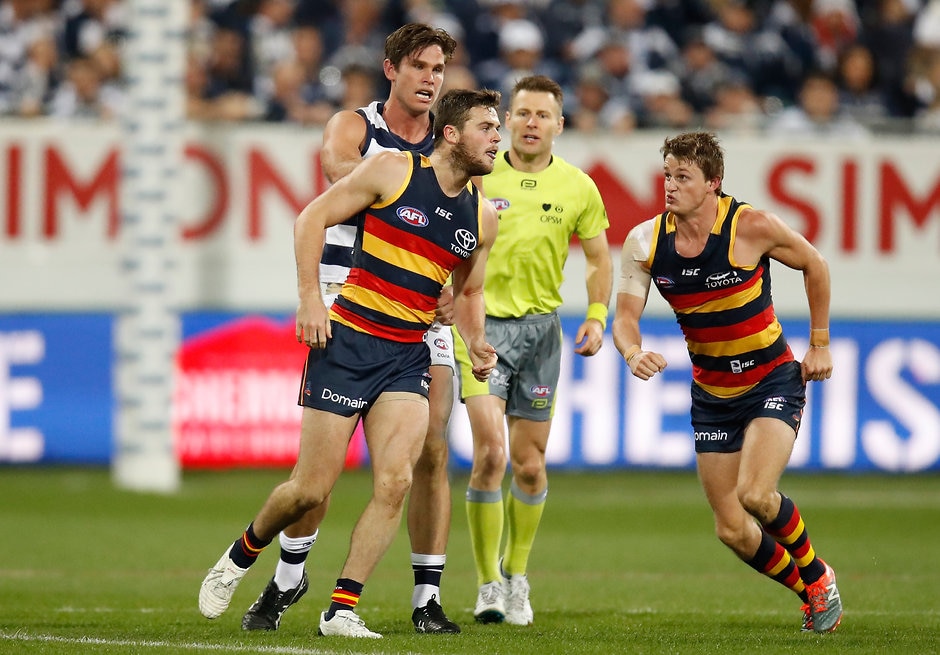 ADELAIDE'S Crouch brothers need to collect a combined 60 disposals against West Coast in Perth on Sunday to set a unique record held by Port Adelaide's Cornes brothers.
Sixty touches between them would see the Beaufort ball magnets pass a record the Cornes brothers set in 2007 when playing for the cross-town rivals of the most combined total disposals by brothers in a home and away season.
Matt and Brad have had 1,115 disposals between them this season, but Champion Data statistics show they are a chance to pass the combined total of 1,174 disposals Kane and Chad set in 2007.
The Crouches need just 17 to move past Adam and Joel Selwood into second place.
Adam was playing for West Coast and Joel with Geelong when they accumulated 1,131 touches in 2009.
It's likely the Crow siblings' record chase will go down to the wire.
Last week against the Swans, the Crouches collected exactly 60 disposals between them.
The duo has managed at least 60 touches in 10 of the 16 games they have played alongside each other in 2016, but only exceeded the figure in four of their past 10 games.
Kane and Chad Cornes won plenty of disposals for the Power. Picture: AFL Photos

Both brothers have been impressive for the Crows this season, but Matt has led the way, averaging 32 disposals a game.
The 22-year-old has exceeded 30 disposals a game in the past seven rounds and racked up 681 disposals for the year.
Brad, 24, did not play his first game for the season until round five, but has collected at least 20 disposals in each of his 16 games, giving the Crows great drive.
Best brothers

| Total disposals | Player | Disposals | Player | Disposals | Year |
| --- | --- | --- | --- | --- | --- |
| 1,174 | Kane Cornes (PA) | 612 | Chad Cornes (PA) | 592 | 2007 |
| 1,131 | Adam Selwood (WC) | 515 | Joel Selwood (Geel) | 616 | 2009 |
| 1,115 | Brad Crouch (Adel) | 434 | Matt Crouch (Adel) | 681 | 2017 |
| 1,065 | Joel Selwood (Geel) | 511 | Scott Selwood (WC) | 554 | 2012 |
| 1,009 | Kane Cornes (PA) | 597 | Chad Cornes (PA) | 412 | 2006 |
| 1,994 | Joel Selwood (Geel) | 544 | Scott Selwood (WC) | 460 | 2013 |
| 983 | Adam Selwood (WC) | 379 | Joel Selwood (Geel) | 604 | 2010 |
| 981 | Kane Cornes (PA) | 595 | Chad Cornes (PA) | 386 | 2007 |
| 975 | Andrew Swallow (NMFC) | 562 | David Swallow (GCFC) | 413 | 2011 |
| 946 | Rhyce Shaw (Syd) | 532 | Heath Shaw (Coll) | 414 | 2009 |
| 944 | Shaun Burgoyne (PA) | 420 | Peter Burgoyne (PA) | 524 | 2007 |
| 937 | Patrick Bowden (Rich) | 442 | Joel Bowden (Rich) | 495 | 2006 |
| 931 | Sam Power (NMFC) | 389 | Luke Power (BL) | 542 | 2008 |
- Stats supplied by Champion Data