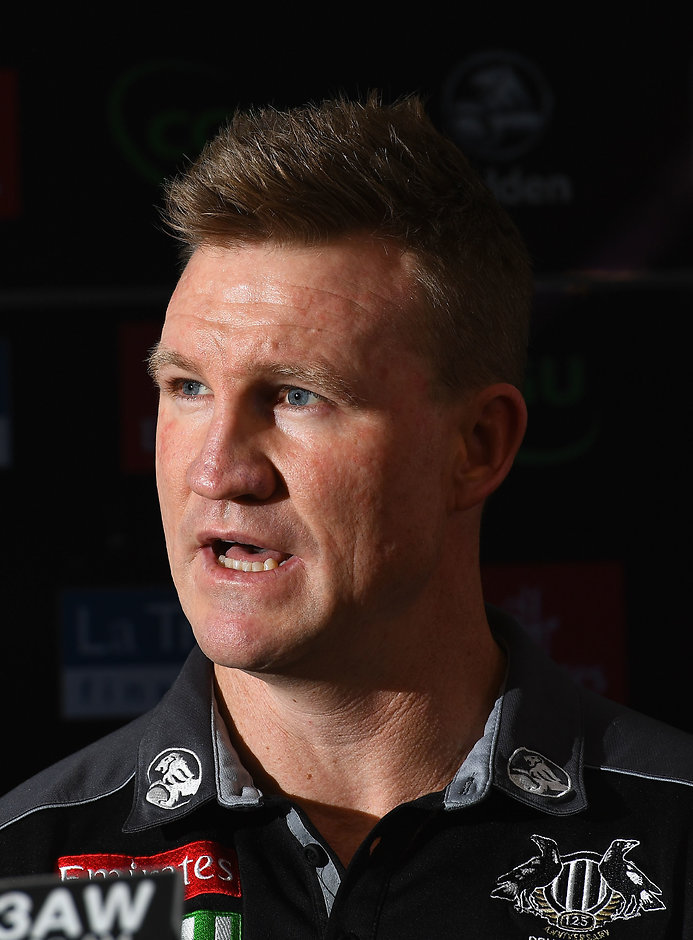 We have to got to get the decisions right and we have to get the process right and then the results will come
Nathan Buckley
COLLINGWOOD has reappointed Nathan Buckley as coach for the next two seasons following a review of the club's football department.
The 45-year-old has survived four consecutive seasons without a finals appearance to take his coaching stint at the Magpies into its seventh season.
Buckley was informed of the decision on Sunday evening after the board ratified the recommendation from football manager Geoff Walsh.
"I was suitably humbled and a little bit nervous to be honest," Buckley said.
COMMENT: Six things the Pies must do next
He has a winning record of 52.65 per cent, but the Magpies have not played a final under him since they lost to Port Adelaide in the 2013 elimination final.
Buckley said he thought mid-season it would be hard for him to keep the job beyond this year and he was prepared to either "step up or step back" depending on the club's decision.
He claimed that the review had looked deeply into what had gone wrong and where they needed to improve and how that could be achieved.
"I think in many ways we got the expectations wrong. We have to got to get the decisions right and we have to get the process right and then the results will come," Buckley said.
Club president Eddie McGuire admitted to surveyed the coaching landscape during the season to see whether there was an alternative to Buckley but said no other coach had been approached about taking on the job.
Walsh said he had been encouraged by Buckley's willingness to accept and take on feedback while Buckley said he felt as though he and the club were heading in the right direction.
"I think I have grown and developed. I know I am in a better place now to lead this football club and this team better than I ever have before," Buckley said.
"The perception externally is that the senior coach sits on top of the mountain and sends down his decrees from there. That is not the way we operate ... I am far more open than I have ever been before."
Nathan Buckley and Eddie McGuire at Monday's announcement. Picture: AFL Photos


Walsh is expected to oversee significant changes to the football program and several long-serving assistant coaches including Scott Burns and Robert Harvey are expected to depart.
Brenton Sanderson and Brad Gotch are the only assistant coaches contracted beyond this season.
Burns is reported to be joining Hawthorn while Harvey is understood to be weighing up offers from three AFL clubs.
Walsh said there would be no delay in letting key staff know of their future beyond this season but the review was more about incremental change than necessarily "clearing the decks."
The decision is an act of faith in Buckley, who began his stint as senior coach in 2012 after signing on with Collingwood in 2009 to spend two seasons as an assistant coach under Mick Malthouse before succeeding him as senior coach.
He began a dramatic overhaul of the list at the end of 2012 and has not won a final since that season.
In August last year Buckley said on SEN he did not expect to be reappointed as coach beyond 2017 if the Magpies did not make finals this year.
"There's no way," Buckley said.
However the club did not support the six-time Collingwood best and fairest winner's assertion at the time, saying multiple factors would be considered before a decision on Buckley's future was made.
Soon after Buckley's comments, Collingwood appointed Graeme Allan as football manager to the surprise of the football department leading to the departure of trusted lieutenant Neil Balme, who subsequently joined Richmond which has finished third on the ladder.
Allan was soon forced to resign when the AFL suspended him for 12 months following an investigation into an incident relating to his time at Greater Western Sydney where young player Lachie Whitfield was advised to stay out of his home to avoid the chance of being drug tested.
The club then re-appointed Geoff Walsh, as Buckley's fifth football manager in four years, and Walsh was asked to conduct a review into the football department following the Magpies poor start to the season.
The Magpies have won eight and a half games this season and have the equal lowest losing margin for 2017, losing 12 games by an average of 18 points per loss.
They lost nine of their 14 games at the MCG this season but defeated Melbourne in the final round.
After reaching the preliminary final in his first season as coach, Buckley has overseen a gradual slide down the ladder with the Magpies finishing eighth in 2013, 11th in 2014, 12th in both 2015 and 2016 and 13th in 2017.
The Magpies have not been above 10th on the ladder since round 16, 2015 with Carlton the only other club to have not sat above 10th for at least one week during that period.
The Brisbane Lions were ninth after winning in round one this season but have been 10th or below every other week bar one since 2010.