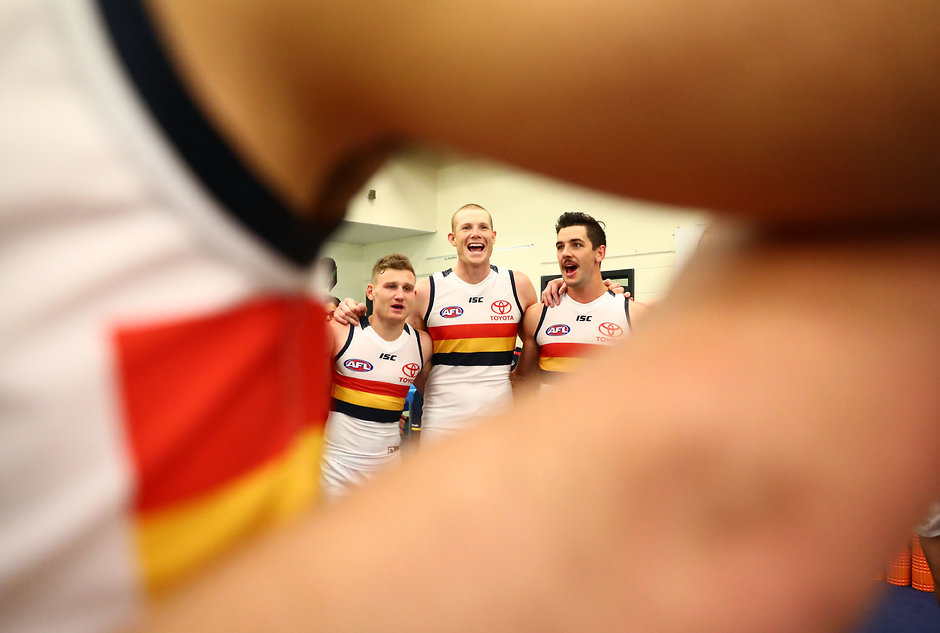 IN THE past eight seasons, they've been raided by the two new AFL-run franchises as well as swooped on by multi-premiership winning teams.
They've been caught and punished heavily for attempting to rort the salary cap.
Inclusive of interim appointments, they have had six coaches and five captains in those eight seasons.
One of those coaches died. One of those captains, albeit an interim one, chose to walk out in a year in which he won a best-and-fairest, and then won a Brownlow at his new club the next year.
It is a storyline that would normally mean a doom narrative for a professional sports organisation, but not for Adelaide.
The Crows just keep moving on, replacing the lost stars with free agents, rejects from other clubs, and, when they're not banned by the AFL from using them, astute use of NAB AFL Draft picks.
The Crows this Thursday will start a strong favourite at their home venue in a qualifying final against GWS.
In keeping with the challenges they have faced since 2010, of course there are injury concerns with key players, mainly Rory Sloane, who is struggling after having his appendix removed, as well as wear-and-tear concerns around skipper Taylor Walker and key defender Daniel Talia.
And while the 2017 finals series is clearly the main concern for those who run this club, the doubt surrounding the futures of emerging stars Jake Lever and Charlie Cameron is looming as yet another player-exit disaster in the upcoming trade period.
It would have been easy for Adelaide to hide behind the instability on so many fronts and simply meander through recent seasons.
Instead, it has won finals in both of the past two years, missed making a Grand Final in 2012 when it fell five points short in a preliminary final, and with Don Pyke in his second season as coach, finished top of the ladder after the home-and-away season this year.
They don't have a top-10 draft pick on their list, although they did partially secure Brad Crouch in 2011 via giving up pick 10 in an arrangement with GWS under a specially instituted AFL rule, which allowed the trading of a 17-year-old.
The Crows' vaunted forward line has been put together on the cheap. Captain Tex Walker was taken in 2007 at No.75 as a NSW scholarship holder.
Eddie Betts was recruited via free agency, Josh Jenkins and Tom Lynch also from other clubs, and Mitch McGovern at No.43 in the 2014 national draft. Cameron was a rookie draft selection in the same year.
The drafting of Matt Crouch at No.23 in 2013 was as clever as that of the securing of his brother two years earlier.
Picks include Sloane at No.44 in 2008, Rory Atkins No.81 (2012) and Riley Knight No.46 (2013). Rory Laird was a rookie choice, so too Jake Kelly and Kyle Hartigan.
Ruckman Sam Jacobs has also been a recruiting "steal", with Carlton handing him over for picks 34 and 67 in 2010.
But not all trades and draft selections have worked, which reinforces the Crows' ability to excel in a difficult landscape.
Curtly Hampton, Paul Seedsman and Troy Menzel have all played roles without demanding regular games.
The No.11 selection of the 2015 draft, Wayne Milera, looks a star of the future but to date has had only flashes of form, while pick 17 from the same draft, Tom Doedee, and pick 15 from 2016, Jordan Gallucci, are yet to make an impact.
The exodus of stars from the Crows began at the end of 2010 when key defender Nathan Bock took the big offer to join Gold Coast.
The following year, another gun defender, Phil Davis, received an offer he simply could not reject from GWS for its AFL debut in 2012. At the end of that 2011 season, Jack Gunston left and joined Hawthorn.
After a best-on-ground, four-goal effort for Adelaide in its losing 2012 preliminary final, Kurt Tippett left for the Swans. The backdrop to that story was messy and embarrassing for Crows officials, as dodgy arrangements with his contractual matters were revealed.
After being exposed for its book-cooking, the club removed itself from the first- and second-rounds of the 2012 draft, and the AFL removed it from the first- and second-rounds of the 2013 draft and fined it $300,000.
While the Tippett situation was self-inflicted disgrace, Paddy Dangerfield's departure after winning the Crows' best-and-fairest in the 2015 season was just more frustration from a player who no longer wanted to stay a Crow.
Walker led the Crows magnificently in the 2015 season, particularly in the weeks after Phil Walsh died and Scott Camporeale took over in interim capacity. Walsh had replaced Brenton Sanderson, whose preliminary final effort in 2012 was tempered with 11th- and 10th-place ladder finishes in 2013 and 2014 respectively.
They have done some things wrong, the Crows, while dealing with other adverse circumstances outside their control.
They had reason to reset, maybe to deliberately bottom out, but they were adamant they would never adopt the woe-is-us attitude.
And as they enter the 2017 finals series from pole position, that response is deserving of the ultimate success.
Twitter: @barrettdamian