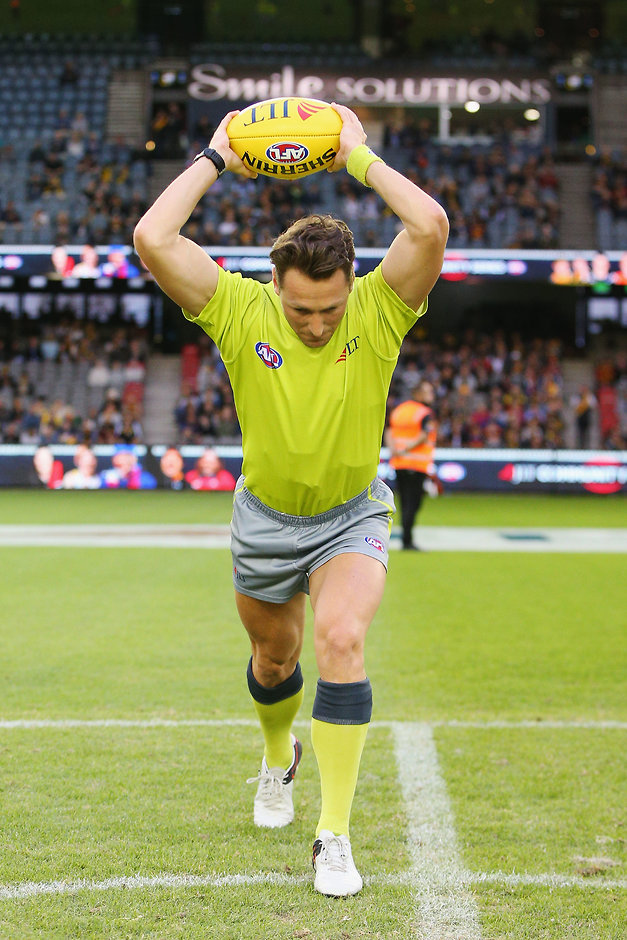 I do like the bounce but I understand the pros and cons for keeping it
Brett Rosebury
THE BOUNCE could be ditched again by the umpires for Friday night's Sydney-Geelong semi-final, with wet weather forecast at the MCG.
After assessing ground conditions at Adelaide Oval and the MCG during their warm-ups on Thursday and Friday night last week, the umpires at both qualifying finals opted not to bounce the ball, and instead throw it up in the centre square.
With the Bureau of Meterology forecasting a 60 per cent chance of rain on Friday evening, seven-time Grand Final umpire Brett Rosebury told AFL.com.au it was likely the umpires would again throw the ball up.
"It does make it very difficult for us to bounce it when it's wet," Rosebury said.
"I guess when you watch it at home it looks nice and dry and looks like amazing conditions. Adelaide last Thursday, it rained 10 minutes before the game, and it just makes it really slippery."
Rosebury, though, is hoping that conditions will be dry enough at the MCG to bounce the ball, after not having done so in five weeks.
The experienced whistleblower, who equals the AFL record for most finals officiated on Friday night, broke his hand during a "training mishap" over a month ago.
He slipped over, fracturing the third metacarpal bone in his left hand, and needed surgery to insert a metal plate and pins.
Rosebury admits he didn't think he would recover in time to notch up his 39th final.
"I broke my hand five weeks ago so I thought my season might be over," he said.
"But I was lucky enough to get back and umpire last week and I've been appointed again this week. It's a nice little milestone.
"For the last three home and away games I've been throwing the ball up, but I've been bouncing at training the last 10 days so I'm ready to bounce on Friday night if the weather permits.
After Friday night, Rosebury will share the record with current head umpires coach Hayden Kennedy and also Jack Elder, who umpired between 1902-1922.
Should Rosebury be selected to adjudicate a preliminary final the following week, he will break the record, the veteran umpire joking that Kennedy may not pick him to preserve his place in history.
Debate has raged all year over whether or not the AFL should retain the traditional bounce next year.
Rosebury, one of the AFL's best bouncers, is happy for the tradition to remain.
"I do like the bounce but I understand the pros and cons for keeping it," he said.
"There's lots of different debates. If it's no good for us from an injury point of view then we should look at that.
"If it's a recruiting issue, and guys and girls aren't getting into umpiring because they can't bounce, and it's holding them back, then maybe it needs to be debated."