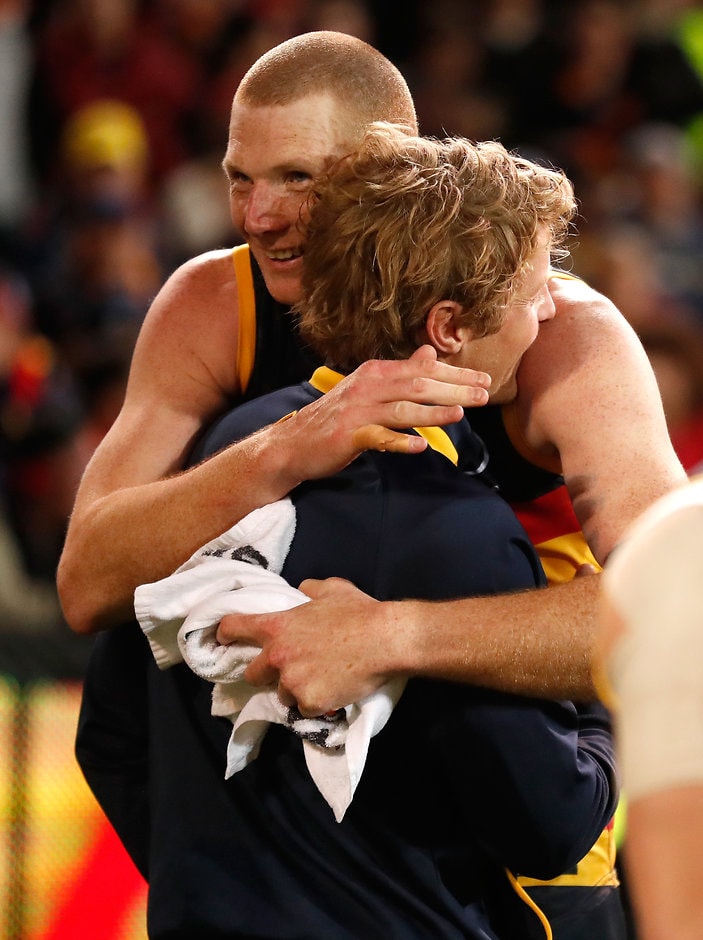 I think that's a bit of an understatement, 'emotional rollercoaster'. It's been a crazy past month
Sam Jacobs
A SUNDAY afternoon stroll with his dog on Glenelg beach was just the tonic for Adelaide ruckman Sam Jacobs ahead of the Crows' first Grand Final appearance in 19 years.
Jacobs spoke to a large media contingent at West Lakes on Monday morning in the build-up to Saturday's decider with Richmond in front of nearly 100,000 people at the MCG.
The Crows booked their ticket with a superb 61-point preliminary final victory over Geelong at Adelaide Oval on Friday night.

Timing is everything for injury-prone Crow
"Over the weekend it's probably been a bit surreal just preparing to get ready to play," Jacobs said.
"I took my dog for a walk yesterday and just took 15, 20 minutes to take in what we'd actually done, but at the same time, it's nothing if we don't get the win this week.
"We're excited by the prospect of putting ourselves out there and hopefully getting the win."
Jacobs credited the tight bond of the Crows' players and coaching staff for helping him deal with the death of his older brother, Aaron, last month.
"I think that's a bit of an understatement, 'emotional rollercoaster'. It's been a crazy past month," Jacobs said.
"It's been well spoken about the tragic event I went through, at the same time, I've had real purpose around trying to get success.
"When I lost my brother Aaron, it wasn't about me, it was about continuing the journey we started back in 2011 when I got to the club.
"As a team, we've gone through some really tough times and what you see is a really passionate team that plays for each other.
"The love and care I've got from the team and the footy fans has been unreal and I'm thankful for everyone getting behind me."
The Crows and the Tigers will go in at full-strength with Rory Sloane and Trent Cotchin cleared by the match review panel.
"Knowing Trent and the way he prepares, he's a really strong competitor, he goes hard at the footy," Jacobs said.
"I think he plays the game the right way.
"It's exciting for them that their captain is available and it will be a good challenge for us."
Crows forward Mitch McGovern remains an outside chance to return from a hamstring injury that forced him to miss the preliminary final.
"As a club, we'll give him every chance," Jacobs said.
"He was back running last week and he's going to give himself every chance to get it right.
"Hopefully he can train really well and put his hand up, because he's been an integral part of the team."